You Are Here: A Year of Moments Captured Around Charlotte
Each month, we throw a dart at a map and write about where it lands. Here are 12 short stories captured by writer Cristina Bolling, in a year unlike any other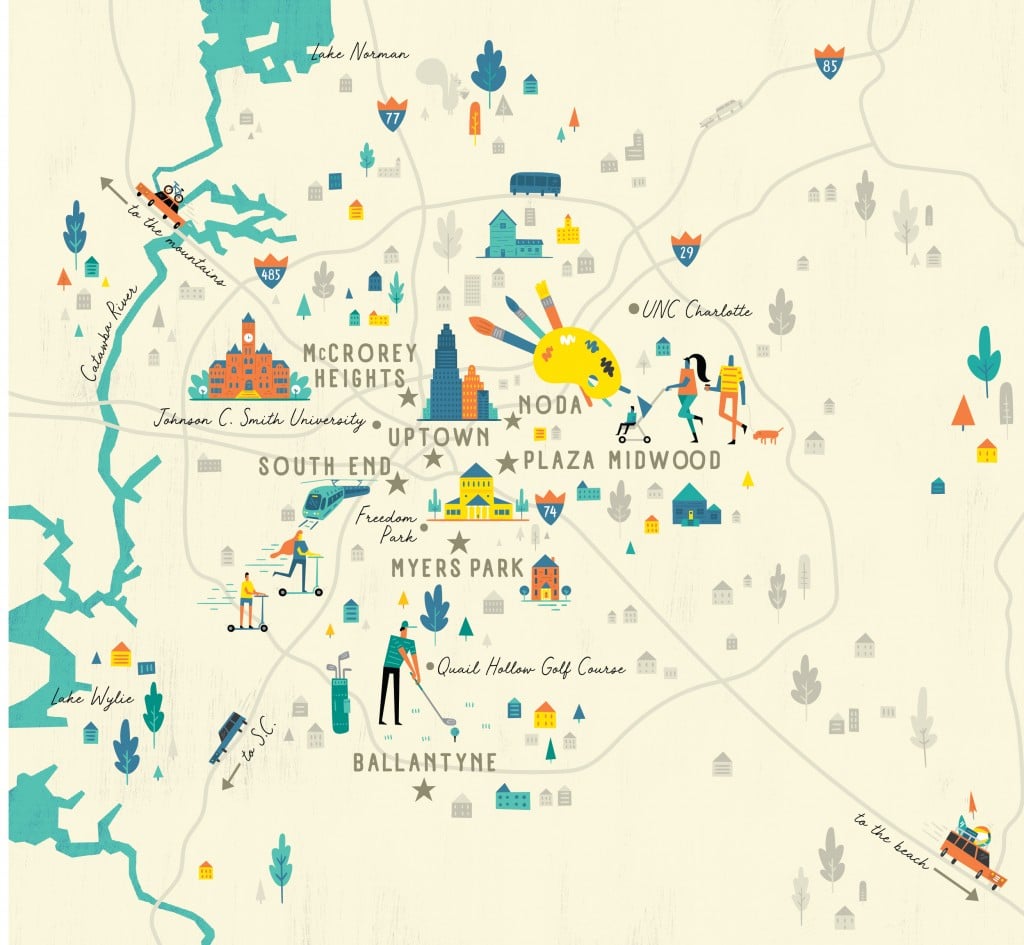 IN JANUARY, we debuted a new backpage column in Charlotte magazine called "You Are Here." Each month, writer Cristina Bolling throws a dart at a map and writes about where it lands. When we started, we had no idea about what the year would bring. What emerged is a portrait of a vibrant, struggling, and diverse region that continues to be full of stories worth telling:
---
JANUARY 2020: Good Morning, Wesley Heights
Neighbors find their place and each other in a historic neighborhood
LOCATION: 424 S. Summit Ave., Wesley Heights
Five years ago, Lud Hodges was test-driving a bike on Charlotte's west side when he rounded a corner and found himself in a little patch of paradise: the intersection of Litaker and Summit avenues in historic Wesley Heights.
A greenway connector sliced through an expanse of clipped green grass next to Frazier Park. Homes from the 1920s and 1930s dotted the leafy streets, but Hodges could still see Bank of America Stadium and the city skyline.
"When I got to right here," Hodges says, motioning to the intersection's center, "I just went, 'Holy cow.'"
It's before 9 a.m. on a chilly fall Saturday, and Hodges now owns a house less than a block from the spot that took his breath away.
He's taking his 13-year-old yellow lab, Lucy, for her morning walk when his neighbors, Mark and Alyson Miller, come strolling down the greenway. The Millers are two weeks away from their first baby's due date and renovating the historic 1911 Wadsworth Estate they bought in Wesley Heights last year.
They live in the estate's carriage house with their 9-month-old Rhodesian ridgeback, Chief—a crazy proposition, but one they figure will be worth it when the payback is one of the city's most distinctive houses, in a diverse, historic neighborhood at the foot of uptown.
"Puppy, baby, house," Alyson says, smiling as she shakes her head. "We're like, 'Why not do it all?'"
---
FEBRUARY 2020: Fellowship in Hidden Valley
In a church parking lot on a Sunday afternoon, friends take stock of their changing city
LOCATION: Greenville Memorial AME Zion Church, 6116 Monteith Dr., Hidden Valley
It's a special but not exclusive club, the so-called "parking lot committee" that spontaneously gathers each Sunday outside Greenville Memorial AME Zion Church in Charlotte's Hidden Valley neighborhood. Its members laugh when they call themselves that. But it's the hallmark of a real community. Today, they've been together as the 9 a.m. Sunday School turned into the 10 a.m. worship service. Now it's nearly 1:30 p.m., and a dozen or so people assemble in the parking lot, picking a spot for lunch and more fellowship.
Their church building opened in 1978, but the congregation has been together far longer, and its story illustrates how Charlotte treated many African-American neighborhoods as the city grew. Members originally worshipped at a location on Statesville Avenue, about five miles west. But state officials decided to route a new section of Interstate 77 through the property. Church leaders hustled and found new land, secured loans, and started construction.
Then the state picked another route for I-77. The church finally paid off the loans on its 41-year-old building last year. "We ended up tearing our church down, and then they changed their minds," says Jackie Stinson (in the middle of the photo above), a 61-year-old retired teacher who grew up in the congregation and, when the time came, brought her own children. "What can you do?"
From the late '80s until a few years ago, Hidden Valley was notorious for gang activity and violent crime. But the neighborhood's crime rate has dropped, and property values are rising. Even in the worst of times, the church was never a target for criminals or vandals, members say. They never worried when choir practice or an outreach project ran late and they'd emerge into a dark parking lot. They still don't.
And on this day, under bright afternoon sunshine, they hug goodbye to the few who aren't moving on to lunch and make plans with those who are.
---
MARCH 2020: An Old-Time Trim in Boomtown Huntersville
As everything around it changes by the hour, Gary's Barber Shop stays true, and put
LOCATION: 105 Statesville Rd., Huntersville (Near the intersection of Statesville and Gilead roads)
A perpetual logjam of cars chokes the intersection of Statesville and Gilead roads, just off exit 23 on Interstate 77 in Huntersville. But within view sits a place that's barely changed since before the population boom: Gary's Barber Shop.
The five-chair shop has occupied a slot in the Bayshore Plaza strip mall for 30 years, as Huntersville's population soared from about 6,500 to more than 57,000. A few years ago, half the shopping center was bulldozed to make way for a new Aldi grocery store, but Gary's stayed put, and its customers kept coming.
Edward Carter is captain of the prime chair in the shop's front window. He's been working for owner Gary Carter, his uncle, for the last 40 years: 23 at Gary's first location in Derita, the last 17 at this spot. This afternoon, West Hunter of Mooresville sits in Edward Carter's chair. West figures he first got his hair cut at Gary's in Derita 35 years ago, "back when it was the only barbershop around." Since then, every three weeks, he's sat in either Gary's or Edward Carter's chair, bringing his sons as they grew. He comes in now with tales of his five grandchildren.
Working the chair next to Edward Carter is barber Scott Enloe, 37, who grew up in Huntersville and watched as hospitals, schools, shopping centers, and business parks sprung up in place of farms and forests. But Gary's has kept its old-time feel, from the black-and-white checkered linoleum floor to the "Lather Time" hot shaving cream dispenser and the spiral-bound paper calendar where appointments are jotted in pencil.
"How much has culture changed inside this shop? None. Because I keep it that way," Edward Carter says with a chuckle. "We've gotten to see a lot of growth in this area—changes happened, new industry came in. Thank God I'm still a part of it."
---
APRIL 2020: Straddle Up
Bryan and Sarah Hartley roll with life on the border
LOCATION: Bridgehampton neighborhood
Bryan and Sarah Hartley knew the North Carolina-South Carolina state line ran through their neighborhood and near their property when they bought their home five years ago. They were amused that when they stepped out their back doors and looked left, to just beyond the creek that bordered their backyard, they could see South Carolina.
Two years ago, they refinanced their mortgage, and the new property survey showed that a slice of their yard, on the other side of their fence but before the creek, is actually across the state line.
"That was kind of a surprise," Bryan Hartley laughs. "We said, 'Really?'"
The oddity of a 544-home neighborhood in two states is great conversation fodder at cocktail parties, although Bridgehampton residents don't discuss it much except during introductions, when they ask each other, "What side are you on?" Pull into the entrance at Johnston and Ardrey Kell roads, and you're in Charlotte, North Carolina. Jump in the neighborhood pool, and you're in Indian Land, South Carolina. School buses from both states pick up and drop off in Bridgehampton. Property values for the stately 4,000- to 5,000-square-foot homes vary widely; houses of identical size sell for $60,000 or $70,000 less on the South Carolina side.
The Hartleys say they love raising their two daughters in Bridgehampton. Nine kids ages 9 and under live on their cul-de-sac. A few months ago, a neighbor sent them photos of a wild boar traipsing through the Hartleys' property, just outside their fence.
"Of course," Bryan Hartley says with a chuckle, "he was on the South Carolina side."
---
MAY 2020: Kickin' It With the Heatherwood Gang
Parents and kids play in their oasis a mile from Park Road Shopping Center
LOCATION: Heather Lane in Ashbrook-Clawson Village
The birds sing high in the trees on this sunny Sunday on Heather Lane, and the humans settle into their favorite weekend afternoon routines: A pack of parents kicks back in lawn chairs on Chris and Anna O'Neal's driveway as a gaggle of kids plays board games and rides scooters in the cul-de-sac.
It's exactly a one-mile walk from this spot to the entrance of bustling Park Road Shopping Center. But this spot is as quiet and peaceful as some place in the country. It's been a decade since the O'Neals bought their two-story colonial with blue siding, and about three years ago, as they planned for a second child, they found themselves in a quandary right out of HGTV's Love It or List It. They needed more square footage but hated to leave the neighborhood and their 15-minute commutes to their uptown jobs.
"It was not a very hard decision," Anna says. They tacked on a two-story addition and soon welcomed a baby girl, who now toddles along with the rest of the "Heatherwood Gang." That's what parents affectionately call their preschool and school-age kids, who roam Heather Lane together on weekends and summer days.
People don't often move away from Heather Lane, and the "underground rumblings" about the rare homes for sale are constant, says Dabney Estile, who lives in another blue house across from the O'Neals: "People are always saying, 'If you hear of anything, let us know, and we'll take it before it goes on the market.'" And homes on their end of Heather Lane aren't cheap. Lately, they've sold for as much as the mid-$600,000s.
But for now, the Heatherwood Gang is staying put. On this Sunday afternoon, the kids pack up their board games, tie on Rollerblades, and take a few final spins on their bicycles before it's time to go in for dinner.
---
JUNE 2020: In Peace
An afternoon in the sacred quiet of McCoy Slave Cemetery
LOCATION: 9641 McCoy Rd., Huntersville
It's serene and verdant here, which seems appropriate, because nestled in this spot a few yards back from winding McCoy Road is the final resting place for dozens of people buried generations ago. The first thing that strikes you is what's missing: headstones. Only pine straw, leaves, and patches of periwinkle cover the ground.
The 25 to 50 men, women, and children buried at the McCoy Slave Cemetery worked in the fields and home of farmer Albert McCoy and his family from the slave days of the 1840s through the post-Emancipation 1880s. The McCoy family erected a stone marker here in 1928 to honor three of them: Jim, Lizzie, and Charles. The names of the rest remain a mystery.
Members of St. Mark's Episcopal Church, a mile away, care for the site. A chain-link fence that had fallen into disrepair surrounded the property until 2002, when an Eagle Scout, Kellen Osburn, cleaned it up and installed a Virginia rail fence.
Five years later, as more history-seekers started coming around, Michael Thompson, a Pfeiffer University history professor and St. Mark's Episcopal member, decided the cemetery needed a historical marker with information and context. Now people can park in a small gravel lot, walk the short distance to the cemetery, read Thompson's words, and understand the sacredness of the ground where they stand.
"It is not lost on us what it means not only to the history of the church but to the history of our area and our country," Thompson says. "Having something tangible to see and experience makes it a little more real than it otherwise would be."
---
JULY 2020: Boulder Choices
A nature preserve? In Ballantyne? Yep. Don't take it for granite
LOCATION: 6500 Elmstone Dr., Ballantyne
Whoever named Big Rock Nature Preserve was certainly going for under­statement. It's easy to see it on a map and decide it's nothing worth visiting. But that would be a huge mistake.
The 22-acre preserve sits in the middle of Ballantyne's Thornhill neighborhood and is one of Mecklenburg County's geological marvels. You know you've reached it only when you see the county parks sign on Elmstone Drive. Park on the street, walk a short stretch down a wooded dirt path, and behold the house-sized granite boulders that loom before you.
Gnarled trees have grown around and between them, and there's nothing off-limits to human or animal visitors. Feeling daring? Climb up. Need a new profile pic? Strike a pensive pose beneath towering granite ledges or hop across the rocks that run through McAlpine Creek, which bisects the property.
There's archaeological evidence that Native Americans lived there 7,000 years ago. The Charlotte Historic Landmarks Commission has designated the site a historic landmark. Vandals do occasionally graffiti the rocks—a consequence of an unguarded slice of nature within city limits.
But the stains are easy to overlook if you focus on the sheer size and shape of the boulders and the feeling of connection they give you, to nature and to history.
---
AUGUST 2020: THWACK
Good morning from The Tradition Golf Club. Swing away. Mind the deer. Don't mind the divots
LOCATION: 3800 Prosperity Church Rd.
Resonant "thwack" sounds pierce the quiet on a warm Sunday morning at The Tradition Golf Club in northeast Charlotte. A father and son double over with laughter at the driving range when Dad's drive sends a large chunk of earth flying.
The Tradition is a municipal course, part of the Mecklenburg County Park & Recreation Department, and the vibe is more relaxed than what you'd find at private clubs around town. Kia sedans and Nissan trucks fill the parking lot. Collared shirts are optional.
Golf courses were one of the few types of recreational area that the state allowed to operate during its coronavirus restrictions, and Chris Eichstaedt, the club's general manager, has been hustling since March. "Every day is like a Saturday right now," he says.
The Tradition opened in 1996, and it's one of the few courses in Charlotte not bordered by homes on every hole. Eichstaedt starts his days early, when he can easily spot deer, raccoons, and other wildlife as they roam the woods around the course. On this Sunday, birds circle overhead as golfers focus on the 18 challenges before them, able to forget the realities that await them once they get in their cars and drive away.
---
SEPTEMBER 2020: Culture, After Shocks

Once you've bounced through the parking lot, you'll discover a unique corner of our city
LOCATION: Asian Corner Mall, 4520 N. Tryon St.
The access road to the Asian Corner Mall in northeast Charlotte is so pockmarked with potholes, you feel like you're steering the Mars Rover as you search for a parking space. But your expedition over the rough terrain pays off because of what waits inside.
On a summer Saturday, the shopping center bustles with customers, most of them Asian, who've come for foods from their native countries.
At International Market, a large supermarket just to the right of the central pagoda, a large shrimp counter near the front door emits a distinctive briny smell that hits your nostrils as you walk in. Inside, shelves brim with fresh noodles for ramen; packages of crispy, dried seaweed snacks; stacks of cellophane-wrapped jian dui, Chinese sesame balls; and an aisle piled high with dozens of types of tea. Down the long central corridor, you find Le's Sandwiches and Café, home to one of Charlotte's best Vietnamese bahn mi sandwiches, a baguette stuffed with fresh vegetables and savory meats.
When it opened in 1967, Asian Corner Mall was called Tryon Mall, but it transformed during the '90s into a center for a growing population of immigrants from Vietnam, Laos, Cambodia, China, and Thailand. The hallways speak of a time when the North Tryon corridor was in its heyday: Sunken fountains ringed by ornate metal gates are now dry. The walls, painted a bright yellow, are smudged in spots.
On this afternoon, a mom hands her facemasked toddler a package of coconut candies to crinkle in his shopping cart seat as she navigates the grocery aisles. An elderly couple gingerly loads a cart full of groceries—boxes of mangoes, bags overloaded with fresh produce and meats. A man rushes out of the mall with a sandwich in his hand, and your mouth waters in anticipation of the meal to come.
---
OCTOBER 2020: ¡Feliz Quinceañera!
In the heart of Charlotte's Latino community, Zoila Nuñez and her family sell a kaleidoscope's worth of dresses
LOCATION: 8829 E. W.T. Harris Blvd.
Hundreds of quinceañera dresses in every color of satin, tulle, and lace imaginable hang from shiny metal racks in the Novedades Yadira dress shop on East W.T. Harris Boulevard. They're frothy, fairytale gowns fit for a Disney princess, some with dazzling beadwork, others with swarms of intricate fabric butterflies sewn onto voluminous skirts.
The shop, and the Latino community it serves, were both much smaller when owner Zoila Nuñez started the business 17 years ago and named it after her daughter Yadira. But as demand for gowns and other formalwear grew through the years, she expanded further into the L-shaped strip mall near the Albemarle Road intersection, a hub for Latino-owned businesses.
Novedades Yadira is now a family operation and destination for mothers and daughters throughout the Southeast who want to feel lace under their fingertips and hoop petticoats under their skirts. A quinceañera celebration is a rite of passage for Latina girls on their 15th birthdays that signifies their transition to womanhood. Online retailers abound in the quinceañera marketplace; a big shop with ready-to-wear gowns isn't as common. "Girls come in, and they say they really want a red dress, but then they leave with teal," says Carla Hernandez, one of Nuñez's nieces, who works at the shop.
About half of the store's sales come from quinceañera dresses, priced from $400 to more than $1,000. Baptismal gowns, first communion dresses, and wedding attire fill the aisles, too. This year's sales started strong, but families have postponed or cancelled celebrations since COVID-19 struck. The shop's staff tries to compensate through long-term purchase plans that let customers space out their payments.
On a summer Saturday, customer Nicole Wiggins' daughter slips into a dressing room and walks out in a sky-blue confection of a gown—one of two dresses she'll wear during her quinceañera next spring in a Monroe event hall. It'll be a few months past her actual 15th birthday, but celebrating properly seems worth the wait. "I'm spending more on her quinceañera dresses," Wiggins says with a laugh, "than I spent on my wedding gown."
---
NOVEMBER 2020: Townhomes and Turtles
In Pineville, a natural oasis in the shadow of a building boom
LOCATION: Pineville Lake Park, 909 Lakeview Rd., Pineville
Sometimes you just need a place where nature provides the entertainment, and around noontime on a humid late-summer day, Pineville Lake Park is that place.
The playground, which normally teems with young kids and their moms or babysitters out for a picnic or playtime, is draped in yellow caution tape and canvas barriers due to COVID. But there's another game to play: Spot the turtles. Dozens live at the lake. They pop their heads from the surface and sun themselves on the rocks at the shore. Nearby, plump geese peck at the grass and waddle toward visitors.
You can't tell from here, but Pineville, a small town of just more than 9,000 people, is having a growth spurt. Less than a mile away, construction workers finish rows of townhomes, and nearby lots, clear-cut and carpeted with red clay, tell of more houses to come. But the streets that ring the park haven't changed much. Most homes here were built in the 1950s or a few years later, and the people who live in them tend tidy flower beds in front and hang wash on clotheslines out back.
Nearly every Monday, rain or shine, Pat Donlevy and her son, James, bring their lunches here, walk a loop around the lake, eat under a picnic shelter, and walk the loop again. On this day, they spread out a white lace tablecloth and shuffle an oversized deck of playing cards.
"Being here," Donlevy says, "it just helps you stay positive and look at what God gave us—the beauty of the Earth."
---
DECEMBER 2020: Grounded
It was a pilot's playground for more than 50 years until the housing boom brought it down to earth
LOCATION: The former Wilgrove Airport, 10525 Parkton Rd.
The grass grows tall around the runway of the abandoned Wilgrove Airport in east Charlotte, which until June 30 hummed daily with takeoffs and landings, some by pilots in training. Wilgrove, just off a curvy, semi-rural road, opened in the late 1960s. For 50-plus years, it operated as a gathering spot for pilots—and the site of Charlotte's only flight school.
For the last 17 of those years, Alan Cobb was the airport's manager, flight school director, and neighbor. The back porch of his home on Cedarbrook Drive overlooked the runway. So several times a day, he'd climb into his golf cart and zip over to the airport's office and assortment of 30 single-plane hangars, about 10 of which sheltered his own aircraft.
It's hard for Cobb, 71, to look out his back porch these days and see the airport vacant. The 53-acre site was sold for $2.9 million in September to LGI Homes, which plans to fill the property with new houses. Cobb also co-owns an engineering company and for years regularly flew his Piper Seneca or Beechcraft Bonanza A36 to a customer in Delaware, trading a 10-hour drive for a 2-hour flight. "Even a bad flight," he tells me, "beats a good drive."
Cobb now has only one plane, an American Champion Citabria he keeps at Goose Creek Airport in Indian Trail. He and his wife hope to find a spot next to the Goose Creek runway where they can live and once again hear the comforting buzz of takeoffs and landings.
"I tell people all the time, 'I am a damned spoiled pilot,'" Cobb says. "Who else could have had more toys in their backyard?"