You would need to have giant pockets to fit all of these LANCE in your PANTS
While Charlotte has been wrestling with its banktown image, ninety-seven-year-old Lance Inc., best known for the cheesy, peanut buttery Toastchee, has been growing like crazy. Here's a look inside the walls of the iconic cracker company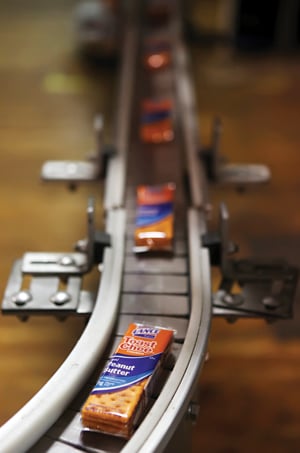 Why should a sandwich be limited to bread?
Why not think smaller, and press two salty, mildly cheddar-flavored crackers together with sweet peanut butter in the middle? We shall call this marvelous invention the Toastchee. Put six of them in a pack, small enough to fit in your pocket. Now take that same peanut butter and this time spread it between two sweet, thin, baked, square cookies and give it a fancy name like Nekot. Philip Lance and his family embarked on this project, to make the perfect sandwich cracker, in 1913 in Charlotte. And so the Lance brand was born.
Lance has steadily cranked out more and more crackers since then, occupying two main facilities on South Boulevard. After a stagnant period through the 1990s, the company has almost doubled in size in the past five years, and it now claims Cape Cod Potato Chips, Tom's Potato Chips, and Archway Cookies among its brands. But it still makes plenty of old-fashioned Toastchee sandwich crackers, too.
Johnnie Kirkpatrick has been helping make those crackers for more than fifty years. He graduated from Charlotte's J. H. Gunn High School in 1955 and a year later was still searching for his first full-time job. A neighbor came by his house one day and asked if he wanted a job at Lance. He jumped at the opportunity. He was hired for the third shift at the Lance factory at the corner of South Boulevard and Bland Street to clean the pots the dough and peanut butter were mixed in, among other duties.
"We were only doing two shifts of production then; the third shift did most of the cleaning up to get ready for first shift," Kirkpatrick says. He points out that like most places in the South, the facility was segregated, but he doesn't dwell on it. "That's just how things were," he says.
Besides, he was nineteen and happy to have a job. And the bosses at the company were friendly. "They used to come through and work with the people, so they knew what was going on," he says. "[The Lances] were real family oriented. One of them, [Philip] Lance Van Every — I was in charge of the mixing room, and a cart ran over his foot. I never let him live that down. A lot of them have come through here."
Lance added a second, larger production plant in Charlotte in 1962, about seven miles down the road on South Boulevard. It's the complex you see today (though it's expanded tenfold), on the other side of the light-rail line. The water tower with the iconic Lance logo is usually what you see first from the road. The company operated both plants, but as it added on to the second facility, the old location was no longer needed. Today it is Factory South Lofts.
Kirkpatrick, seventy-three, still walks the mixing room, paying no attention to the flour dusting his blue overalls. He's wearing earplugs, as all employees in this area are required to do. They're also required to have their heads covered, but whereas most employees are wearing the company-issued hair nets, Kirkpatrick is wearing a construction helmet with the Carolina Panthers logo on it — a perk of seniority.
With 1 million square feet of manufacturing space, there's a lot to keep an eye on. The mixing room where Kirkpatrick works is where the bak-ing process begins. Each week, some 3 million pounds of dough are mixed from scratch. The room is cool and loud as the sounds of the large mixing machines fill the air. Workers come and go with large stainless steel troughs on wheels, which hold more than a ton of dough each.
Next door is the proofing room, where dozens of troughs of dough are lined up neatly like cars in a parking lot. It's warm in here and the smell of baker's ammonia, which helps preserve the dough until it is ready to bake, is potent.
In yet another room, things get heated. Here you'll encounter the largest ovens you've likely ever seen — seven of them, each 250 feet long. Sheets of dough are rolled in, baked, and by the time it gets to the end of the run they're being cut into crackers and cookies. There are seven designs — two round and five square — and they're the shapes of many of the famous Lance snacks. Toastchee crackers are running on one line, Nekot cookies on another. Small Ritz crackers and Oreo cookies fill two others. (Lance contracts with a few other companies to make their treats.)
In the last few years, Lance Inc. has grown annual revenues from about $550 million in 2004 to just under $920 million in 2009. The company employs 5,000 people nationwide. Much of the recent growth is evident in a building about a hundred yards away, where Lance's Premium Cookie Division operates.
Inside PCD, the oven lines are much smaller, and the dough is baked similarly to how you would bake cookies at home, creating soft, gooey cookies. After the dough is baked and the cookies are cut, they're packed by hand (in the main facility, crackers and cookies are dropped into packs by rapidly firing robotic arms). An assembly line of workers places the finished snack packs on crates. The packages carry various brand names: Brent & Sam's, Walmart's Great Value, Target's Market Pantry.
The Premium Cookie Division opened on site last year after Lance acquired Brent & Sam's Inc. in March 2008 in a $26.3 million deal. Brent & Sam's was based in North Little Rock, Arkansas, where it produced a variety of gourmet-style cookies. Lance also acquired Stella D'oro in 2009, Archway Cookies in 2008, Tom's Snacks in 2005, and Cape Cod Potato Chips in 1999.
While Charlotte is home base, the company operates facilities in Columbus, Georgia; Burlington, Iowa; Ashland, Ohio; Hyannis, Massachusetts; Perry, Florida; Corsicana, Texas; and Ontario, Canada. The South Boulevard plant remains the company's largest operation. And today most of the business decisions are hashed out in Ballantyne. Lance Inc. is projected to be a billion-dollar company within a year. It has yielded record growth the past two years, even in a recession. That's the kind of growth that President and CEO David Singer envisioned when he took the helm in 2005. The fact that Singer's office is in Ballantyne is itself an example of growth and strategic changes within the company. For decades, Lance's corporate office had been at the site of the South Boulevard plant.
When one walks into the expansive lobby of the less-than two-year-old office tower, it becomes obvious Lance has come a long way from its roots as a blue-collar cracker company. Everything is shiny and ornate. Next to the visitors sign-in sheet is a box filled with packs
of Lance crackers and cookies. Feel free to take one — that is, if you're not feasting your eyes on the décor. Rich woods, frosted glass, and floor-to-ceiling windows abound.
"When customers or potential acquisition candidates or bankers or employees come in, we didn't look like the company we wanted to be," Singer says of the old South Boulevard space. The new office's sleek flat-screen TVs, theater-style training room, and snack-filled test kitchen leave little doubt of the almost hundred- year-old company's recent success.
"Starting in the early nineties through the early 2000s, [Lance] kind of lost a little of its luster," Singer says. "The company, for whatever reason, had got- ten a little off track and hadn't grown much at all while a lot of our competitors grew a lot."
Lance has added 200 new employees in Charlotte in the last five years. One of those is thirty-year-old Jeremy Kacuba. He was hired last fall as the Charlotte bakery plant department manager, working at the South Boulevard facility. Kacuba likes to point out that many of the people he super- vises — like fifty-four-years-and-counting employee Kirkpatrick — have been working there longer than he's been alive. And he says that despite all the company's growth and changes, the core of Lance remains the same.
"When I was growing up [in Pennsylvania], my dad worked for an agricultural company," Kacuba says. "He would take two packages of sandwich crackers with him every day to work. It turns out they're Toastchee, which we make out here on line two. My folks live in Wisconsin now, and you can't really get Lance there, so I've been buying twenty-count cases down here in the store and sending them up to him, because he's still taking two packs of sandwich crackers every day with his lunch. I didn't realize they were Lance back then — I just knew they were orange crackers with peanut butter."
Jarvis Holliday is a Charlotte freelance writer and regular contributor to this magazine.