Young Barbershop Quartet Competes With Elders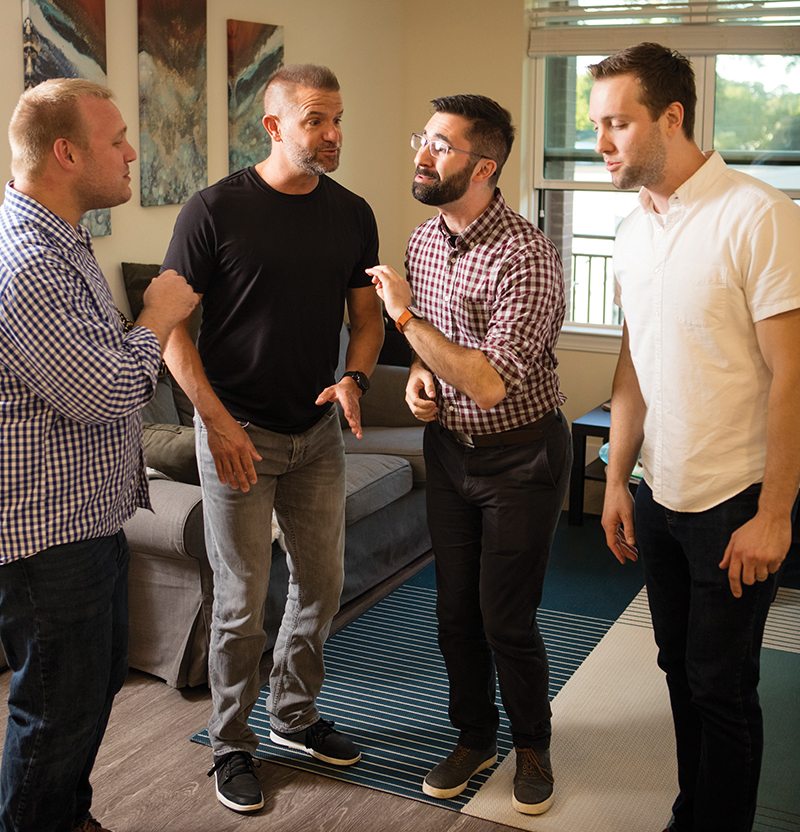 IN A BALLROOM SET for 700, with more empty chairs than occupied ones, Calvin Cupini plays the air guitar.
A dozen rows in front of him, four men, any one of them old enough to be Cupini's grandfather, wear bowler hats and croon to the crowd, singing about love at first sight.
Cupini, dressed in dark blue pants and a floral tie, is not wearing a bowler hat. In fact, his most notable feature isn't something he's wearing, which, for this audience, is saying a lot. Among the things the men in this room have donned are a quartet of multicolored, rhinestone-bedazzled ties, teal and orange vests, and four matching red suits, each with bright yellow shirts that mimic the hues of a Happy Meal box.
People immediately notice Cupini's trim, black beard. This particular beard would stand out in any crowd, but here, at the Carolinas 2018 Spring District Barbershop Quartet Competition, it's noticeable not for its fullness but its color.
Cupini, 29, is one-fourth of the barbershop quartet group Technically Sound. With him, Isaac Stewart, 32; Ben Mulch, 26; and Nathan Vaughan, 42, Technically Sound is one of the only groups here tonight comprised of members without thinning, gray hair.
"We do the nursing home circuit," Vaughan says, jokingly, of the quartet's performance venues.
They're used to being the youngest people in the room.
Cupini grew up in St. Louis, where barbershop quartet singing is still popular: "The largest, most successful chorus (the Ambassadors of Harmony) is there, world-champion quartets are from there, and one of the biggest community events of the year in the city is the Ambassadors' Christmas show, where they sell out of thousands of tickets on multiple nights. My high school split the men and women in the choir, and the boys sang barbershop."
When Cupini moved to Charlotte, he says, something was missing from his life. "I missed the sound. I missed that old-school American ring," he says. Soon, he joined the local Gold Standard Chorus, a larger group of singers, which often breaks into smaller quartets. Vaughan and Mulch also sang in the chorus. As the younger members in the group, the trio bonded over drinks at Plaza Midwood's Pizza Peel after rehearsals.
They were still only three, though, and they were missing a tenor. Stewart, who was singing in another quartet before Technically Sound, completed the quartet, enabling them to compete. It's at one of these competitions where Cupini finds himself playing the air guitar.
During an intermission at the four-and-a-half-hour competition on a Friday evening in March, Cupini checks his Apple Watch and prepares for his time onstage in front of the 10 judges, who have come from as far away as the Pacific Northwest to critique 27 quartets from across the Carolinas. He introduces the others to one of the competition's former judges and longtime singer Jan Muddle, as if he's Muddle's spokesman. Muddle has been singing in barbershop quartets for 53 years—nearly a quarter-century longer than Cupini's been alive.
At precisely 9:20 p.m. (barbershop quartet competitions are a lot of things. Late, they are not.), Technically Sound takes the stage in the ballroom, as the audience watches from the sea of seats below. Stewart pulls a pitch pipe from the back pocket of his blue jeans, blows into it, and the quartet begins to sing "I Can't Give You Anything But Love" and "It's You" from The Music Man. The latter song premiered on Broadway nearly two decades before Technically Sound's oldest member was born.
After eight minutes of singing, Technically Sound takes its bows and exits the stage. Whispers of "wow" murmur through the audience. A man in one row attempts to give a standing ovation, but is too frail and falls back into his chair. Another gray-haired man tells his wife, "Those guys are awesome."
In the end, Technically Sound doesn't repeat its win. They are beaten by singers who have been doing this much longer than they have.
For this group, though, there's always next year.