Young Democrats and College Democrats of N.C. Holding Convention in Charlotte this Weekend
Discussion of the Democratic National Convention among the many items on the agenda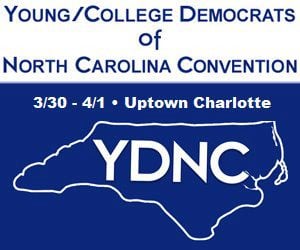 The Young Democrats and College Democrats of North Carolina are holding their 2012 Convention this weekend, Friday, March 30 through Sunday, April 1, at the Blake Hotel. YDNC officials say they expect hundreds of Dems of all ages from around the state to attend.
Among the party's prominent leaders scheduled to speak are: Congressman Mel Watt, former Congressman Bob Etheridge, Lieutenant Governor Walter Dalton, Representative Bill Faison, Senator Eric Mansfield, and labor leader Chuck Rocha. Several Democrats running for North Carolina governor, lieutenant governor, and council of state are also scheduled to participate.
For those interested in the 2012 Democratic National Convention, Steve Kerrigan, DNCC CEO, will give remarks during the opening session Saturday morning. Later that day, there will be a training session on how to be a delegate to the Democratic National Convention. YDNC says it worked to increase the youth (under age 36) delegate goal for the state from four in 2008 to 19 for 2012, and that empowering young people to be involved with the DNC and the Democratic Party is a focus for this year.
Programming for the three-day convention also features events highlighting contributions of North Carolina women, led by the Women's Caucus of the Young Democrats of North Carolina. This includes a reception honoring four Democratic women, notably the late Charlotte City Councilwoman Susan Burgess, who's credited for igniting the charge that would lead to Charlotte eventually landing the Democratic National Convention.
Also on the events schedule you'll find numerous training sessions (organizing against the constitutional amendment, voter registration, etc.), panel discussions (public education, how to make a difference in the Democratic Party, etc.), and caucus meetings (labor, minorities, rural, women). Social events include an NCAA Final Four Watch Party and a Wine About Politics Party. YDNC and CDNC will also elect their officers for the next year. YDNC has the distinction of being the oldest Young Democrats chapter in the country, founded in 1928.
Tickets for the convention range from $25 to $50 and that includes all convention activities for three days, with the exception of the Friday night reception and Saturday's watch party (tickets sold separately for those). Get all the details you need by visiting ydnc.org.