Young Professionals Events, Sinatra Party, Lookbook Live, Fundraising Galas, Celebrity-Hosted Events, and More – Oct. 16-19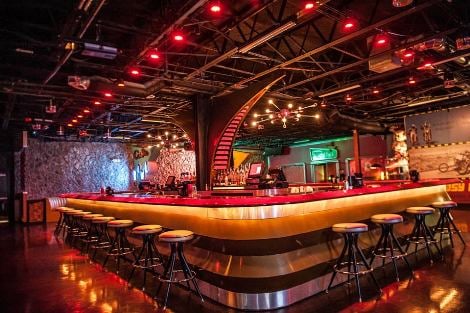 Plenty of special events highlight your social itinerary this week. Don't miss out on a fun-filled afternoon, evening, or night.
Charlotte Hornets Pop-up Party Tour (October 16-23)
The Hornets are building plenty of buzz for the upcoming NBA season, and the latest is this pop-up party tour. The Honey Bees (cheerleaders), Hugo (mascot), and members of Hornets' staff are traveling to venues around the city, inviting you to meet-and-greets and the chance to win prizes including Buzz Fest tickets and Buzz City T-shirts. Events this week: Thursday, 5:30-7:30 p.m., Triple C. Brewery; Friday, 8:20 a.m., WFNZ Dog House, with No Limit Larry and the Morning Madhouse radio show; 5-8 p.m., Food Truck Friday in South End; Saturday, 11 a.m.-1 p.m., Q-City BBQ Championship. For more details, dates, and locations, visit hornets.com/popup-party.
Thursday, October 16
Young Leaders Monthly Networking Event
The United Way Young Leaders host this event on the Third Thursday of every month, and it's a good opportunity to meet young professionals and learn about upcoming volunteer opportunities throughout Charlotte. 6-8 p.m. Free admission. Draught, 601 S. Cedar St., draughtcharlotte.com, uwyl.org.
Cufflinks & Cocktails
The Charlotte Alumni Chapter of Kappa Alpha Psi Fraternity invites guests to a different restaurant or bar each month for this popular, after-work social. 6-10 p.m. Free admission. Vida Vida, at EpiCentre, 210 E. Trade St., thevidavida.com, cufflinksandcocktails.com.
Thursday Night Football and Scandal Viewing Party (weekly event)
Come out to this recently opened bar and lounge to watch the Thursday NFL game—this week it's the New York Jets vs. the New England Patriots—or to watch one of the hottest shows on TV, Scandal. Hosted by radio personality Melanie Pratt. Doors open 5 p.m.; game starts 8:25 p.m.; show starts 9 p.m. Free admission. Sports One Bar and Lounge, 521 N. College St., sportsoneclt.com.
Friday, October 17
Tour De Bubble
In honor of Breast Cancer Awareness Month, this is a fundraiser for the Young Survivor Coalition. Your donation gets you a complimentary glass of champagne and light appetizers. 6-8 p.m. $10 donation requested. Bubble, at EpiCentre, 210 E. Trade St., bubblecharlotte.com.
Guys' Night Out
It's an event for the fellas, offering product sampling, demonstrations, and bourbon and beer tastings from Yelp Charlotte, Woodford Reserve, Pilsner Urquell, Gentleman Jack, and Silverfly. 6:30-8:30 p.m. Free admission. Shine Salon, 1819 E. Seventh St., facebook.com/shinesalonclt.
Fly Me to the Moon – Celebrating the Life and Drink of Frank Sinatra
Mr. Sinatra loved Jack Daniel's, so it's the featured drink during this special event, and you'll enjoy samples of the Frank Sinatra Edition Jack Daniel's, Gentleman Jack, Jack Daniel's Single Barrel, and Jack Daniel's Tennessee Whiskey, as well as complimentary appetizers. Plus, Outland Cigars will be on site. 8:30-10:30 p.m. $50. Bubble, at EpiCentre, 210 E. Trade St., bubblecharlotte.com, flymetothemoonevent.eventbrite.com.
Pins for Pink
Come out for a fun night of bowling, music by a DJ, food, drinks, and prizes while raising money for Carolina Breast Friends. Presented by J. Divine Group. 9-11 p.m. $25. Ten Park Lanes, 1700 Montford Dr., rollten.com, jdivinegroup.com.
Pink Masquerade Party
Men and women are invited to wear your best pink outfit and come sip on pink cocktails, where $1 from each purchase will go towards breast cancer research. And if you come dressed in pink, you'll receive a complimentary glass of champagne, and the first 50 ladies in attendance will receive a pink masquerade mask. 9 p.m.-midnight. For guest list, scalderon@blackfinncharlotte.com. Blackfinn Ameripub, at EpiCentre, 210 E. Trade St., facebook.com/blackfinncharlotte.
Stop, Shop, and Roll
Circa360, the trendy mobile boutique, presents this fashion and trunk show. Ladies will receive complimentary champagne. 9:30-11 p.m. Free admission. Suite, at EpiCentre, 210 E. Trade St., suitecharlotte.com.
Bollywood
Go Bollywood for the night and dress like your favorite star, during this special event at one of Charlotte's newest nightclubs. Music by DJ Ronak. Presented by Boppi and Sandeep. 10 p.m.-2 a.m. $10 in advance; $15 at the door. Automatic Slims, at NC Music Factory, 820 Hamilton St., ncmusicfactory.com/event/bollywood, bollywooddreams.us.
Saturday, October 18
Simon Lookbook Live
It's an interactive trend showcase from the style professionals at GQ and Glamour magazines as well as local stylists and fashion bloggers, featuring all-day event offers, insider's scoops on the hottest looks this season, personal styling sessions, grooming and beauty how-tos, social media challenges, and giveaways. 1-6 p.m. Free admission. Center Court at SouthPark Mall, 4400 Sharon Rd., www.simon.com/mall/southpark/stream/simon-lookbook-live-1469983.
DayJaVu – The Social Experience
Themed "Autumn Exchange," this edition of the day party series features music by DJ Shaun Nyce and DJ Crush Groovey, and hosted by local models. 3-8 p.m. Free before 5 p.m. with RSVP; general admission, $10; VIP tables available. Label, 900 NC Music Factory Blvd., labelcharlotte.com, dayjavudayparty.eventbrite.com.
Neale Bayly Charity Event
The star of Neale Bayly Rides and founder of Wellspring International Outreach hosts this fundraiser to benefit South African orphans. There'll be motorcycles on display, live music, a silent auction, and food and drink menus. 5-10 p.m. General admission, $20. Texicali Taco & Tequila Bar, 900 NC Music Factory Blvd., texicalicharlotte.com.
Fillmore Craft Beer Sessions
This inaugural event features more than 40 breweries, including NoDa, Birdsong, Triple C, Unknown, Natty Greene's, Foothills, Lagunitas, Anchor Brewing, Bells, Dogfish Head, and many more. Entry includes unlimited sampling and a souvenir glass. 5 p.m. General admission, $35 at the box office (where you can avoid the online service fee); VIP, $75, includes 4 p.m. entry. The Fillmore Charlotte, 1000 NC Music Factory Blvd., fillmorecharlottenc.com.
Calvin Harris Live

He's one of the biggest EDM DJs in the world and he's sure to draw thousands of partiers to this rooftop venue. Opening sets by local DJs. Presented by Kiss 95.1 FM, Rooftop 210, and Suite. 4-11:30 p.m. Most ticket options have sold out; only $60 tickets (Suite patio view) remain. Rooftop 210, at EpiCentre, 210 E. Trade St., epicentrenc.com/event/calvin-harris/3113.
[photo credit: facebook.com/calvinharris]
Slap Shot Happy Hour
SportsLink returns with this event series for hockey fans, which includes a pre-party with a complimentary beer, 5-7 p.m. at Prohibition, 200 N. Tryon St.; admission to the Charlotte Checkers game, 7 p.m. at Time Warner Cable Arena; and post-party with two complimentary beers, 9 p.m. at Prohibition. 5-11 p.m. $15. sportslinkus.com/events/event/checkers-slap-shot-happy-hour.
10th Annual Clam Jam
This venerable South End bar hosts its signature event, serving clam plates and buckets, live music (6-10 p.m.) from The Handsome Rebellion, drink specials, and giveaways. A portion of proceeds will benefit The Allegro Foundation. 4 p.m.-2 a.m. Tavern on the Tracks, 1411 S. Tryon St., facebook.com/taverntracks.
Third Annual End the Silence Gala
Enjoy an evening of impactful art exhibits, live Latin jazz, a catered reception, and silent auction. Presented by Pearls for Creative Healing, a nonprofit organization that promotes domestic violence awareness and empowers survivors through creative art programs. 6-9 p.m. $50 in advance; $80 for two. McColl Center for Art and Innovation, 721 N. Tryon St., endthesilence.eventbrite.com.
A Better World's Eighth Annual Gala
The evening features a fashion show, dinner, silent auction, and live band, with proceeds benefiting A Better World, which aids the Ashley Park community and surrounding areas by working with disadvantaged youth. 7 p.m. $100. Bank of America Stadium, 800 S. Mint St., abetterworldcharlotte.org.
Notre Dame vs. Florida State Viewing Party
This is one of the most anticipated matchups of the college football season, between two top-five-ranked, undefeated teams. And this South End sports bar is the official home of the FSU Charlotte Seminole Club. The game will be shown on dozens of TVs, and drink specials include $2.50 Yuengling Light bottles and $4 sangria. Game time is 8 p.m. Free admission. All American Pub, 200 E. Bland St., allamericanpubclt.com.
Make It a Montford Night
This is a Saturday night hotspot along the bustling Montford Drive, offering cocktail specials, music by DJ Wylie, a dance floor, and large patio. 9 p.m.-2 a.m. Free admission. Southside, 1600 Montford Dr., southsideclt.com.
No Limit Larry & The Morning Maddhouse 10th Anniversary After-Party
It's part of Power 98's popular morning show's 10th anniversary weekend, featuring live performances from Adrian Marcel and Yung Joc, and appearances by Pastor Troy, Tobias Tate, Mike from Day 26, Kirko Bangz, and Rico Love. 10 p.m. $10 in advance. Vanity, 500 W. Fifth St., vanitycharlotte.com, power98fm.cbslocal.com.
Sunday, October 19
Five O'clock Shadow Brunch
Beards BeCAUSE and the Hearts Beat as One Foundation are partnering on this event, hosted by Charlotte's legendary drag performer Buff Faye. A complimentary brunch and drink specials will be served. 12:30 p.m. $5 donation requested. The Bar at 316, 316 Rensselaer Ave., thebarat316.com, beardsbecause.com/events.
Working Women's Empowerment Luncheon
As part of No Limit Larry & the Morning Maddhouse's 10th Anniversary Weekend celebration, this luncheon will feature discussions by a panel of successful and inspiring women from a variety of careers. 2-4 p.m. $10. Red @ 28th, 2424 N. Davidson St., redat28th.com, power98fm.cbslocal.com.
Carved 2014
Twenty-nine of the area's top culinary experts will compete in this annual Charlotte chef pumpkin-carving competition, while guests witness their skills along with enjoying demonstrations on apple cider press, on-the-cob popcorn shelling and popping, and beekeeping. Plus, there'll be beer served by Lenny Boy Brewery. Proceeds will go to Piedmont Culinary Guild and Slow Food Charlotte's Farmer Fund. 4 p.m. Adults, $10; children, $5. 7th Street Public Market, 224 E. Seventh St., 7thstreetpublicmarket.com, piedmontculinaryguild.com/events.
Xklusive Convos Charlotte: Dating Naked
The latest event in this series offers you an evening of mixing and mingling, appetizers, drink specials, and the highlight will be conversations about dating, facilitated by relationship coach Troy Spry and matchmaker Julie Wadley. 5-8 p.m. $15. Enso Asian Bistro and Sushi Bar, at EpiCentre, 210 E. Trade St., xklusivethoughts.com/event-dating-naked-oct-19th.
Seen It All Concert After-Party with Jeezy
This edition of Label On Sunday is a special after-party hosted by Jeezy, who performs in concert earlier in the night, just steps away at The Fillmore. Music by DJ Ngenius, Mario The Mic Man, and DJ LP. 10 p.m.-2 a.m. General admission, $20 in advance; VIP tables available. Label, 900 NC Music Factory Blvd., labelcharlotte.com, jeezyatlabel.eventbrite.com.
Verify dates, times, prices, and other info at the web addresses listed for each event.
Be sure to bookmark www.charlottemagazine.com/Blogs/Dusk-Till-Dawn to stay plugged into Charlotte's nightlife and social scene. Click here to sign up to receive the weekly Dusk Till Dawn e-newsletter. Follow me on Twitter @HollidayInk; email me at jarvish@grownpeopletalking.com.