Your Guide to Styling Throw Pillows
Rule #1: Don't make your guests swim in a sea of scratchy pillows.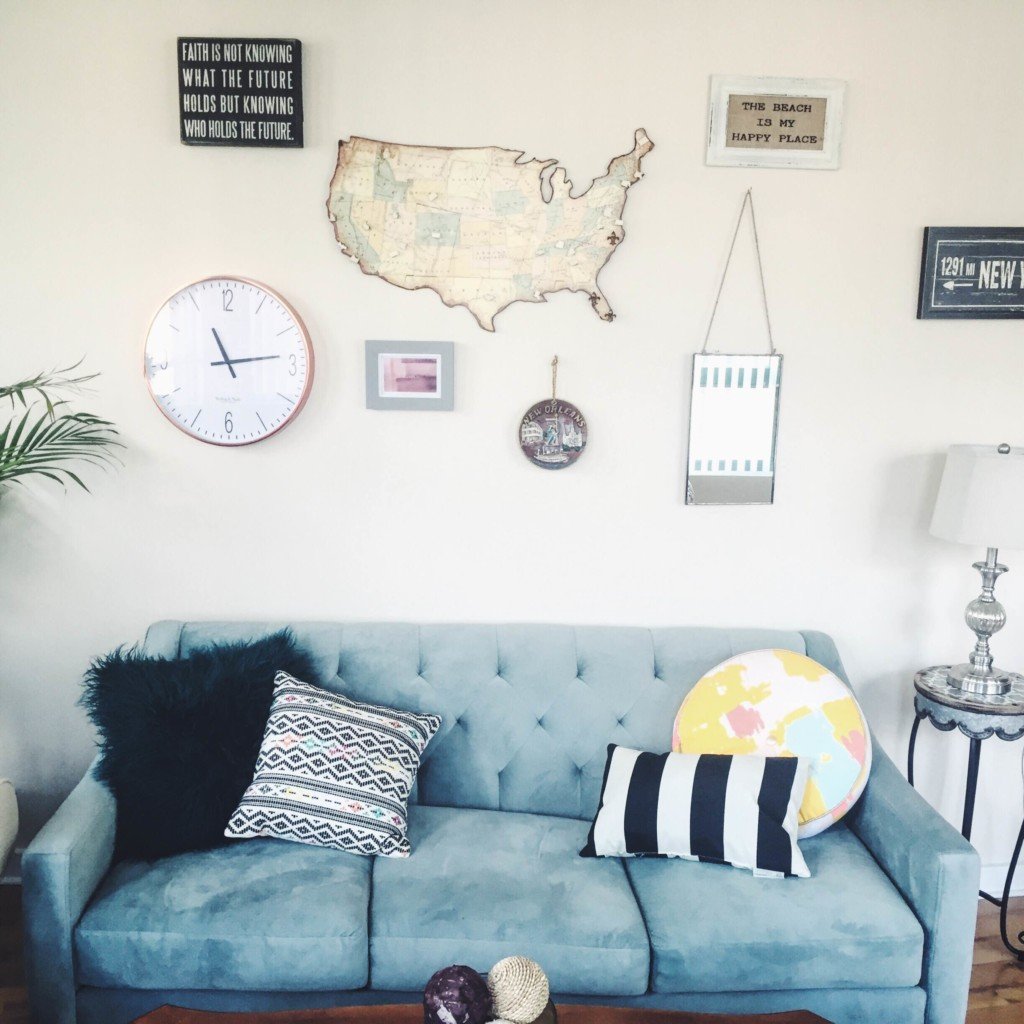 Throw pillows can be the icing on the cake of a well-designed living room. They can also give your master bed the bit of style it needed. Using throw pillows to incorporate extra personality and pizzazz is no new practice in interior design, but it is, however, easy to do it wrong.
Think about the bed with so many pillows you have to enlist the help of a forklift to clear them away before snuggling under the covers. Or the couch that's overflowing with throw pillows so much so that you have to sit on the floor instead. OK, so maybe these examples are a tad dramatized, but you understand what I'm talking about, right? Right.
Great, so let's get to the good part where I share some important tips about throw pillow styling.
Mix texture and size
You don't want to purchase six of the same exact pillow in different colors. It looks plain and defeats the purpose of adding throw pillows. Get creative with your textures–pick a ruffled silk pillow, a fuzzy one, a velvet one, an embroidered one, etc. Then, make sure the pillows differ in shapes and sizes. Grab a smaller horizontal pillow, an intriguing circular shape, and a large square one. Mixing texture, shape, and size will increase intrigue and actually make the pillows look like they match more by being unmatched. Which brings me to my next point…
Use unexpected prints and colors
Don't pick up the same pattern that's on your drapes; instead, go for something totally different. You want your throw pillows to complement the other design elements in the room while also bringing in new styles. Your throw pillow choices dictate which additional colors you add to the room's palette, so if there was a hue too dramatic for the wall color, but you still love it, throw it on a pillow. (See what I did there?) Oh, and mix patterns, too. Stripes, floral, southwestern, chevron–whatever suits your fancy. Throw pillows can be fun! Just offset pattern play with a couple solids.
Never be too symmetrical
In terms of symmetry, you do need a couple pillows with the same color scheme or pattern to keep your collection from looking too hodgepodge-y. You can even use some of the same exact pillows to keep balance across two couches. However, never arrange the pillows in perfect symmetry. Most of the time, an odd number of pillows looks better, but you can get away with a neatly arranged even number if polish is part of your style.
Tie in other elements
One of the most important duties of a throw pillow arrangement is its ability to tie in other elements of the room. Maybe you have a bright orange chair nearby that doesn't really match anything else. That's when you incorporate the orange color into one of the throw pillows. Keep a general palette in mind that will help with harmonizing eclectic details.
Can you live in it?
When you're standing back and admiring your pillow arrangements, remember to ensure that the space is livable. Did you get carried away and add too many pillows? Are the pillows uncomfortable to the touch? Can a guest sit down without feeling attacked by the accessories? Infusing a livable factor should be the recurring theme in the back of your mind as you style your pillows.