Your Weekend Wrap Up (Jan. 25-27)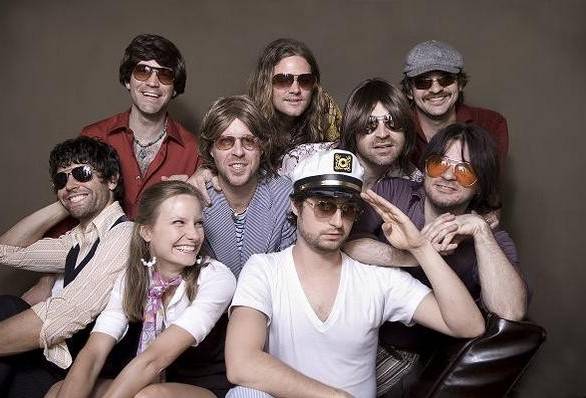 The weather outside is frightful, but these events are so delightful. See what I did there?
Take a break today from slinging rock salt, scraping windows and generally trying to de-ice your life and escape into the warm rooms of Charlotte's event halls.
Here is your weekly wrap-up for January 25-27.
Friday
Yacht Rock Revue
Grab your sailor's cap and aviators: The soft rock sounds of the late 1970s and early 1980s is back and you don't need a turntable to re-live it. Instead this live outfit revisits the era of early Hall and Oates, Olivia Newton-John, and Seals and Crofts during this winking tribute. $10. 8 p.m. Visulite Theatre, 1615 Elizabeth Ave. 704-358-9298, visulite.com.
Knights Sounds: Ballroom
The CSO kicks up its heels while trading on the renewed popularity of ballroom dance. The symphony sets a high-energy canvas for Metropolitan Ballroom dancers to rumba, samba, tango, and waltz. Concertgoers are encouraged to wear their craziest, coolest shoes and cut a rug themselves at the after-party. $39. 7:30 p.m. Knight Theater, 430 S. Tryon St. 704-372-1000, carolinatix.org.
Saturday
Marshall Tucker Band
In the Southern rock spirit of "nothing can keep a good band down," Greenville, South Carolina's favorite sons continue to record and tour regularly despite deaths and breakups, soldiering on with founding vocalist Doug Gray at the helm. $25-$50. 8 p.m. Neighborhood Theatre, 511 E. 36th St. 704-358-9298, neighborhoodtheatre.com.
Shen Yun
Become immersed in Chinese culture and history with this Chinese dance and music company, whose production intertwines ancient legends and history with modern events through song, dance, synchronization, choreography, elaborate costumes, rhythmic drumming, and vivid sets. $50-$150. Sat, 7:30 p.m.; Sun, 2 and 7:30 p.m. Knight Theater, 430 S. Tryon St. 704-372-1000, carolinatix.org.
New Year's Resolution Retraction
We're three weeks into 2013 and Over The Counter Improv thinks its time to rethink those pesky New Year's resolutions. The Charlotte-based improv group will give out copies of the book Through a Baby's Eyes, written by Paul Marks, member of the troupe, to the first 50 guests to this show. $10-$12. 8 p.m. Actor's Theatre of Charlotte, 650 E. Stonewall St. 704-618-4203, otcimprov.com/
Sunday
Magic Flute
Opera Carolina presents Mozart's hugely popular 222-year-old Singspiel (an opera that is sung and spoken) of love at first sight, fate, devotion, and triumph. $15-$130. Sat, 8 p.m.; Thu, 7:30 p.m.; Sun, 2 p.m. Belk Theater, 130 S. Tryon St. 704-372-1000, carolinatix.org.
The Family Friendly Comedy Improv Musical Variety Extravaganza Starring the Chuckleheads
It's a sketch and improv comedy and musical variety show that is family friendly. That's not an easy feat, but the show is without cursing or the naughty bits but with all the spectacle and fevered pace of a normal Chuckleheads' show. $5. 4 p.m. Charlotte Comedy Zone, 900 NC Music Factory Blvd. 980-321-4702, cltcomedyzone.com
All Weekend
Jeff Dye
This comedian who has competed on Last Comic Standing and released his half-hour comedy special last year on Comedy Central will perform this weekend at the Charlotte Comedy Zone. He also appears as a series regular on ABC's Extreme Makeover: Home Edition. $12-$17. Fri, 8 and 10:15 p.m.; Sat, 7 and 9:30 p.m. Charlotte Comedy Zone, 900 NC Music Factory Blvd. 980-321-4702, cltcomedyzone.com.
Next to Normal
The adventurous company behind such eclectic local productions as Bent and Xanadu tackles the heavy subject matter and rocking tunes of this Tony- and Pulitzer-winning musical. With a contemporary score courtesy of Tony Kitt (Bring It On, High Fidelity) and lyricist Brian Yorkey, the musical addresses mental illness, suicide, family dynamics, and modern psychiatry as its characters deal with a mother's worsening bipolar disorder. $25-$28. Wed-Thu, 7:30 p.m.; Fri-Sat, 8 p.m.; Sun, 3 p.m. Duke Energy Theater at Spirit Square, 345 N. College St. 704-372-1000, queencitytheatre.com.
The Foreigner
Charlie Baker is a dull Englishman, but when he decides to feign the inability to speak English while vacationing at a Georgia fishing lodge he uncovers secrets and gossip in this comedic farce from Larry Shue. $25. Wed-Thu, 7:30 p.m.; Fri-Sat, 8 p.m.; Sun, 2:30 p.m. Theatre Charlotte, 501 Queens Rd. 704-372-1000, theatrecharlotte.org.
Frost/Nixon
Peter Morgan's story of disgraced former president Richard Nixon's interviews with similarly fallen British talk show host David Frost is riveting theater. Each party approaches the series of interviews with his own agenda—Nixon to save his reputation, Frost to revive his career. $18-$28. Thu-Sat, 8 p.m.; select matinees. CAST, 2424 N. Davidson St., Suite 113. 704-455-8542, nccast.com.
Jack & The Beanstalk
This collaboration between the Davidson Community Players and Davidson College's theater department is a Jack for all ages. Adapted by Rupert Barber, the classic tale of the boy, the giant, the beans, and a goose that lays golden eggs is a fun family-friendly production. $7. Fri, 4:30 and 7:30 p.m.; Sat, 10:30 a.m., 2:30 and 4:30 p.m.; Sun, 2:30 and 4:30 p.m. Armour Street Theatre, 307 N. Armour St., Davidson. 704-892-7953, davidsoncommunityplayers.org.
NC Dance: Innovative Works
Intimacy and invention are on display at this North Carolina Dance Theatre series. The performance includes choreography from NC Dance's Sasha Janes, Mark Diamond, Dwight Rhoden, and David Ingram. $25-$65. 7:30 p.m. Patricia McBride and Jean-Pierre Bonnefoux Center for Dance, 701 N. Tryon St. 704-372-1000, carolinatix.org.
The Secret Garden
Based on the children's classic, this Tony-winning musical follows orphaned Mary from exotic India to stuffy ol' England. With a little help, Mary, a neglected garden, and her new family are transformed. $20-$26. Fri, 7:30 p.m.; Sat (Jan 19), 3 p.m.; Sat (Jan 26), 1 p.m.; Sun, 2 p.m. McColl Family Theatre, 300 E. Seventh St. 704-973-2828, ctcharlotte.org.
Brother Rabbit Spinning Free
This original production, which weaves together stories from Vietnam, Central America, and Native American cultures, makes its world premiere. Created for Children's Theatre of Charlotte's Taradiddle Players, the story follows one clever bunny as he uses wits and words to escape the clutches of a sly fox. $16. Fri, 7:30 p.m.; Sat, 11 a.m.; Sun, 2 p.m. Wells Fargo Playhouse, 300 E. Seventh St. 704-973-2828, ctcharlotte.org.