Your Weekly Recommendations (April 29- May 3)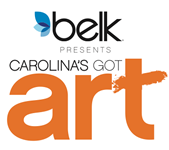 Art rules the week in Charlotte as galleries are pulling out their biggest and most popular exhibits as we get closer to the end of the 2012-13 season.
There are several very good and interesting events taking place at local galleries and museums that you won't want to miss.
Monday
Who is the 'We' in "We The People"?
Fighting for Democracy: Who Is the "We" in "We the People"? is an exhibit at the Levine Museum of the New South that focuses on the experiences of seven individuals whose lives and communities were altered by World War II. The traveling exhibit, which premiered at the National Center for the Preservation of Democracy in Los Angeles, invites visitors to explore issues like education and gender equality, democracy abroad, and freedom of speech. $5, 10 a.m.-5 p.m. E. Seventh St. 704-333-1887, museumofthenewsouth.org.
Tuesday
I Got Freedom Over My Head: Portraits by Julie Moos & Jonathan Green: Spiritual Journey of Life
These two exhibits at the Harvey B. Gantt Center for African-American Arts+Culture follows different groups of people hoping to perserve disappearing communities. I Got Freedom Over My Head: Portraits by Julie Moos features 14 photographs—all on loan from the Bank of America Collection—of elder female members of Birmingham, Alabama's New Pilgrim Church. The women were active in the civil rights movement. Photographer Moos uses the form to force the audience to examine equality and fairness. Jonathan Green: Spiritual Journey of Life examines the culture of South Carolina's Gullah and Lowcountry communities through his vivid paintings. . $6-$8, 10 a.m. -5 p.m. S. Tryon St. 704-547-3700, ganttcenter.org.
Wednesday
Flight of the Butterfly in IMAX
This film at the Discovery Place follows the interconnected lives of the Monarch butterfly and its mysterious migration. The documentary also chronicles the scientist who searched for 40 years to find out where the butterflies were migrating. See the trailer for the fantastic film below. $5-$10, multiple viewings. 301 N. Tryon St. 704-372-6261, discoveryplace.org.
Thursday
Artist Talk: Amy Bagwell at CPCC Galleries
Amy Bagwell will discuss work in her current show in the Ross Gallery at CPCC Central Campus, "The Factories Don't Install Emotion Tapes." With an underlying motivation to make poetry more accessible, she creates assemblage of found objects, usually mechanical, whose purpose is to highlight the themes and visual presence of her printed words. Free. 12 p.m., 1201 Elizabeth Ave, 704-330-6211.
Friday
Jazz at the Bechtler: Jazz Favorite from Bechtler Family Album
The popular Jazz at the Bechtler music series continues with favorite selections of Andreas Bechtler, the museum's namesake. The Ziad Quartet performs selections from Frankie Carle Plays Cole Porter, Rafael Mendez and his Orchestra, RCA Victor Presents Eartha Kitt and Page Cavanaugh Plays for the Cocktail Hour, and more. Free for members, $12 for non-members, 6 p.m. Bechtler Museum of Modern Art, 420 S. Tryon St. 704-353-9200, bechtler.org.
Andrew Hayes opening at MoNA Gallery
When Andrew Hayesis looking for a new book for a piece, he's doesn't concern himself with content; it's the edges of the pages he's interested in. Hayes cuts, bends, torques and twists the pages into different shapes then uses metal to bind them into place. Hayes is a new addition to the NoDa Gallery, and his work will be on view there through June 29. Free. 6 -9 p.m., 1900 N. Brevard Street, 704-390-0495.
Carolina's Got Art Opening Reception
Elder Gallery will host the opening reception for the juried exhibition Carolina's Got Art, presented by Belk. Selections this year were made by Lance Espland, art critic at Bloomberg News. The Carolina's Got Art Competition was founded to support Carolina Artists and allow them an opportunity to sell their work. The show will be on view at Elder Gallery through June 1. Free. 6-9 p.m., 1520 S. Tryon St, 704-350-5229