Your Weekly Recommendations (May 28-31)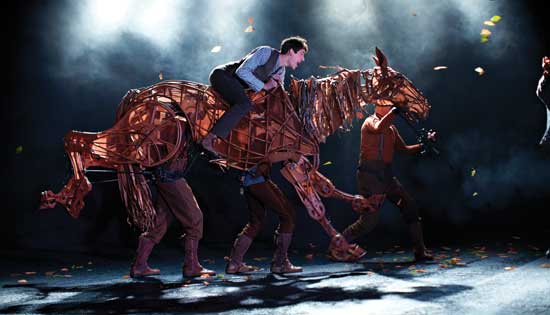 It's a shortened work week but these four-day are teaming with great events. Take the time this week to check out one or more of these.
Tuesday
Kevin James
Kevin James's turn as the bumbling but loving husband on King of Queens and his roles as similarly bumbling but loving leads in movies have propelled him to stardom. He got his start as a stand-up comic, and he's heading back to the world of the single spotlight to joke about his life as a bumbling but loving adult. $49.55-$71.15. 8 p.m. Ovens Auditorium, 2700 E. Independence Blvd. 800-745-3000, ticketmaster.com. (One Night Only)
Wednesday
War Horse
A horse named Joey has been sold to the cavalry and shipped to France. His owner, heartbroken but too young to join the war effort, embarks on a mission to bring back his beloved horse. This play is filled with music and a life-size horse puppet that gallops and charges, bringing Joey to life. $20 and up. Tue.-Thu., 7:30 p.m.; Fri, 8 p.m.; Sat, 2 and 8 p.m.; Sun, 1:30 and 7 p.m. Belk Theater, 130 N. Tryon St. 704-372-1000, carolinatix.org. (Opening Night)
Thursday
Party in the Park 2013
The Mint Museum is hosting a family friendly outdoor party on their Randolph campus lawn. This fundraising event, which will begin at 5:30 p.m. with a members-wide meeting, will include a silent auction, music, outdoor games, food trucks (Papi Queso, Southern Cake Queen, and Roaming Fork), and will end with a screening of Top Gun. $10 for members, $20 for non-members, kids 18 & under free, online registration required. 6:30-11. Mint Museum Randolph, 2730 Randolph Rd, 704.337.2000, mintmuseum.org
Hidell Brooks Gallery: Scott Duce
Hidell Brooks Gallery: Scott Duce Hidell Brooks Gallery recently received a charming new series by Scott Duce titled In Public, featuring solitary figures doing ordinary things, posed against bright, flat backgrounds. Duce was inspired by people he saw out the window of his New York studio. The 12 x 12 inch paintings are on view now at Hidell Brooks Gallery. Free, open 10-5 Tuesday-Friday, 10-3 Saturday. 1910 south blvd. suite 130, 704.334.7302, hidellbrooks.com.
Jerald Melberg Gallery: Romare Bearden and Ida Kohlmeyer
Jerald Melberg Gallery is currently hosting two shows of work by remarkable 20th century artists. Romare Bearden: St. Maarten Watercolors is a collection of watercolors executed in St. Maarten, his second home. The watercolors capture the tropical aura of an island filled with fishermen, flowers, rainforests, and waterfalls. In conjunction with Romare Bearden, the gallery will show a solo exhibition of work by renowned New Orleans native Ida Kohlmeyer. Her abstract paintings, prints, and sculptures are saturated with bright colors and symbols, distinctly playful and enticing. On view through July 27. Free, open Monday – Saturday 10-6. 625 South Sharon Amity Road, 704-365-3000, jeraldmelberg.com.
I Got Freedom Up Over My Head: Portraits by Julie Moos
The Harvey B. Gantt Center for African American Arts and Culture is currently hosting a show of work by Canadian born artist Julie Moos. In her work, Moos explores themes of culture and tension, here capturing the aura of a group of African American women from New Pilgrim Baptist Church in Birmingham, AL known as the Hat Ladies. Their sartorial choices are distinct and extravagant, and they sit confidently in pairs smiling pleasantly at the visitor. This wonderful show is simply yet excellently executed. On view through June 15. Free for members, $8 for non-members, open 10-5 Tuesday-Saturday, 1-5 Sunday. 551 South Tryon Street, (704) 547-3700, ganttcenter.org
Friday
Deep Water: The Murder Ballads
E.E. Balcos choreographs true tales of seduction and love gone wrong. The works were inspired by 19th-century folks ballads and narrative songs culled from three North Carolina tales of murder and are performed by some of North Carolina's best traveling dance troupes. The choreography and music attempt to capture the relationships and lives of the accused and the deceased, capturing the couple's love lives, courtships, struggles and ultimate ends. $18. Fri, 8 p.m. Knight Theater, 430 S. Tryon St. 704-372-1000, carolinatix.org. (Opening Night)