Your Weekly Recommendations (May 6-10)
Our favorite events happening this week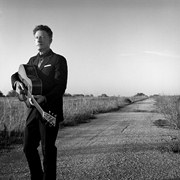 While we're supposed to be enjoying May flowers, we're still deeply entrenched in April showers. The weather this week is expected to be gloomy, but Charlotte theaters have a slew of great options to escape the doldrums and get out of the cold.
Here are our recommendations for the most interesting shows and events this week.
Monday
He's an Americana and alt-country legend. His music is some of the finest in his genre and he has the Grammys and critical adoration to prove it. He'll be performing an acoustic set from his latest album, Release Me, and some of his older songs. $29.50 and up. 7:30 p.m. Belk Theater, 130 N. Tryon St. 704-972-2000, carolinatix.org.
Tuesday
(Opening Night) This off-Broadway production is a mash-up of Cirque Du Soleil, Stomp, and the Harlem Globetrotters, with performers doing difficult acrobatics, skateboarding, basketball tricks, music, and dance. The fast-moving production is part of the Duke Energy Broadway Lights Series presented by Blumenthal Performing Arts. Knight Theater. $20-$105. 7:30 p.m. Knight Theater. 704-372-1000, carolinatix.org.
Wednesday
Mint Museum Artist-In Resident Motoi Yamamato can do amazing things with salt. His works are startlingly beautiful and intricate. The size and scope of his work is breathtaking and must be seen in person to fully appreciate the awe. See the video below about how the salt art is made. Free. 10 a.m.- 6 p.m. Mint Museum Uptown, 500 S. Tryon St. 704-337-2098, mintmuseum.org.
Thursday
Playing for Others, a non-profit empowering teenagers, will bring this full length jukebox musical to life. The musical features beloved songs like Elvis' "Blue Suede Shoes," "Hound Dog," and "Jailhouse Rock" and is based on Shakespeare's Twelfth Night. It's a unique performance and a good cause, perfect for a night out. $10. 7 p.m. Actor's Theatre of Charlotte, 650 E. Stonewall St. 704-342-2251, actorstheatrecharlotte.org. (Shows also held on Friday and Saturday)
Friday
This Seattle-based quintet tends to write songs about the perils of adulthood and aging. And although their fans tend to be part of the late-20s and early-30s set, the band's message is universal. That's helped make them one of the fastest-rising alt-country bands around today. $27.50. Fri-Sat, 9 p.m. Fillmore Charlotte, 1000 NC Music Factory Blvd. 704-916-8970, livenation.com. (Band of Horses will play again Saturday at the Fillmore)
"No One's Gonna Love You," may be one of the band's best and most recognizable songs.