YUME Bistro: A Strip Mall Standout
The spot's interior may be sparse, but inside the Matthews kitchen, flavors abound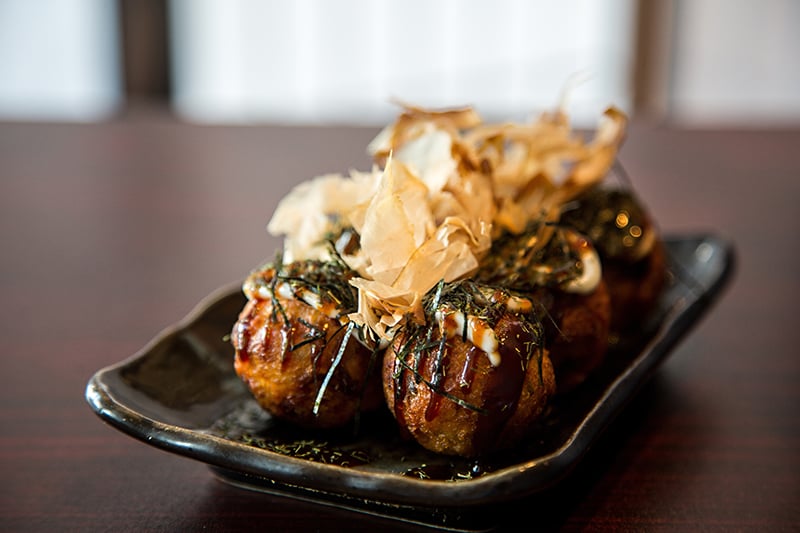 MY EXPECTATIONS ARE HELD in check as I enter YUME Bistro, a tiny space in a strip mall alongside a Harris Teeter and a Great Clips. Inside, with just seven laminate tables, Home Depot tile, and a random selection of discount art on the walls, the décor is sparse. However, the lunchtime dining crowd is not, and my initial misgivings are quickly assuaged.
Tony Yum (yes, that's his real name), who owns the restaurant with his wife, Rosena Tong, was born and raised in Hong Kong. He eventually relocated to San Francisco's East Bay, where he began working as a chef in his family's Chinese restaurant. He graduated from California State University, East Bay with a degree in computer science, but continued to cook at various establishments for nearly 20 years, including an eight-year stint with a Japanese master. Last April, Tony and Rosena, who runs the front of house at YUME Bistro, decided to escape California's high cost of living with their three kids and make Charlotte their new home. He had no intention of opening his own place. He figured he'd work for someone else and keep his stress level down. His mind changed, however, when he couldn't find the traditional katsu-dons and curries he loved so dearly. Selfishly, I am glad he couldn't find it, because YUME Bistro (pronounced YOU-MAY) now cranks out the delicious Japanese comfort food Tony craved.
Start with the poké ($9.50)—it's the best rendition of the Hawaiian specialty I've had in Charlotte. Cubes of super-fresh tuna glisten with sesame oil and soy, tiny orange pearls of masago, and slivers of seaweed and scallions. Another starter not to miss is YUME's take on the Japanese street food takoyaki ($6.50), or octopus dumplings. Fried, delicate spheres of dough are filled with pieces of octopus and drizzled with a tangy, sweet, and salty sauce. You could easily add the kakuni pork belly bao ($4.50) and the interesting chawanmushi ($6.50, a custardy concoction with egg, crab meat, dried shrimp, and shiitake mushrooms presented in a pretty tea cup) and call it a day. But, if you did, you would miss the main attraction.
There are seven types of ramen ($13-$14.50) included on the menu; four of these are made with a slurp-worthy pork bone broth that cooks for 20 hours to develop an intense, complex flavor. There is even a message on the menu warning folks not to feel guilty for drinking it down. The noodles in the soup are also noteworthy, with a chewy texture and a pleasing saltiness incorporated directly into the dough. Yum says it was a challenge, at first, to find the right brand, but after months of struggling, he was able to convince a manufacturer in New York to create proprietary noodles using his own recipe. I would suggest turning your ramen into a combo by selecting what YUME calls a ramen set. It's a cost effective way (add a side to the price of the ramen for $3.50-$5.50) to taste one of the appetizers or a mini version of a donburi, the bistro's Japanese rice bowls.
My favorite ramen was the Thai curry ($14), with generous slices of chashu pork, wood ear mushrooms, fermented bamboo shoots, and a marinated, soft-boiled egg. The addition of coconut milk and Indian-style curry paste is a unique twist that imparts an intoxicating aroma and a lovely yellow color.
Leaving, I look around at the still-packed house of happy patrons, and realize the plain décor and take-out vibe don't matter. My mind is on the delicious food.
YUME BISTRO
1369 Chestnut Ln.,
Matthews
704-821-0676
Jen Lover is a creative director, stylist, event planner, writer, and photographer with a passion for anything food, design, or travel. She can be reached at jenlover.com or jen@jenlover.com.