Zebra Restaurant Looks to Evolve Under New Owners
Kim and Pascale Salahie hope to bring new life to old SouthPark favorite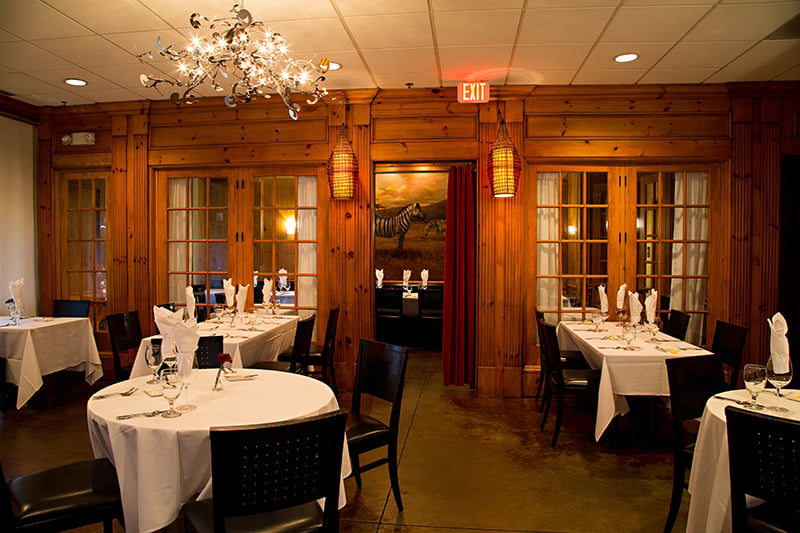 INSPIRED BY the unseasonably warm weather this past December, the staff at Zebra pulled together an impromptu fireside patio night, complete with live music, mulled wine, Belgian hot chocolate spiked with rum, and bar bites—even cozy blankets rounded up that afternoon. The 30 or so guests who accepted the last-minute invitation got a window into the changes underway at one of Charlotte's oldest fine-dining establishments.
Kim and Pascale Salahie didn't set out to be restaurateurs. Kim, who was born in Michigan but grew up in London, studied history in college, but didn't know how to use his degree. "I clearly wasn't an academic," he says. So he enrolled in a graduate program at Westminster College for hotel and catering management. He didn't finish, though, because he got a job in that same field at a French restaurant, called The Hermitage, in London.
Two weeks into his time there, he made a candid remark to the owner about the chef's lackluster performance and landed the job of chef-manager the next day. Armed with a few weeks of basic training from the outgoing chef, Kim ran the kitchen for eight months. "I wouldn't say it was the best food in the world, but it was a great experience," he says. It was also there that Kim met Pascale, who worked as a waitress.
Kim moved on from The Hermitage, spending the next eight years managing and cooking in various London restaurants. He and Pascale eventually broke up, and she moved to Cork, Ireland, to be close to her sister.
Seeking change and in possession of dual citizenship, Salahie moved to San Francisco in 1992. "I did not have much of a plan, but I did bring my resume," he jokes. He took a job at Guckenheimer, a corporate food-service company, eventually becoming the executive chef for Apple's R&D facility in Cupertino, California.
In 1996, he joined Compass Group, an international food-service management company. A promotion brought him to Charlotte a few years later. Owning a restaurant still wasn't on his radar. Neither was a life with Pascale. But a casual catch-up while they were both in London for the holidays turned into much more, and the two married in 2002.
The couple visited Zebra for the first time that same year, to celebrate Pascale's birthday. They continued to dine at Chef Jim Alexander's upscale concept on occasion, until they moved to Huntersville, making it a little too far away for an easy evening out. Eventually, Salahie left Compass in search of a new opportunity.
He found that opportunity on a broker's listing. Even though he hadn't been there for years, he knew the restaurant for sale was Zebra. It struck him that not much had changed since his last visit there. "It felt like it needed some reinvention," he says. "I saw that as an opportunity."
Salahie suspects that people thought of Zebra as a place only for special occasions and business functions. He and Pascale aim to alter that perception, with the addition of one, simple word to the familiar "fine dining" descriptor: fun.
The fireside night on the patio is one example of this shift. Another is Christmas Eve, when guests found Christmas crackers stuffed with trinkets (or, for some lucky diners, Zebra gift cards) waiting on their tables. The Salahies have attracted young families with a Sunday brunch that includes a kids' menu, and they have plans to introduce afternoon tea and a second night of live music each week in the spring.
The change is evident elsewhere. Salahie says he's hired servers based on their personalities, rather than lengthy resumes. Though this can sometimes mean more training, he believes the character added to the conversation is part of a more enjoyable experience.
The Salahies also have updated the restaurant's décor, adding light fixtures, changing the window panels, and replacing the existing wine cork art with modern paintings. They focused initially on the patio, adding new furniture, lighting, and landscaping to improve people's first impression of the restaurant. The space is still distinctly Zebra, just dressed in a brighter, more modern style.
Although Zebra's menu still hints at Alexander's previous ownership, much of the fare is more contemporary French-American, such as the moules Vietnamiennes, mussels sauced in a coconut saffron broth, and the pork belly with spaetzle.
Some things remain unchanged; the lobster bisque and lamb diablo are still on the menu, as is the vase salad, a sculptured dish in which lettuce leaves sit like blooms inside a crust of sesame seed and almond. The large zebra painting, under which the Salahies sat during their first visit to Zebra in 2002, also remains, as does the zebra statue purchased by Alexander. (A new, smaller zebra can be found guzzling an $800 bottle of Hundred Acre wine just past the bar, earning the playful moniker "drunk zebra.")
Salahie says the most rewarding part of owning a restaurant is seeing customers return. "It's just good to talk to people and feel like you've given them more than a good meal," he says. The husband-and-wife team has a running list of to-dos to keep busy, including the bar, the ceiling, and more patio work—all designed to enhance the fun, fine-dining experience they're working to create.
ZEBRA RESTAURANT
4521 Sharon Rd.
704-442-9525
Entrées: $26-$48
BR, L, D, FSB, P, R
Cat Carter is a freelance writer in Charlotte who still believes in the power of good storytelling. She founded Edible Charlotte magazine, a publication that discussed the region's local and sustainable food culture. Reach her by email at catyicarter@gmail.com.
---
This article appears in the February 2016 issue of Charlotte Magazine
Did you like what you read here? Subscribe to Charlotte Magazine »
---