2018 BOB Awards: Eat
The Best of Food and Dining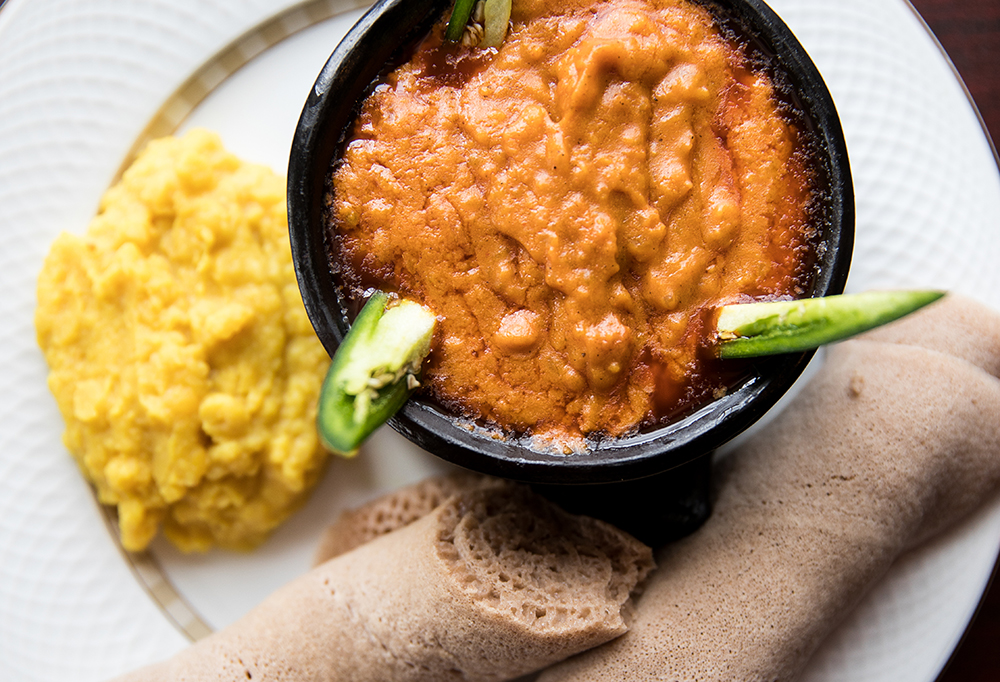 Ethiopian Food
Abugida Ethiopian Café
The only utensil you'll need for a meal here is a basket of injera—an airy Ethiopian flatbread that's used to scoop up mounds of spicy and hearty meat and vegetable dishes, served family-style. Don't miss the mitin shiro wat, a stew-like dish made of yellow split peas and berbere sauce, a spice blend common in Ethiopian cuisine of chili peppers, garlic, ginger, and more. 3007 Central Ave.
---
Food Truck
The Dumpling Lady
Zhang Qian churns out pork, chicken, shrimp, and veggie dumplings like a parade float tossing candy as it rolls by, rapidly and well-received. There's almost always a line at her food truck, The Dumpling Lady, but it won't take long for a foil container of 10 dumplings to appear—and then disappear moments later, leaving behind a gentle sting on your tongue from the heat. Don't miss the noodles, too.
---
Place for a Power Breakfast
Original Pancake House
A who's who of city leaders can be found in the bright dining room of the midtown location of this popular breakfast chain. We've spotted current and former mayors, governors, and nonprofit executives chowing down and making plans over coffee and pancakes. 915 Charlottetowne Ave.
---
Healthy Lunch
Earl's Grocery
We're suckers for healthy food that doesn't taste so… meh. The grain bowls, salads, and sandwiches here are packed with flavor, thanks to ingredients such as lemongrass pulled pork, carrot tahini, and Fresno chili vinaigrette. 1609 Elizabeth Ave.
---
Second Date Spot
Good Food on Montford
The energy inside Bruce Moffett's restaurant off of Park Road strikes the right vibe for a second date: just intimate enough. Ordering small plates as a duo adds spontaneity to the outing, and Chef Larry Schreiber's team produces dishes—hello, green curry mussels—that consistently stun. 1701 Montford Dr.
---
Place to Practice French
Aix en Provence
The kitchen treats every ingredient with the respect you'd expect from a French restaurant. Its takes on Provençal classics such as cassoulet and bouillabaisse will have you saying, "C'est magnifique!" 545 Providence Rd., Ste. B.
---
Greasy Burger
Chubz Famous Chiliburgers
The winner of the judges' choice award at this magazine's inaugural Burger Battle last year, Chubz's chili burgers are straight-up classics: a thin and juicy patty, heaps of chili, ketchup, mustard, and onions. The condiments are made in house here, so be sure to get some extras for dipping. You can't do any better on a day when all you want is a hearty burger and something fried to go with it. Feeling extra decadent? Upgrade to the chili cheese fries as your side. 200-A W. Woodlawn Rd.
---
Lunch for a Day Playing Hooky
Kindred
Working in the city and need a mental health day? Set an out-of-office message on a sunny afternoon and head up to Davidson, where you can hide in plain sight in the sunshine of Kindred's patio. Enjoy a shrimp roll and a glass of Champagne and watch the college students pass you by, then head to Summit Coffee Co. down the street to grab a chai milkshake for dessert. It's your day. You deserve it. 131 N. Main St., Davidson.
---
Vegan Chiliburger
Pinky's Westside Grill
Relinquish thoughts about eating this burger with your hands. It comes cradled in a basket with a fork and knife for good reason. Order the Nature Boy sans cheese and mayo, but be sure to add a heaping helping of this FreeMoreWest spot's vegan chili and top it with the joint's new vegan pimiento cheese. 1600 W. Morehead St., 704-332-0402, eatatpinkys.com
---
Payoff for Finally Finding a Restaurant
Futo Buta
The address here is a laughable suggestion. It might be technically accurate, but that doesn't mean you'll find it. Hidden behind South Boulevard's main strip, in the midst of apartment buildings and parking garages, lies this small noodle house. You'll realize the hunt is worth it as soon as you taste the savory ramen broth. 222 E. Bland St., 704-376-8400, futobuta.com
---
New-ish Food Trend
Bar/Deli Combos (Rhino Market, Lincoln's Haberdashery, Toucan Louie's, NoDa Bodega, Common Market, Tip Top Daily Market, Pop the Top Craft Beer Shop, The People's Market)
From Biddleville to South End, the city is welcoming an influx of convenient spots that combine cold beer with fresh sandwiches and local snacks. Whatever you do, though, don't call them convenience stores; they're more than that. They're gathering places to share neighborhood brews, discover local treats, and, sometimes, even buy finger puppets.
---
Use of Cauliflower
Haberdish
Cauliflower is having its moment right now. Chefs fry it and drench it in buffalo sauce to become "wings;" they pulverize it and then make it into a crust for pizza or a lower-calorie substitute for rice. But nowhere transforms cauliflower like Haberdish, which elevates the left-behind vegetable tray addition to a chimichurri-seasoned chicken-fried "steak." 3106 N. Davidson St.
---
Expansion We Can't Wait For
Yafo Kitchen
From the freshly made laffah dough to the impossibly creamy hummus and rainbow of mezzes, Yafo has carved out a particularly delicious spot in our hearts with its SouthPark location. Yafo is expanding to a second location this summer on Central Avenue (near Midwood Smokehouse, another of Frank Scibelli's successful restaurants), and we're not bashful about our glee. Just hurry up and open the doors. 720 Governor Morrison St.
---
Dessert
300 East
Dishes after dinner are no longer an afterthought in this city's best restaurants, and much of that is a result of Ashley Bivens Boyd's impressive creations. Her desserts are based in the comfortable, but let your palate explore new textures, flavors, and presentations. If the menu includes a play on a cheesecake, order it. 300 East Blvd.
---
Warm Food on a Cold Day
Fenwick's
This restaurant hasn't changed much since opening in the 1980s, with the same friendly service and dedication to affordable, fresh food. There's something soothing about nostalgic places such as Fenwick's, where you know exactly how you'll be treated and what you'll order. In a city full of change, this is a good place to stay grounded. 511 Providence Rd.
---
Tasting Menu
The Asbury
With the addition of Pastry Chef Miranda Brown to the kitchen, this seven-course menu is nearly flawless. Chef Matthew Krenz and Chef de Cuisine Mike Long hold down the savory side, while Brown rounds out the experience with a memorable dessert finale. Expect smaller portions per course, but some serious flavors. 235 N. Tryon St.
---
Dinner with Entertainment
Stagioni
It's been a long day, and you and your significant other want to go out to eat at a place where you'll be instantly warmed. Stagioni's red interior complements the heat of the pizza bar, where you can sit and watch chefs slide pizzas into the wood-fired oven. Order a bottle of a big Italian red, and let the wine help coax out some laughs. 715 Providence Rd.
---
Place for Dinner and Jazz
Loft & Cellar
There's something sexy about jazz. Dress up and head to this uptown restaurant for global cuisine and smooth tunes, live in the downstairs dining room every Thursday night. Sample dishes from around the world created by globe-trotting Chef Nicolas Daniels, and remember the places you've been or dream of the places you want to go. 305 W. 4th St.
---
Spontaneous Afternoon Date Spot
Orrman's Cheese Shop
It's a Saturday afternoon, and you've got nothing to do. Grab a friend or a date and head to 7th Street Public Market. Decide on a glass of wine from Assorted Table Wine Shoppe, then settle onto a stool at Orrman's Cheese Shop's new bar for a cheese plate to pair. You can't go to a brewery every weekend—and you won't want to after this decadent day date. 224 E. 7th St.
---
Breakfast
The Yolk
OK, fine, Chef Greg Collier will make you pancakes, but if he does, they're going to be the best pancakes you've ever eaten. The chef, who owns this breakfast restaurant with his wife, Subrina, is a joyful personality, and he'll bring joy to your palate with each interpretation of basic breakfast items. Prepare to make friends; much of the restaurant is community seating, and it stays as full as your coffee mug during brunch hours. 1912 Mt. Gallant Rd., Ste. 108.
---
Dinner Series
Soul Food Sessions
The chefs you most often see are likely white, bearded, and tattooed, but the chefs behind Soul Food Sessions are diversifying who we see in the kitchen. They started with a dinner series cooked by black chefs, with proceeds donated to charity. The group has since grown to create its own nonprofit to help foster diversity and inclusion in kitchens, but the food at the events remains as good as ever.
---
Coffee
Not Just Coffee
The craft coffee company is one of the city's best self-made success stories, run by good people who care about the place they call home. Grab a cortado or matcha latte at one of two uptown locations, or outposts in Dilworth, South End, and Myers Park. Multiple locations.
---
Coffee Shop For A New Perspective
Coco and the Director
You'll come here for the coffee—the lattes are divinely foamy—but you'll stay for everything else. If the antique typewriters (for sale!) or the take-one-return-one library don't tempt you, the unique, multilevel seating at this coffee shop in the Charlotte Marriott City Center will. Just be sure to hold your coffee with both hands as you climb the seating all the way to the top. 100 W. Trade St.
---
Tacos
Tacos El Nevado
Bright orange, yellow, and green chairs in the dining room of this Mexican restaurant's South Boulevard location reflect the brightness of the flavors in the tacos. The salty cotiija cheese, the crunch of a radish, and the heat of masterly seasoned pastor or pollo layer for a delicious bite, every bite—all for only $2.25 a taco. 4640 South Blvd.
---
Sushi
O-Ku
A spot at the sushi bar in this South End restaurant gives you an up-close view of the talent here. The chefs form maki roll after maki roll with impressive speed and precision, but it's the freshness of the seafood and the variety of textures that make the sushi stand out. Order the lobster temaki, a hand-rolled seaweed cone with lobster, asparagus, chives, and cilantro aioli, and you'll be craving it anytime someone mentions lobster or sushi. 2000 South Blvd.
---
Staff with a Wine Education
The Fig Tree
If you know only a couple of words to describe wine you like, you'll get a bottle fit for your palate at this white-tablecloth restaurant, which celebrated its 13th birthday this year. Ripe fruit, easy to drink? That French white that's somewhere between sweet and tart, heavy and light? Translating wine tastes is tough, but the staff at The Fig Tree is practiced in the art, ensuring that whatever comes out of your mouth when ordering will result in the right bottle of wine hitting your table. 1601 E. 7th St.