25 Things Every Charlotte Family Must Do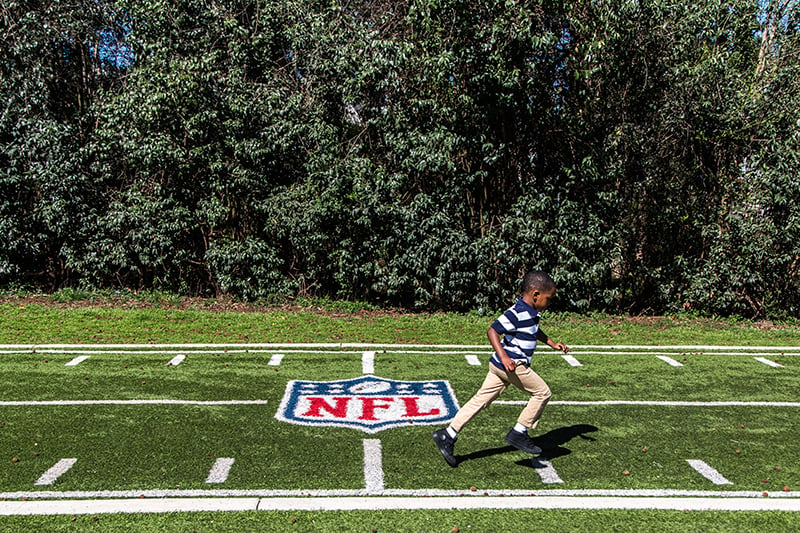 BY ANDY SMITH & JEN LOVER
PHOTOGRAPHS BY LOGAN CYRUS
ILLUSTRATIONS BY MICHAEL KORFHAGE
---
No. 1: Have the "Burger of Burgers" at Zack's
Plenty of modern restaurants strive to create nostalgia by manufacturing a "throwback" feel. Zack's doesn't have to try. The Zack's Special has fed generations and generations of children. No matter where you're from, you can't eat one with your kids without remembering your own hometown haunts.
↝ 4009 South Blvd., 704-525-1720
---
No. 2: Go on an art scavenger hunt
Walking:
Keep your hunt in uptown. The Arts & Science Council put together a tour that offers insight on high-profile pieces ("The Sculptures on the Square" at Trade and Tryon streets and "The Firebird" outside the Bechtler Museum of Modern Art) and the often-overlooked pieces (the fresco at Transamerica Square). Here's a map of the ones to see, including some recent additions that don't appear on the ASC list (found on artsandscience.org under "Resources").
Driving:
If you don't mind taking this on the road, and you seek Charlotte's biggest pieces of public art, look for William Puckett's 14,000-square-foot "Matheson Bridge Mural" in NoDa, the 25-foot-tall, spinning steel sculpture "Metalmorphosis" at the Whitehall Corporate Center (3600 Arco Corporate Dr.), and the several pieces around Charlotte Douglas International Airport (5501 R C Josh Birmingham Pkwy.).
ALSO: If you're looking for indoor arts experiences with your kids, try the family days at the Bechtler and the Mint, as well as the hands-on activities during McColl Center for Art + Innovation's Open Studio Saturdays.
1. Cascade (Jean Tinguely, 1991)
Inside Carillon Building, 227 W. Trade St.
2. Sculptures on the Square (Raymond Kaskey, 1994)
Trade and Tryon streets
3. Il Grande Disco (Arnaldo Pomodor, 1974)
Trade and Tryon streets
4 . Ainsa III (Jaume Plensa, 2014)
First Ward Park, 301 E. 7th St.
5. The Writer's Desk (Larry Kirkland, 2005)
ImaginOn, 300 E. 7th St.
6. Flying Shuttles (Andrew Leicester, 2005)
Spectrum Center, Trade and Caldwell streets
7. Life Is an Open Book (Brad Spencer, 2002)
The Green, 435 S. Tryon St.
8. Fish Fountain (Carolyn Braaksma, 2002)
The Green, 435 S. Tryon St.
9. The Firebird (Niki de Saint Phalle, 1991)
The Bechtler Museum of Modern Art, 420 S. Tryon St.
10. Panther Statues (Todd Andrews, 1996)
Bank of America Stadium, 800 S. Mint St.
---
No. 3: Strike a pose together at HeroesCon
Three-and-a-half decades after the Heroes Aren't Hard to Find store started HeroesCon, now the largest independent comic book convention in the country, it's become a family tradition in June for many comic readers.
Pictured are a few of our favorite costumes from recent years that include parents and children.
Read the essay "Welcome to Heroescon," about the convention and its history, by heading here.
↝ Every June at the Charlotte Convention Center, 501 S. College St.
HeroesCon returns in 2022, but the GIANT-SIZE CHARLOTTE MINI-CON 2021 arrives Nov. 6-7 this week at Charlotte Convention Center. 
---
No. 4: Find your way out of a room at Escape Kings
Paulette Manis and her husband, Nathan, watched as escape rooms—in which visitors solve puzzles in order to exit a themed space—emerged as a popular outing among adults and corporations looking for team-building exercises. But most were scary, including a few horror-themed rooms with blood and blades and monsters that would likely bring nightmares to tykes.
"For us, part of it was personal," Paulette says. "My husband and I love escape rooms, but we have a 13-year-old and a nine-year-old. For families who want to have an experience together outside of going to see a movie or something, this is an opportunity to build communication and teamwork and just have a lot of fun."
King's Quest is one of the most popular escape rooms here. Visitors act as knights who must figure out how to get out of King Arthur's "royal planning chamber." The room is for kids ages seven and up, but for private parties, that requirement can be lowered. Still, Manis doesn't suggest the room for toddlers without attention spans. "It can be hard for them to focus, and it may just end up not being fun for anyone," she says with a laugh.
↝ 11333 Granite St., Ste. B, 980-288-5464
---
No. 5: Get knighted at Carolina Renaissance Festival
Here's another one for those who like to play dress-up. Carolina Renaissance Festival is an entire village's worth of Middle Ages-inspired fun. The autumn weekend event is situated on a massive property in Huntersville, where food and weapon vendors in faux castles and 12 stages of entertainment line a winding path.
Magicians and musicians walk the grounds throughout the day, delighting kids with coins pulled from ears and lute performances. And the main event, the elaborate jousts, are best watched with a turkey leg and your knight's flag in hand.
↝ Every October or November, 16445 Poplar Tent Rd., Huntersville, 704-896-5555
---
No. 6: Get your desserts dipped at NoDa's Popbar
As soon as the gelato-on-a-stick concept opened this year, people flooded Instagram with photos of kids, ornate pops, and the purple brick backdrop outside the NoDa shop. Charlotte has its share of classic dessert spots, but Popbar's offerings are novel: gelato, sorbetto, and gelato sandwiches on sticks that can be dipped in nuts, coconut shavings, and other tasty dressings.
↝ 3123 N. Davidson St., Ste. 102B, 980-237-9750 (Other locations across the city)
---
No. 7: Stand under the waterfall at Romare Bearden Park
Uptown's park game has improved considerably over the past few years. The water jets at First Ward Park (301 E. 7th St.) are worth the trip during the day, but Romare Bearden Park's (300 S. Church St.) musical and light-filled falls become a magical event at night.
---
No. 8: Test your athleticism at NFL Play 60 course at Freedom Park
On the 98 acres at Freedom Park, the NFL Play60 KidZone is the most talked-about spot among aspiring athletes under 12.
While racing teens use a 40-yard dash station to try to get their times down, younger kids move up and down an obstacle course reminiscent of American Ninja Warrior. The classic football training stations are here, too, often prompting parents to jump in to tackle a few dummies or hop through the ropes. And for us indoor kids with the gift of gab, head to the commentator's booth to offer color on an imaginary game.
↝ 1900 East Blvd.
---
No. 9: Join the carnival in Matthews
Each Labor Day weekend, the Matthews Alive Festival transforms downtown into a carnival and fair. The free event includes games, rides, arts and crafts, and the most important component of all: funnel cake.
↝ 131 W. Matthews St., Matthews
---
No. 10: The Carowinds Cheat Sheet
I AM NOT a huge fan of amusement parks, so when I was asked to write about the ideal way to navigate a day at Carowinds, I laughed out loud. However, I like to keep an open mind and embrace a good challenge, so I grabbed my 12-year-old and two of his buddies and headed to the coaster mecca on the state border.
On the way, I called my Carowinds-loving friend for last-minute advice. She suggested I download the Carowinds app. It's free and provides pricing, maps, and individual ride info (with height requirements and thrill ratings). Great tip. She also warned me about different ways to pay at the front gates, which brings us to my first bit of advice:
Getting in 
If you plan on visiting at least twice this season, there are major bargains to be had versus the standard daily entrance fee. The park has three levels of season passes and, despite the fact that prices can fluctuate, the staff insists that any season pass pays for itself after two visits. A silver pass gets you unlimited access; a gold pass gets you unlimited access plus free parking and entrance to special events at the park, such as the ever-popular Halloween fright fest SCarowinds, and Winterfest; a platinum pass gets you the same thing as gold pass but also for Kings Dominion (Virginia), Cedar Point (Ohio), and other Cedar Fair Parks across the United States. If you're set on a single visit: Purchase tickets online or go after 4 p.m. for a discount.
What should I eat?
My normal gig is to write food reviews, so this is the toughest category to address. Why? Amusement park fare is usually expensive, mediocre, and the options are limited. I had several parents tell me they bring their own meals and eat in the parking lot. Most teens I asked said they head straight for Chick-Fil-A, but prices are much higher than outside the gates. I skipped the numerous dining plans that are available (check the app) and settled on Chickie's & Pete's for a cheesesteak for this visit, which wasn't even in the same ballpark as the Philadelphia original. My best advice is to fill up on the ultimate fair food, a funnel cake. There is a good one at the Funnel Cake Emporium in Celebration Plaza. Don't forget to pile on the free toppings.
Dealing with the Carolina heat
If you need to escape the blazing summer sun, head to the foliage-covered tunnel right past Celebration Plaza on the way to the Scrambler (a favorite with the under 48-inchset). It is a welcoming oasis, fully shaded, and lined with benches for weary guests.
Here is one big secret I discovered while I was there: Starbucks has a free ice water station right inside their entrance. When you are hot and parched and don't want to shell out $6 for a soda, pop in and grab a cup. Shhhhh … don't tell them I told you.
Rides
Go early. I had the kiddos ride the Intimidator within the first hour the park was open, and they were on in 14 minutes. Even better, pass holders can arrive 30 minutes before the park opens to ride the Fury 325, the world's tallest and fastest giga coaster. New for 2017 is The County Fair area, and it was the least crowded spot in the park. Rides like The Flying Cobras and the Electro Spin are rated "Aggressive Thrill," and both had minimal lines.
If you decide to invest in a Fast Pass, which allows you to skip the lines for rides, definitely go with the Plus. For about $15 more (as of this writing), it includes the most popular coasters.
Wondering if even I, a theme park-averse mom, bought the season pass? I have to admit, I did. It was too good a value to pass up and I have a kid with a lot of time on his hands this summer. I didn't, however, muster up the courage to ride the Fury. My open mind will be back. —Jen Lover
Click >> to read Nos. 11-20
No. 11: Hit the public beach on Lake Norman
From a kid's perspective, a beach vacation is a worry-free jaunt across North Carolina to the coast. Parents are the ones managing the swimming suits, umbrellas, coolers, water shoes, beach towels, boogie boards, snorkels, sunglasses, fins, floaties, sunscreen, binoculars, bags, Frisbees, books, snacks, and then maybe a few of their own items. To avoid that scramble, consider Ramsey Creek Park on Lake Norman. From May 20 through Labor Day, the Cornelius locale is open to the public and accessible on a paid, per-car basis. (Price varies by day; Mecklenburg County residents pay a reduced rate.)
↝ 18441 Nantz Rd., Cornelius
---
No. 12: Visit a cultural festival
A few of our favorite festivals that celebrate cultures from across the world
May 
Charlotte Asian and Dragon Boat Festival
Ramsey Creek Park on Lake Norman,
18441 Nantz Rd., Cornelius
June 
Belmont Juneteenth Celebration
Stowe Park, 24 N. Main St., Belmont
September 
Festival of India 
Belk Theater, 130 N. Tryon St.
September 
Yiasou Greek Festival
Holy Trinity Greek Orthodox Cathedral, 600 East Blvd.
---

No. 13: Create unforgettable moments at Charlotte's sports venues
Make your Charlotte Knights experience a picnic. Skip the Party Deck if you bring the kids to BB&T Ballpark. The Picnic Pavilion has an all-inclusive hot dog buffet and open seating on the third base side. It's the worry-free afternoon you're looking for.
Splurge for end zone seats and hope you get a Cam Newton touchdown ball at a Panthers game at Bank of America Stadium. Sure, it's a long shot. But can you imagine?
Pose with Hugo in the stands at a Hornets game at Spectrum Center. If you can't find him, tell your kids to groove as wildly as possible to get on the Dance Cam. Just remind them that this isn't a thing to do at school the next day.
---
No. 14: Discover history at a Latta Plantation Civil War Reenactment
Each July for two days, Latta Plantation reverts back to 1864, with a reenactment of a real Civil War battle that took place in the region. Visitors can go inside the trenches and soldiers' camps throughout the weekend. ↝ 5225 Sample Rd., Huntersville, 704-875-2312,
---
No. 15: Catch a kid-friendly show at Belk Theater or Children's Theatre of Charlotte
Blumenthal's Broadway Lights series is more than just a source of date nights. It's actually a chance to educate your kids on how to go to the theater. A few chances in the upcoming 2017-18 season include The Lion King (August 22 through September 9), for kids eight and older; and Finding Neverland (October 3-8), for older teenagers. For Book of Mormon (July 24-29, 2018), we'd leave kiddos of any age at home. Just put that pizza money on the counter and call your sitter.
↝ 130 N. Tryon St., 704-372-1000
If you want to start earlier, try Children's Theatre of Charlotte. CTC mostly serves kids that are between three and 18, but its PlayPlay! Theatre productions, with intimate, exaggerated programs that rely on vibrant colors and motions, are good for kids as young as six months old. And if your child's an aspiring thespian, CTC invites kids of all ages to audition for its professional productions and attend its workshops.
↝ 300 E. 7th St., 704-973-2828
---
The center's 700 acres are suited to both professional and aspiring athletes, with access to rafting, kayaking, ziplines, climbing walls, ropes courses, trails, and more. If you'd prefer to stay close to your kids, the "Family Rafting" option keeps all of your adventures in one spot on a big raft. Depending on your crew's ability, everyone could get drenched.
Even if you'd rather just watch, USNWC is free to anyone who wants to come onto the property, hike, or take in its free concerts throughout the year. (Just pay $5 to park.)
↝ 5000 Whitewater Center Pkwy., 704-391-3900
---
No. 17: Shop for produce on Saturday mornings at a farmers' market
Teaching your kids to value local produce is difficult with the shelves already stocked at home. Make a trip to meet the farmers at one of Charlotte's many farmers' markets (such as Kings Drive, Matthews, Cotswold, NoDa, or the regional market on Yorkmont Road) to help them understand how their meals are possible. See our ongoing list of farmers' markets here.
---
No. 18: Enjoy some Summer Pops with the Charlotte Symphony
Charlotte's most accessible symphony experience of the year happens in June in SouthPark. With themes such as "Star Wars" and "Hooray for Hollywood," your kids can start to form an early appreciation for the orchestra at Symphony Park.
↝ 4400 Sharon Rd.
But if you can't wait that long: Remember that CSO's Lollipops series runs throughout the year and often pits a theatrical experience with its kid-friendly performances.
---
No. 19: Duck your head during a bird show at Carolina Raptor Center
↝ 6000 Sample Rd. Huntersville, 704-875-6521
---
No. 20: Defy gravity at a trampoline park
Here's another one for the "Why Wasn't This a Thing When I Was a Kid?" file.
The folks behind Sky Zone Charlotte in Pineville are the self-described "originators of wall-to-wall aerial action." In these environments, you can bounce off any surface around you. The adult workout is enough to get moms and dads interested, especially considering the place advertises that you can burn 1,000 calories per hour. But the toddler time, reserved for those who just figured out how to jump yesterday, is a safe and joyful way to get your youngest some exercise.
And with the Sky Slam basketball hoops, jumpers of any age can show those ups we never had.
↝ 10200 Centrum Pkwy., Pineville, 704-208-4040
Click >> to read Nos. 21-25
No. 21: Celebrate the holiday season with this checklist
Go ice skating at the NASCAR Hall of Fame. 400 E. Martin Luther King Jr. Blvd.
Experience Carolina Voices' Singing Christmas Tree at Knight Theater. 430 S. Tryon St.
Take in Charlotte Symphony Orchestra's Magic of Christmas at Belk Theater. 130 N. Tryon St.
Ride Piedmont & Northern Railway's "Train to Christmas Town" in Gastonia. 601 Modena St., Gastonia.
Get on the track at Charlotte Motor Speedway and see the lights of Speedway Christmas. 5555 Concord Pkwy. S., Concord.
Stroll through Daniel Stowe Botanical Gardens' holiday display, with trains, 500,000 lights, and a horse-drawn carriage. 6500 S. New Hope Rd., Belmont.
Roll down Gingerbread Lane for confectionery houses made by pros and amateurs alike at the Ballantyne Hotel. 10000 Ballantyne Commons Pkwy.
For a kitsch vibe, see the 18 animatronic bears of Leonard Bearstein Symphony Orchestra at Founders Hall, which perform holiday favorites. 100 N. Tryon St.
Attend Children's Theatre of Charlotte's annual production The Best Christmas Pageant Ever: The Musical. 300 E. 7th St.
Visit McAdenville, also known as "Christmas Town USA," a town covered in lights throughout the month of December.
See Charlotte Ballet's nationally recognized performance of Nutcracker.
---
No. 22: Pick strawberries in the spring and pumpkins in the fall at Wise Acres Organic Farm
On a Saturday morning this past spring, a 40-something man walks by a family unpacking a stroller at Wise Acres Organic Farm and casually says, "Hey, thanks for coming out."
It takes a second to realize that this is Farmer Robb, patriarch of the Thorstenson family and cofounder of Wise Acres Organic Farm in Indian Trail. It was only four years ago that Robb and his wife, Cathy, traded Chicago for the open North Carolina air. Their dream was realized in a USDA-certified farm that hosts strawberry-picking in the spring and a pumpkin patch in the fall. Its 40 acres include swings, a barn store with local goods for sale, and an oven that bakes pizzas for visitors.
That last part may seem atypical, but face it: Pizza is a food that—unlike strawberries and pumpkins—is for all seasons. And here, the ingredients couldn't be fresher.
↝4701 Hartis Rd., Indian Trail, 704-628-6232.
---
No. 23: Experiment indoors and outdoors with Discovery Place's three locations
Discovery Place: Science (301 N. Tryon St.) is one of the top five most-visited attractions in North Carolina. Its labs, rotating exhibitions, and interactive experiments are vital kids' experiences. But parents shouldn't ignore Discovery Place KIDS (105 Gilead Rd., Huntersville) and Discovery Place: Nature (1658 Sterling Rd.). KIDS is best for toddlers and is split into several rooms, with pretend versions of a veterinary hospital, a NASCAR vehicle, a ship at sea, and a full-service kitchen. Nature has animal-filled exhibits and outdoor stations, and is attached to a 100-year-old forest in Myers Park.
---
"Where Friends Meet to Eat" is the tagline for this Gastonia restaurant, where rows of booths are filled with hungry families each night. They're serious about the eating part, too. Twin Tops has an all-you-can-eat special on each night of the week—one night you might get Calabash shrimp, and another you can enjoy chicken, catfish, crab legs, whiting filet, flounder, or perch. The local favorite has been operating since 1968.
↝ 4574 S. New Hope Rd., Gastonia, 704-825-2490
---
No. 25: Try three outings within a short drive of the city
Charlotte doesn't have everything. Within a short drive, parents can find specific experiences for their kid paleontologist, animal-lover, or train enthusiast.
The Schiele Museum of Natural History
With Stone Age tools, a Native American village, and yes, even dinosaurs, the Schiele fills a Brachiosaur-sized niche in Gastonia. It's just 30 minutes from Charlotte, meaning your little fossil-lovers are closer to history than they think. (Writer's note: As a lifelong armchair paleontologist, I can vouch for the venue's offerings as a 30-year-old, too.)
↝ 1500 E. Garrison Blvd., Gastonia, 704-866-6900
North Carolina Zoo
An hour and a half northeast of the city, the 550-acre North Carolina Zoo is the largest walk-through, natural habitat zoo in the country. More than 1,600 creatures live in this zoo. Also, as one of only two state-owned animal parks in the country, the zoo emphasizes conservation and research, which is reassuring for those concerned about animals in lesser-funded facilities.
↝ 4401 Zoo Pkwy., Asheboro, 800-488-0444
Tweetsie Railroad
Located two hours away, Tweetsie Railroad is more than just a train car experience for your aspiring conductor: It's an enormous Wild West-themed park. The Blowing Rock site hosts a three-mile trek through the Appalachian Mountains, live shows, amusement rides, and more. It's been in operation since 1957—and remains relevant.
↝ 300 Tweetsie Railroad Ln., Blowing Rock, 800-526-5740