5 Great DIY Projects
Home renovations, gardening tips, and a backyard bash to inspire your creative side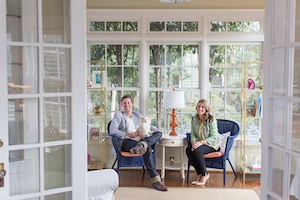 In each issue of Charlotte Home + Garden, we profile impressive projects. This city is full of professional designers, landscapers, gardeners, and chefs. But sometimes homeowners want to tackle tasks themselves. Below are five stories from the magazine to inspire that do-it-yourself mentality.
DIY Luxe: Brandon and Michelle Lane loved the history behind their Cape Cod-style home in Plaza Midwood, but it had an outdated kitchen, a tiny bathroom, and worn electrical wiring. The couple worked with their contractor neighbor to update the home. But Michelle, a crafter, took on the design. Read their full story here.
Photo by Logan Cyrus
Character Building: Millie and Tom Cox designed their empty-nest dream home in SouthPark on their own. They then worked with a builder and contractor to fulfill their vision. Their daughter, Liza, faux-finished the plantation shutters. And their son Dalton and his friends removed all the nails from the salvaged wood that Tom saved from Renfew Bleachery in Travelers Rest, S.C. Read about the couple's journey and see more photos of the finished product here.
Photo by Joel Lassiter
Grow Your Own Tea: Planting a selection of tea-worthy herbs creates a satisfying space outside and a delicious cup inside. Chamomile, lemon balm, basil, and peppermint are good options for a tea garden. With fresh herbs at the ready, you can experiment with different combinations. For tips and recipes, click here.
Photo by Logan Cyrus
Backyard Barbeque: Instead of going out to a restaurant or bringing in takeout, try creating your own picnic. Dan "The Pig Man" Huntley, owner of Outdoor Feasts Catering, offers recipes for grilled corn with blue cheese and butter, red skin potato salad, smoked Carolina pork ribs, and Piedmont red cole slaw. Click here for the full menu with instructions.
Photo by Chris Edwards
Shear Determination: Once a practical farming technique, the pruning practice called espalier is now enjoyed for its aesthetic appeal. For gardeners who want to add a level of interest to their common plants, such as crape myrtles or roses, espalier is an enticing option. Mastering espalier requires a proper location, the right plant, and regular maintenance. To get started, learn more here.
Photo by Logan Cyrus