5 Things to Know About the BOB Awards Party on June 1
All your questions answered.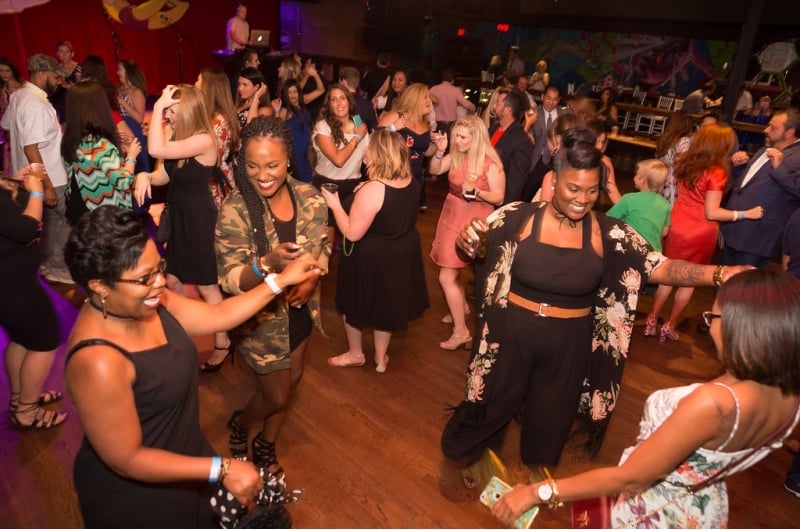 Can you imagine living during the Prohibition? Like, really imagine? Just to get your happy hour fix, you'd have to know about a secret, underground speakeasy in which you could drink. And while you were drinking, you knew that, at any moment, you could be busted for illegal activity. No wonder the flappers danced their worries away.
Well, how would it sound to relive this sneaky drinking era without constantly looking over your shoulder for the cops? All the fun with minimal repercussions—that's an ideal night out if you ask us. And that's exactly what you'll get if you attend Charlotte magazine's twentieth annual BOB Awards Party in a couple weeks. Being that it's the twentieth year of these fabulous awards parties, we decided to make the theme all about the Roaring '20s. The best part of all? You're invited.
Here's everything you need to know about the upcoming party. You may have seen some mentions on Instagram and Facebook, or perhaps this is the first time you're hearing about it—either way, you'll end this article with a full understanding of exactly what to expect.
Who is BOB?
All this talk about the BOBs, and you have no idea who or what BOB is. Let's break it down for you: BOB is a handy acronym (though we pronounce it like the name) for Best of the Best. For twenty years, this magazine has been scouring the Charlotte metro area for the best-of-the-best in every type of industry you can imagine. Think best place to get your nails done, best personal trainer, or best vintage shop—if there's an opportunity for something or someone to be the best, we'll find them. Those extremely nuanced BOB editor's picks are then published in our May issue every year. You can find the winners in the wild by looking for the red BOBs sticker on the door, or you find this year's winners below:
The editor's picks aren't the only BOB winners. There is also a Voters' Choice section that allows Charlotte residents to cast their votes for their favorite businesses in a variety of categories. From best Instagram feed to best kid-friendly brewery, here are the voter-chosen BOB winners for 2018.
After all the BOB winners are chosen, we throw a party to celebrate the businesses that make our city so great. Because who doesn't love a good celebration?
What's the Theme?
For all those in the back who decided to skip through the opening section of this article: The theme is Roaring '20s. That means you should either dress in themed attire (we know you have a flapper costume hidden somewhere) or in your "nice" pants. There will be a photographer on the grounds and a step-and-repeat to pose in front of, so you'll want to be dressed to impress when the paparazzi catches you having a great time. Still not sure what to wear? Last year's party pics can be seen here; the theme was carnival. The year before that, the theme was "Go Wild!"
Who Can Come?
Anyone 21 or over who purchased a ticket. We love your babies and your fur babies, but this isn't the place. Sorry.
When, Where, and How Much?
The party starts at 7 p.m. on June 1 at The Fillmore in the AvidXchange Music Factory (820 Hamilton Street). Festivities will go until 10 p.m., and it's a Friday night, so you can keep the party going elsewhere if you so wish! Tickets are $55 per person; you can buy one here.
What Can I Expect?
We thought you'd never ask. Each year, we try to outdo ourselves, and if you went to last year's shindig, you know we've got some pretty big shoes to fill (carnie games get the best of everyone). With that being said, this year is sure to be a blast. We've got live music and entertainment lined up all evening long, along with a cash bar. Your $55 ticket also gets you a free beer from NoDa Brewing Company to start things off right, and when you get the munchies, you can pop by one of the many food vendors we will have on site. The food vendors are all winners from this year's BOBs and include 300 East, Loft & Cellar, City Barbeque, Chopt, Nourish, Mama Ricotta's, The Dumpling Lady, and Sea Level. These restaurants will be serving free food samples for all attendees, so you'll have plenty of fuel to keep your feet moving on the dance floor! Not Just Coffee will also be there to keep the caffeine flowing.
THANK YOU TO OUR 2018 BOB AWARDS PARTY SPONSORS
If you want more updates about the soiree before it kicks off, be sure to check out the Facebook Event Page. Oh, and don't forget to buy your tickets before they're sold out!
| | |
| --- | --- |
| | |
| | |