A Charlotte Guide to Visiting Napa Valley
Wine, food, and that dreamy California sunshine overwhelm the senses here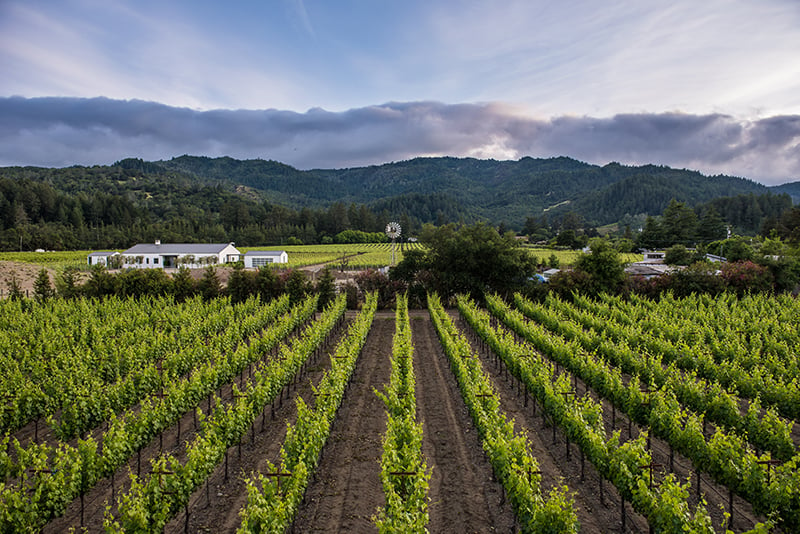 WHEN THE SMALL PLATES arrive to our prime table at the front of TORC's dining room in downtown Napa, I'm relieved when I can taste the food delicately placed on the white china. After two full days of wine tastings, my palate is exhausted from sips of bold cabernet sauvignon and bites of creamy cheese. My senses have been overwhelmed by the lush valley and the crisp air, floral and grassy with the promise of spring. The blood orange sunset outside streams through the restaurant's windows and spotlights our table.
Napa Valley is home to roughly 500 wineries, and as first-time visitors, my girlfriend and I have been in a state of sensory overload since we arrived. Luckily, our mid-March trip places us in wine country outside of the peak harvest season (August through October), leaving us little competition for space in the tasting rooms and restaurants. They were busy, but not packed, and we rarely had trouble making reservations. We had space to linger, to snap photos and spread out on sun-flooded patios.
Gillian and I had asked our oenophile friends to recommend wineries we should visit, and ended up with a dizzying list filled with "must-try" wines. We decided to plot our own itinerary, instead, and started at Trefethen Family Vineyards, a 400-acre winery midway between the towns of Napa and Yountville celebrating its 50th anniversary this year. All of its grapes are estate grown, and we were particularly delighted by two wines: a citrusy, dry riesling and Dragon's Tooth, a red blend of malbec, petit verdot, and cabernet sauvignon.
We broke for lunch at the Oxbow Public Market in downtown Napa. The food hall, with vendors serving everything from cheese and charcuterie to tacos, is a more established version of the 7th Street Public Market in uptown Charlotte. Long before we stepped on the plane to the West Coast, Gillian decided we'd eat at the Hog Island Oyster Co., which sustainably harvests northern California oysters. The sweet, raw oysters came with a sharp mignonette, and were an ideal warm-up to a bowl of rich chowder and a pile of steamed mussels. Yes, there was wine, too.
Our mustachioed driver, Tom, ferried us from stop to stop, and we ended our first day at the charmingly small O'Brien Estate Winery. Situated on just 40 acres, the winery does little marketing, offers only private tastings, and doesn't sell its bottles in stores. The tasting room is unpretentious, more of a shed than a palace. Luis, the Argentinian manager, poured glasses of 2014 Seduction, a juicy and spicy Bordeaux blend, and we were instantly charmed—by the wine, sure, but especially by the experience.
The following day brought much of the same—a packed itinerary of tastings, each one a mini-education in winemaking and wine drinking. We lingered over crisp glasses of sauvignon blanc in the midcentury-influenced tasting room at Cuvaison, ate tacos from an out-of-the-way Mexican grocery store, and strode into TORC at sunset completely enamored with Napa Valley—but admittedly overcome by the experiences that competed for our attention all day.
Chef Sean O'Toole's contemporary American menu includes small plates made from local produce, including mushrooms that he forages in the region. His wife, Cynthia, builds the wine list—a mix of California varietals and complementary selections from elsewhere.
The hamachi crudo, with kumquat, avocado, and chiles, is the best thing I've eaten so far this year, a harmony of textures and flavors that snaps me out of my sensory haze. We savor bright asparagus, sweet diver scallops, and wine-glazed short rib. The sun sets. At our hotel, full and satisfied, we fall into a deep sleep.
We set off for San Francisco the next morning. As I point our rental car toward the Golden Gate Bridge, the fog is beginning to lift. We see the valley, in all of its verdant splendor, and our senses begin to fill once again.
---
STAY
The Napa River Inn is housed in a historic mill along downtown Napa's riverfront, and its luxurious rooms include fireplaces and breakfast baskets delivered each morning. I still dream about the morning bun—croissant dough rolled with butter, sugar, and cinnamon. 500 Main St., Napa, 877-251-8500.
Golfers and spa lovers will want to skip wine tasting and linger at the Silverado Resort and Spa, with greens designed by PGA Hall of Famer Johnny Miller. The property's luxe cottages come with kitchens and sitting areas ideal for families. 1600 Atlas Peak Rd., Napa, 707-257-0200.
EAT
Diners indulge in a four- or five-course New French tasting menu at La Toque, where the staff expertly pairs interesting wines with dishes such as bacon-wrapped pork tenderloin with sprouted grains. Don't skip the luscious desserts; we raved about the dark chocolate crème brûlée and salted caramel ice cream. 1314 McKinstry St., Napa, 707-257-5157.
Order more food at TORC than you think you'll need—not because the portions are small, but because you'll crave everything on the menu. 1140 Main St., Napa, 707-252-3292.
Hog Island Oyster Co.'s food stall serves bivalves fresh from the Pacific every day. Don't fancy raw seafood? The Oxbow Public Market has plenty of other options. 610 1st St., Napa.
DO
With hundreds of wineries, Napa Valley is one of the world's most famous wine regions. We enjoyed visits to Trefethen Family Vineyards, O'Brien Estate Winery, and Cuvaison—but every visitor will come away with his or her own favorites. Scribe Winery, in neighboring Sonoma, is relatively new but worthy of the praise it receives from a young, hip crowd.
We relied on Tom Jarman of Destination Napa Valley to drive us around. If you don't have a set itinerary, he'll help you plan one.
Devastating northern California wildfires in October 2017 burned 245,000 acres and became the costliest group of wildfires in the state's history. There's visible evidence of the damage—a few charred hillsides and the occasional burned-out stump—but Napa Valley was largely spared.