A Date Night at Oak Steakhouse
A Charleston import known for its flavorful cuts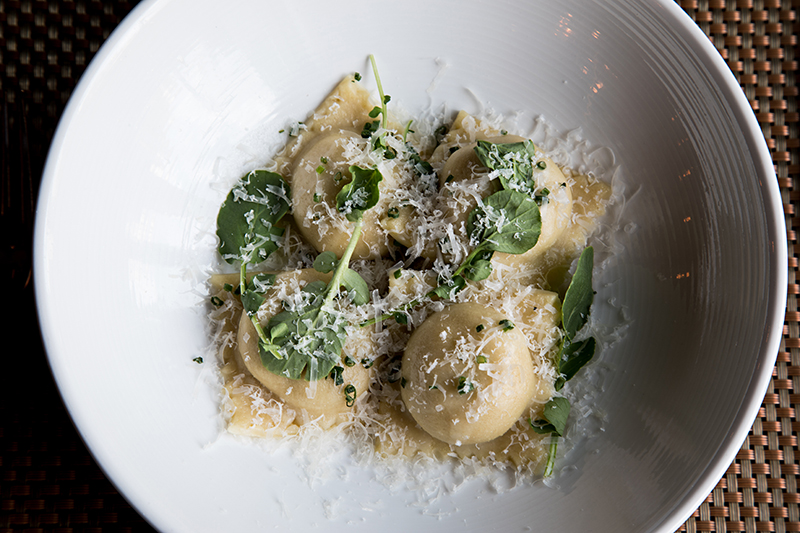 THEY ARE THE LEAST EXPENSIVE component of our dinner, but the brussels sprouts command attention. Piled in a blue Le Creuset ramekin with thin crescents of pickled red onion, the quartered sprouts bring our conversation to a halt.
I'm out with my girlfriend, Gillian, on a Saturday in August. The PGA Championship is in town and the wood-paneled dining room at Oak Steakhouse is a mixture of sunburned golf fans and couples, like us, dressed up for date night.
We order drinks at the bar: a refreshing Carolina Summer (vodka, elderflower liqueur, grapefruit juice) for her and a traditional sazerac for me. As we're ushered to a table, I notice the surprisingly bright dining room. The space has hints of clubbiness, but it doesn't feel heavy, as many chain steak houses often do. Oak, in SouthPark's Sharon Square development, is predictable—until it isn't.
The appetizer list includes staples such as oysters Rockefeller and shrimp cocktail, but we bypass those for pan-seared scallops ($17). They are sweet and tender, balanced well against anisey raw fennel, salty pork belly, and peppery watercress. The dish exceeds our expectations, and we eagerly anticipate the next course.
My steak, an eight-ounce filet mignon ($41), is cooked exactly to my medium-rare specification, with a buttery center and expertly-crisp exterior. Gillian's tuna ($38, served with sun-dried tomato salsa, Anson Mills grits, arugula, and a citrus beurre blanc) is also well-prepared. You'd expect that from Oak, which is owned by the Charleston-based Indigo Road restaurant group. (The team brought another of its concepts, sushi restaurant O-Ku, to South End last year.) We don't dine out to be placated; we want to be surprised—delighted, even—by what's on our plates.
Take the brussels sprouts, for instance. They are served a la carte ($11), and the family-style presentation and charred green leaves seem familiar. Then we bite into them. The warmth of Moroccan spices—earthy cumin and bright coriander—envelops the roasted vegetables. We're uncharacteristically quiet.
"You know the food is good when we stop talking," Gillian says. It's just a side, sure, but we're too enamored with the dish to say much else. We continue in silence for a couple of minutes, smiling between bites and sips.
The kitchen's excellent treatment of the steak and sprouts makes its misses even more pronounced. We're disappointed by the three-cheese lobster grits, which are bland and shockingly light on shellfish, given the side dish's $17 price tag. I abandon them pretty quickly, turning my attention back to the last few bites of my steak.
After dinner, as Gillian and I walk out into the sticky August night, we can't help but bring up the brussels sprouts again. It's not what we expected to rave about. But that's what we want when we dine out.
---
4777 Sharon Rd., Ste. 125
704-954-8900
Entrées: $19-$63