A First Step Toward More Affordable Housing in Charlotte …
... plus (another) new direction for the Eastland vacant lot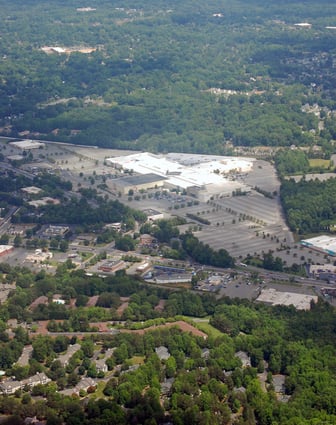 Way too much happening. Allow me to whip through three heavy developments, no pun intended, in Charlotte from the past couple of days.
The City Council, two months in advance of a housing bond vote, has finally laid out the skeleton of its affordable housing plan—and it's a start, at least. Affordable housing has been the council's top priority since the Keith Scott protests two years ago, and the 20,000-plus-unit need drove Mayor Vi Lyles to push for a $50 million bond issue to fill the city's Housing Trust Fund. That would more than triple the traditional amount, $15 million every other year.
The big question heading into Monday night, when council members approved the framework, was whether the city's plan would include affordable units for the very poor, the people who most need housing assistance. Consultants hired by the city have made it plain that the real need lies with people making 30 percent or less of Area Median Income, which comes out to about $21,000 for a family of four.
You can look at the city's plan a couple of different ways. One way: It represents the most aggressive and farsighted attempt in the city's history to enable poor people to afford places to live. Another way: It's not enough. The framework is designed to focus on households with income at 60 percent of AMI—about $41,000 for a family of four—and requires that any apartment complex that receives money from the Housing Trust Fund reserve at least 20 percent of its units for people making no more than 30 percent of AMI—Extremely Low Income, or ELI, households, those that effectively spend all of their gross income on housing.
Again, it's a start, as long as voters approve the bond. Maybe the most encouraging aspect of the new city framework is a provision that pushes the idea of one or more community land trusts, such as the west side example I wrote about this year. Developer set-asides alone aren't going to solve the affordable problem. To make a significant dent, communities have to control their own land and make affordability, rather than profit, a priority.
It's been so long since anything occupied the Eastland Mall site that people are beginning to forget why anything needs to be there in the first place. That's what happens, I suppose, in a city of newcomers accustomed to driving by a big open space at Central and Sharon Amity, if they drive by there at all. It does seem weird, this compulsion to refer to it as "the Eastland Mall site" as if it hasn't been an 80-acre vacant lot since 2013.
But now, finally, after enough false starts to shame the Panthers' offensive line, the city seems to be inching toward something approaching a solution: a partnership, which the council approved Monday, between development companies Crosland Southeast and Eastland Community Development Group, entities that had separately proposed plans before. Funding details have to be worked out. But basically, the developers envision a mixed-use grab bag of shops, entertainment options, offices, and apartments geared for young people—a sort of east Charlotte facsimile of the N.C. Music Factory.
To address the question linked to above: Why does this site matter? It matters a lot if you live or perhaps want to live on the east side, Charlotte's forgotten sector. It's a fascinating mix of ethnicities, income levels, and locally owned restaurants that serve things like pupusas and gyros and pho. It's the kind of multiethnic, salad-bowl collection of neighborhoods that in other cities might be embraced as a cultural showcase. In Charlotte, it's the side of town where nobody goes. The Eastland Mall site squats in the dead middle of it.
Any kind of economic activity there would help reinvigorate a side of town that's been waiting for some kind of boost since its heyday of the 1980s. The city already wants to extend its Gold Line trolley out to the Eastland transit station, where it would end, providing an easy link to the city center and west side. Growth along the corridor would create additional tax revenue (along with the unavoidable gentrification/displacement woes). And surely, just from the standpoint of civic pride, there's no defense for leaving 80 acres of land abandoned in a growing city.
For expert breakdowns of yesterday's federal court ruling on gerrymandering, I'd direct you to the estimable Dr. Michael Bitzer of Catawba College, who essentially live-tweeted his reading of the ruling yesterday evening; a succinct précis from the equally estimable N.C. Sen. Jeff Jackson of Charlotte; an informative Q&A in the Observer's editorial section; and this summary from the always-helpful Rick Hasen at Election Law Blog.
But cast aside for a minute the short-term implications of the elections in November, the angle many North Carolina media outlets worked Monday. The real significance of the ruling is that it reaffirms the court's view, expressed in an earlier opinion in January, that the extent of the Republican-dominated legislature's rigging of the Congressional district map represents an unconstitutional power grab on its face, regardless of whether it can be shown to have discriminated against racial minorities.
That's why it's so important that the federal District Court rule that the General Assembly's 2016 district map was a political rather than racial gerrymander. The court is essentially saying: When you gerrymander to this extent, the result is Potemkin-village democracy, not even worth the title. "On its most fundamental level," the judges wrote, "partisan gerrymandering violates 'the core principle of republican government … that the voters should choose their representatives, not the other way around.'" If the Supreme Court agrees, or merely declines to take up the case, we could be looking at a profound shift in the way the American system of government operates, one in which the beneficiaries of a rigged game don't get to mark the cards beforehand.