A look at upcoming Charlotte craft beer releases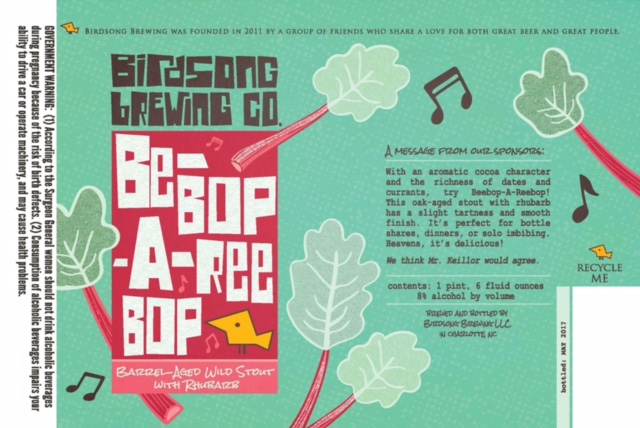 –Birdsong's newest bottle release, Bebop-A-Reebop, pays tribute to one of the most beloved radio shows of all time. First, let's talk about the beer itself. This is a stout aged in red wine barrels with rhubarb. The brewery's label describes it as having "an aromatic cocoa character and the richness of dates and currants.
So, you may be wondering, why rhubarb? That's where the name comes in. If you're a fan of the long-running A Prairie Home Companion on public radio, you'll recognize the beer's namesake as one of the "sponsors," Bebop-A-Reebop rhubarb pie. Birdsong even gives a nod on the beer's label to Garrison Keillor, who hosted the show for nearly 50 years before retiring in 2016 (he still serves as the producer).
Bebop-A-Reebop bottles (22-ounce bombers) will be available beginning Thursday when the taproom opens at 3 p.m. Each bottle is $10 each, and the beer will also be on draft as well.
–While I usually write about just beer in Charlotte, there are definitely some area breweries that are putting out some great beer worth mentioning, and one of those is The DreamChaser's Brewery in Waxhaw. The brewery is celebrating its one-year anniversary Friday with another release of one of its most popular beers, Yard Breather. This is The DreamChaser's NE-style IPA, and was met with great fanfare the first time it released a couple months ago. Four-packs of cans are $14, with no limit.
The DreamChaser's is also releasing an anniversary ale to celebrate one year, and this is a double IPA with Amarillo, Azacca and Belma hops. Four-packs of the anniversary ale will be $16 with a limit of one case per person.
–Fresh off bringing back Charlotte's first-ever gold medal in the Great American Beer Festival, it's time for one of the summer's most refreshing beers, NoDa Brewing's NoDajito. If you've never had it, this is the brewery's tribute to the Mojito cocktail. For their spin, NoDa starts with a Belgian witbier base and then infuses it with mint leaves and lime zest. It all adds up to an easy-drinking and thirst-quenching beer.
NoDa will release this year's batch of NoDajito Sunday beginning at noon. It will be available in 4-pack cans to go and also on tap. If you can't make it on Sunday, expect to see NoDajito cans in your favorite local bar and craft beer shop in the next couple of weeks.
Quick Pours: This past week also saw a few other releases that are out now. Olde Mecklenburg's Mecklenburger, the brewery's summer seasonal Bavarian lager, came out Monday and is now available at the brauhaus and should be hitting stores in 6-pack within the next two weeks. … Triple C's Hyzer Hefeweizen was released this past Saturday and you can get cans in the taproom and in bottle shops right now. … Wooden Robot now has a new rotating IPA series, Generously Hopped. This replaces the What He's Having series, as this IPA will now be a year-round selection. The Generously Hopped series will feature a new recipe with each batch and $1 from every pour and crowler fill will be donated to a different partner organization, the first being Sustain Charlotte. New batches of this series will be released throughout the entire summer.
—