A Night Out in … Charlotte's Elizabeth Neighborhood
The latest in our date night series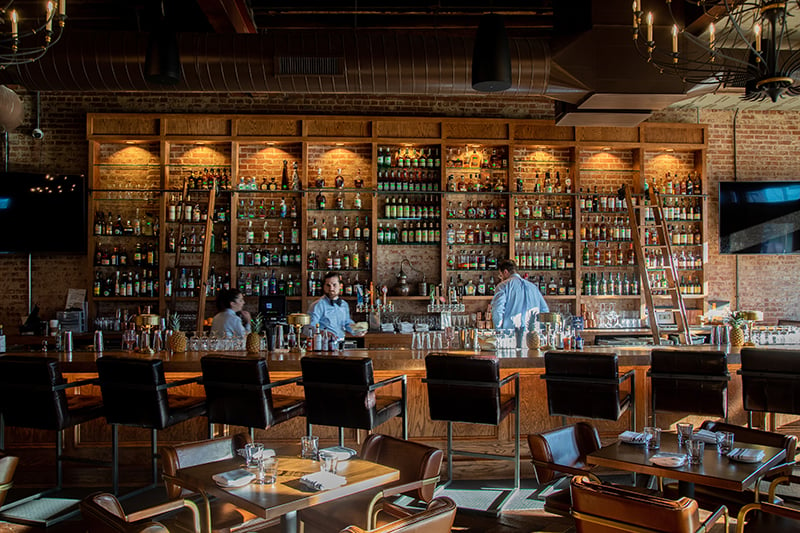 As the streetcar construction continues, the city has taken its green and yellow trolleys off the road and added buses along its original route. Though, that shouldn't stop you from planning a date night in this walkable, delightfully option-packed neighborhood.
Dinner:
The only difficult part of your night will be to decide where to eat. Which newcomer do you go to: The Stanley or The Crunkleton? Or do you stay along the small stretch of Elizabeth Avenue, and decide among the plethora of options there? 1900 Mexican Grill and Cantina offers icy margaritas and hot fajitas with, of course, never-ending chips and salsa. Carpe Diem is a neighborhood staple and offers elevated dinner options for a fancier night out. Customshop offers fresh pastas, proteins and small plates – also at an elevated price for a nicer night out. Might we recommend a small plates restaurant hop?
Drinks/Dessert:
There are few finer delights in this little city of ours than finding a table right by the window at Earl's Grocery on a crisp spring or fall day when the spot opens up the place to the breeze. Earl's, if you're unfamiliar, is similar to Common Market – but more gourmet. Pick up a pastry (or two), a bottle of wine and create your own charcuterie board here from the deli cases. You'll want to stay awhile. Of course, while it's often crowded and hard to find a table or even a place to stand, we'd be remiss in not mentioning the craft cocktails at The Crunkleton. The Dusty Cactus, a blend of tequila, lime juice, Champagne, habanero, and mole bitters is unique, spicy, and oddly refreshing.
Entertainment:
The Visulite Theatre is one of Charlotte's few remaining intimate live music venues. There's always something special about experiencing a concert and being this close to the artist, which makes a trip to this theatre all the more worthwhile. Forewarning: The drinks are known to be incredibly potent here so you might want to come back for extra tonic water.
Unexpected activity:
From all outward appearances, the Spoke Easy is a bike repair shop. And it is. But look a little closer, and it's also a bar, pouring local brews from around the city as well as macrobrews and a pair of wines. Come dressed for a dinner at Customshop and hang out with the local bike-riding crowd here. You'll be welcomed just the same.
Misner is a writer for this magazine. His work has also appeared in Our State, The Chronicle of Higher Education, The Knot and Logo.