A Writer Reflects on Moments Shared with Billy Graham
And how that personal touch is part of the minister's legacy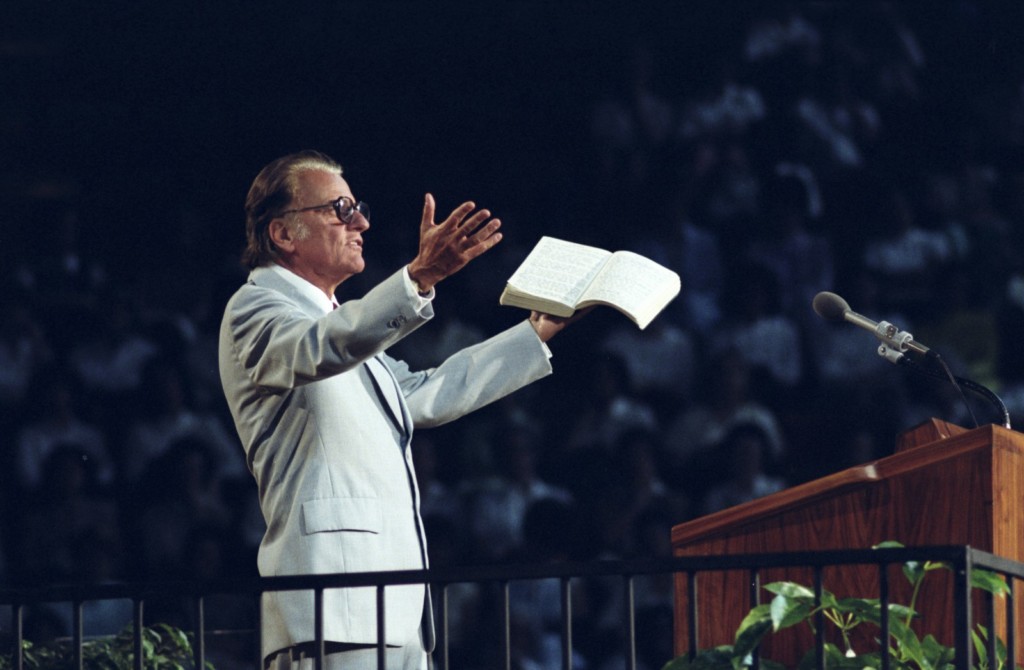 MORE THAN THE SPECTACLE, I will remember the humanity of Billy Graham. Over a ministry that spanned more than a half-century, the son of a Charlotte dairy farmer preached to 215 million people in person. Read more about his life and place in history here. But at Graham's passing at age 99, my thoughts turn to the personal, more intimate moments I shared with him – not because I was starstruck, but because that was the essence of it all. The guy in the last row of the stadium at a Billy Graham crusade, the restless soul who came in search of a life of meaning? He found it in the assurances of that lanky preacher on the pulpit, the one who seemed to be talking directly to him. In the end, that was the legacy: Billy Graham shaped the world one soul at a time.
I remember the day Billy and Ruth had Observer colleague (and current religion writer) Tim Funk and me to lunch at their Montreat home, just before the 1996 Charlotte crusade. The man was savvy. You want good press, ply the hometown reporters with exclusive access. And yet he stayed true to his roots, plain and simple. We had Big Macs. That probably explains why Tim got sick on the ride home.
I remember chasing yet another story on Ruth's latest illness, which had taken her on that day to the Mayo Clinic in Rochester, Minn. (She died in 2007 at 87). Billy's PR people, as usual, had shielded him from us. They earned their keep stonewalling, which sadly kept people from seeing the real, genuine, down-to-earth Billy. When I got home that evening and saw a message on my answering machine (remember those?), I hit the button. It was Billy, not the powerful evangelist but the worried husband, sharing a long update on his beloved wife–so long that the machine cut him off.
I remember the letter I received in the mail from him in 2003. At a low moment, I had written a couple of Observer columns about loneliness, and a listlessness that can weigh us down. He sought to comfort me the only way he knew how. "It is interesting how even in the midst of activity, in a crowd of people, or watching an interesting movie, we can have a sudden sense of loneliness," Billy wrote. "I have always felt that this is a loneliness that only God can fill." He went on to compliment my wife, Sharon, whom I had mentioned in my columns. "From your description, she must be a wonderful woman and a great helpmate." Then, at the close of that long-ago letter, he upheld his reputation for sharing every ache and pain. "CONFIDENTIALLY, I am on my way to the Mayo Clinic where important decisions must be made concerning my prostate cancer." His family used to joke that his tombstone should read, "I Told You So."
Historians have dissected every dimension of Billy's life. His death invites more reflection, as well as the opportunity to introduce him to all those millennials who don't know who he is, much less what he did in the course of his long life. I will let the scholars weigh in – from allowing himself to be used by politicians and presidents to whether Franklin Graham's rightwing partisanship (aggressively anti-gay, anti-Muslim) will poison the Graham brand.
Me? I choose to remember the letter seeking to comfort me. The Big Macs. The phone call. And, most vividly, all those people in the last row of stadiums who took comfort in the promise of a South Charlotte farm boy who spent a lifetime saying, "Come. We will wait for you."
Ken Garfield covered Billy Graham for more than a decade as religion editor of the Charlotte Observer, traveling to crusades in Germany and across the United States. He is the author of Billy Graham – A Life In Pictures (Triumph Books). He is Director of Communications at Myers Park United Methodist Church in Charlotte.