All-Vegan Cinnamon Roll Spot Opens in Indian Trail
Cinnaholic, featured on ABC's Shark Tank, is worth the trip for this vegan writer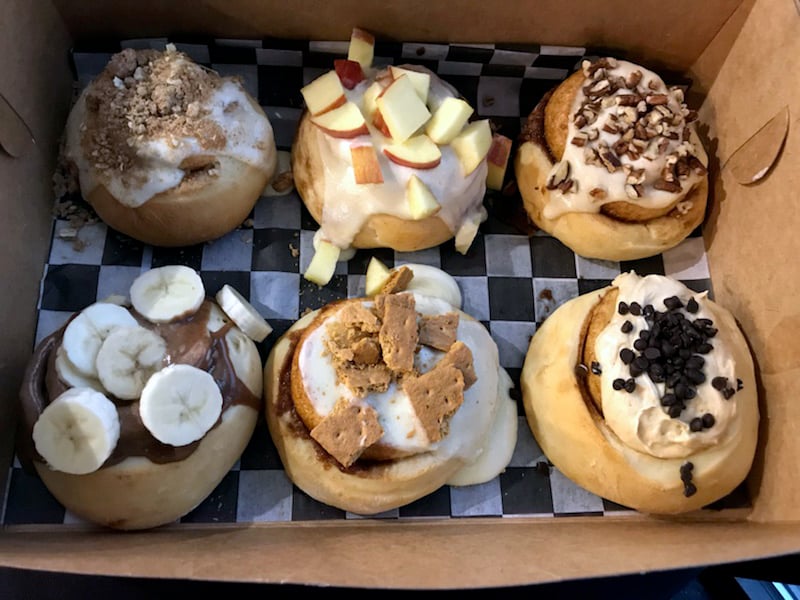 HOW FAR will a human being travel for cinnamon rolls?
Perhaps it's desperation, perhaps dedication—maybe a bit of both—but Thursday, I realized the answer for me is, at least, 45 minutes.
As I passed through Charlotte, then Mint Hill, then Matthews, then Stallings and then, finally, Indian Trail, I began to feel a bit silly, sad and, dare I say, pathetic. "You can't really be driving across county lines for nearly an hour (one way) just for cinnamon rolls," I kept telling myself.
But, oh, I was.
Let me also be clear: Cinnaholic, the vegan cinnamon roll bakery born on ABC's Shark Tank opening its newest location today in Indian Trail, was, in no way, near anywhere else I needed to be Thursday. It was not on the way to a friend's house or on the way to work. It wasn't even tangentially close to an errand I needed to run. No, I drove across five cities solely for the sake of cinnamon rolls.
These aren't just any cinnamon rolls, though. First, the entire bakery is vegan, meaning none of the cinnamon rolls have any eggs or dairy in them. (Cinnaholic also sells cookies, brownies and cookie dough.) Second, you don't just order a cinnamon roll. There's a step-by-step menu with frostings (17–Amaretto, cake batter, marshmallow among them) and toppings (21–brownie bites, pretzels and, yep, more marshmallows).
I've been a vegan for about a decade now. Charlotte certainly has its fine selection of vegan treats: Bean's chocolate cake is sinful, the hodgepodge of pop-up vegan doughnuts are nice, and nearly everywhere has vegan ice cream nowadays. But cinnamon rolls are different. I can't remember the last time I've had one. I couldn't tell you how many times I've walked by the Cinnabons in the mall or the airport and wondered could I just go to some vegan confessional afterwards, repent my sweet sins? Cinnamon rolls, for some reason, never made it to the vegan mainstream wonderland.
Until now. And I was ready.
Walking in the door, you're immediately overwhelmed with the smell of cinnamon and sugar, like a Keebler Elf threw up into a Yankee Candle, lit it and then turned on a fan. I actually had to step back from the counter after I approached the first time because I was so overwhelmed. As a vegan, I'm not used to having endless options anywhere. But here, I could get anything and everything. This was my Everest.
Did I want a "Cinnacake," a collection of six, eight or 12 cinnamon rolls iced together in one large, amazing sweet rectangle? No, those needed 24 hours of advance notice, which I didn't have. Do I ice it with marshmallow frosting or just get marshmallows on top or both? What are pie crumbles and why are they a topping? Why am I allowed to get pie on top of a cinnamon roll? What kind of pie can I top my cinnamon roll with?
It was one of those moments where you're so flustered by the amount of options you have that you forget flavor pairings, your name, what month it is, where you are that you just start shouting flavors and toppings. You abandon strategy because there are people behind you and you're starting to sweat because you're nervous you're going to mess up your cinnamon rolls. I got so nervous about ordering six for just me that I started making up stories about who they were going to. (I don't have family here. My aunt does not live down the street.).
As soon as the bakers and assemblers behind the counter handed me my incredibly large box of cinnamon rolls, the staff asked me how they were.
Of course, I wasn't going to try them there, in front of all these people. No, cinnamon rolls are something you eat by yourself, savoring each bite as one of the 17 frostings sticks to your fingers and around your face. Cinnamon rolls are the kind of food you start eating with your hands and then, ostensibly, switch to a spoon or fork to mop up every last drop of frosting.
No, these were not something I was about to eat in front of people.
I hurried out of the store, strapped my six cinnamon rolls into the passenger seat and drove the 45 minutes back to Charlotte. I have never been more glad that my fiancé, Nate, was out of town because I could eat my cinnamon roll in peace (and, let's be honest, secrecy).
I walked out with cream cheese and pie crumbles among my half dozen, which, I'd learn later, would be one of the best things I've ever eaten. Though, in all fairness, it could have been just a regular cinnamon roll. But to a vegan who hasn't had a cinnamon roll in 10, 12 maybe even 15 years, it was nectar from the vegan gods on high.
The cinnamon rolls themselves are both airy and doughy at the same time, and to say they're drizzled with frosting would be an insult to the daintiness of the word drizzle. They are drowned in your choice of peanut butter, maple or raspberry (among 14 others) frosting. It's nice when a few slices of bananas come on top so you feel less shameful about what you're about to do to your body, your teeth and your pride.
Cinnamon rolls are, by and large, an indulgence, a rare treat, a moment of guilt and weakness. They're not a kitchen staple like, say, tomatoes or rice. You don't have them often (thankfully). So when you do, even if it's once every 15 years, even if you drive 90 minutes round-trip to get them, it's worth it.
I'm not sure which other food I'd travel that far for, but if you ever see me at Cinnaholic, please just let me have my moment.
Jared Misner is a writer for this magazine. His work has also appeared in The Knot and Logo.