Along the Way: Change Can Only Come from a United Community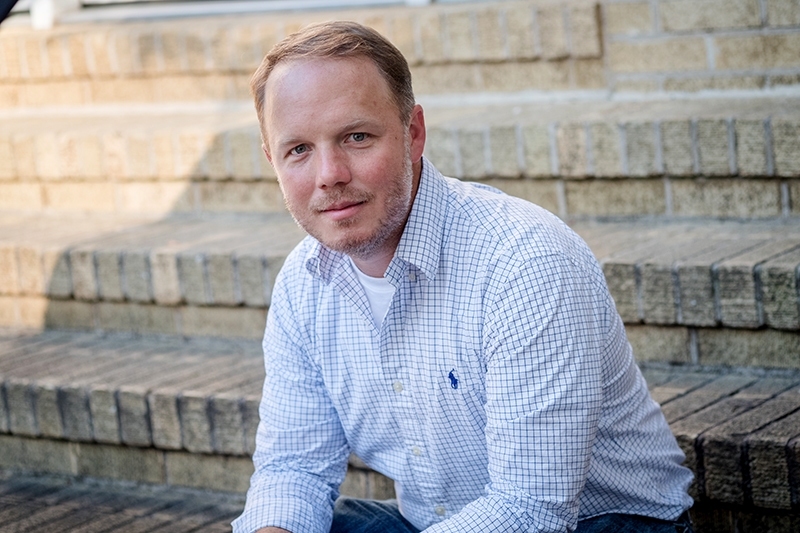 A YEAR AGO this month, Jason Terrell walked onto a stage wearing a charcoal gray suit and stated a problem. This problem was part of a larger problem, which was, in turn, part of an even larger one.
"Tonight you're going to hear the number 2 a lot," he said. "The number 2 is critical because it reflects the percentage of teachers in our public school system that look like me."
Terrell is a black man. The percentage of children in public schools who look like him is much higher than 2 percent. In Charlotte-Mecklenburg Schools, about 20 percent are black males. (About 70 percent of all CMS students are children of color.) The disparity makes it entirely possible that a black boy can go from kindergarten to college without ever having a test graded by a black man.
Terrell, an Atlanta native, was teaching at James Martin Middle School in 2012 when he started talking about this with Mario Jovan Shaw, a teacher at Ranson Middle and an old friend from their Teach for America summer training institute. That's how a lot of big things start in Charlotte, with simple conversations. Terrell and Shaw opened a text message chain to talk about their work and invited others who looked like them. The texts led to more formal monthly meetings. At first, Terrell says, they had about 10 guys messaging back and forth. Within a year, about 300 black male teachers in several cities around the country were participating.
They saw familiar storylines develop: One would get an offer to become a coach, another would be pushed into an administrative role, another would feel isolated, and all felt the expectation to be disciplinarians in the hallways. These are just a few of the reasons that nearly a third of black male teachers nationwide leave the profession each year.
Terrell and Shaw knew that efforts to recruit and train black male teachers were of little consequence if they weren't staying.
"Imagine you have a pail of water, and you keep trying to fill that pail but you have a hole in it," Terrell told me recently. "You're never going to fill the pail."
Terrell and Shaw formed a nonprofit in 2014 and named it Profound Gentlemen. Their mission is to support current teachers and college students interested in the field by providing resources, training, and a network of support. That's what brought Terrell to that stage that Monday night a year ago. He was taking part in the SEED20 program, arranged by Social Venture Partners. Each year, the program brings in 10 emerging nonprofits or startups to give a three-minute presentation about their organization to a group of judges and a community audience.
After Terrell's presentation last year, Profound Gentlemen won the $20,000 grand prize.
As it happens, earlier that same day in a meeting uptown, Charlotte's leaders announced the findings from the Opportunity Task Force, which spent almost two years trying to determine what led to Charlotte being ranked 50th among America's 50 largest cities in terms of economic mobility. Last place is a bad place. It shouldn't surprise us that hundreds of decisions and circumstances over several decades led us here. But let's be honest: Those decisions didn't happen by themselves. Atlanta ranked 49th in the report. Raleigh was 48th. The South isn't a place to be born poor.
It's been a year since the report was released, and people want action. This winter, as the Leading on Opportunity council prepared to announce the hiring of an executive director, a series of opinion pieces flared up in the Observer. First, Amy Chiou, the executive director of Queen City Forward, a nonprofit that helps develop social entrepreneurs, wrote that we need more startups and fewer committees. Foundation For The Carolinas CEO Michael Marsicano responded with a defense of task forces and Leading on Opportunity. Then Will Miller, founder of Social Venture Partners Charlotte and current deputy secretary of the North Carolina Department of Commerce, published an article not just critical of task forces but of Marsicano, too.
Miller and I talked the week after his piece ran. He's lived here for 25 years and is no fan of slow progress. "What we spend our time on is not developing answers," he said. "We spend our time on getting people to agree to support those answers."
I understand the frustration, but if I may offer my own quick defense of this specific task force: Economic mobility is an ocean of an issue, and gathering support is a necessary step toward fixing it. The task force was designed to increase awareness among people who already have grocery stores in their neighborhoods, people who can afford the extra $4 a month for this magazine, people who have resources to share with those who don't.
We didn't fall to 50th because of one slipup. There were thousands of them. So we'll need thousands of people like Terrell and Shaw, who have devoted their lives and risked their savings to fixing one part of a part of a problem. Last year, Profound Gentlemen provided services to 60 teachers in Charlotte. All 60 returned this school year. That won't necessarily boost reading or graduation rates on its own, but it will certainly help.
Similarly, a task force is like any other force, in that if it connects with other forces, it can be a greater force. It deserves relentless scrutiny, for sure, but let's not go shooting holes in the pail just yet.