Along the Way with Michael Graff: The Last of the Roses
Who ever wanted a concrete garden?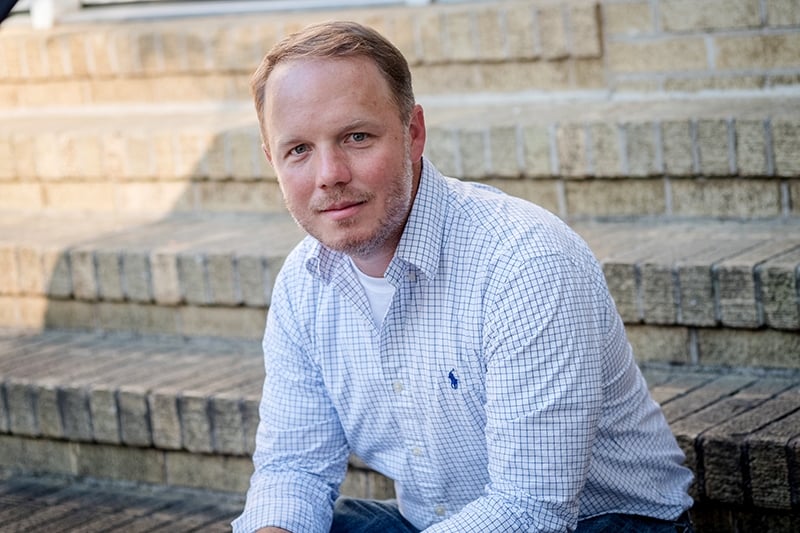 WHERE THE PAVEMENT runs out on a dead-end street in Elizabeth, there are roses. A dozen or so of them, planted on a patch of empty land no bigger than a parachute, a few feet away from the wall that mutes the roaring of Independence Boulevard. Old stone steps lead to a stone path that runs to the wall, a walkway interrupted. The only other structures are a lonely picnic table and one of those little free libraries, filled with stories left behind.
I've walked past the rose garden at the end of Sunnyside Avenue countless times since I moved to the neighborhood four years ago. I searched for answers about it online once, but the keywords redirected me to McGill Rose Garden, about a mile north, and I let it go.
One afternoon last summer, though, I asked the librarians in the Carolina Room at the main library uptown to help me find more information, and within minutes, they buried me in stories that took me back in time.
From 1931 to 1969, it turns out, the Sunnyside Rose Garden was a jewel of Charlotte, with nearly 5,000 bushes stretching from Sunnyside Avenue to 7th Street. Pictures of it were on postcards. People wrote odes to it in local publications. After President Roosevelt died in Georgia in 1945, a train carrying his body back to Washington for funeral services passed through Charlotte. An arch of roses from the Sunnyside Rose Garden awaited the train at the depot here.
The garden's caretaker was an eccentric man named K.W. Selden, who devoted much of his life to the plants. Once, in 1936, Selden wrote a scathing letter to the editor in the Observer arguing that Mecklenburg County should provide better care for current parks before considering the construction of new ones.
"The Sunnyside Rose garden is the only worthwhile beauty spot in the city," he wrote, words I'm guessing he didn't think anyone would be reading 81 years later.
Last fall, a New York Observer columnist wrote on Twitter, "Nobody goes to libraries anymore," and he was blistered with thousands of replies. Officials with our local library system have heard misguided statements such as that, too, in their pursuit of public and private funds to replace the main library with one that will transform two city blocks in the next decade. In fact, library usage is growing among a group of people you may not expect: millennials. People born between 1981 and 1997 are more likely to have visited a local library in the past 12 months than Gen Xers and baby boomers, according to a recent Pew Research Center study. I'm 38, too old to be a millennial and just against the edge of being a Gen Xer, but that stat tickles me either way. The generation most closely associated with technology loves libraries!
This isn't some nostalgic column about something on the fringes of life now. The library is central to our city's future, a knowledge and communication core. It's a place to roam, a place to curate curiosity. A stroll through bookshelves forces you to look up, to find something you didn't know you were looking for. I've checked out the most random items: the biography of the man who started Domino's Pizza, a book that challenges our desire to determine averages in statistical research, another on the work ethic in America.
Sometimes, I'll imagine the people who checked out certain titles. What ever happened to the tortured soul who went home with Stop Being Mean to Yourself? Or the converted cynic who flipped through Forgiveness: 21 Days to Forgive Everyone for Everything?
The library is one of the few free public spaces remaining where you know you'll interact with people of all backgrounds. The homeless rely on the library for warmth. Unemployed people rely on it to use the internet terminals to search for jobs. City council members rely on it to avoid repeating mistakes. And, boy, does Charlotte repeat its mistakes. The Carolina Room is filled with stories of past battles over stadium construction and tax increases, parks and transportation, schools and suburbs.
Which brings me back to the roses: In 1933, when the city was looking for a site to re-erect the old Mint building as a museum, the Sunnyside Rose Garden was the runner-up choice. It's hard to imagine how Charlotte would be different today had the first Mint Museum been placed there in Elizabeth instead of on Randolph Road in Eastover.
In the 1960s, the state highway commission released plans for a new expressway that would become Independence Boulevard. They included a maze of nine bridges and ramps from uptown to what is now Charlottetowne Avenue, and wide streaks of pavement through the Sunnyside Rose Garden.
"We're reaching the point here where concrete can cover just about anything," the Observer's editorial board wrote in 1967. "But it's doubtful that we'll ever have enough rose gardens."
Sometimes these days, it can seem as though the tension between progress and the past is new. But it's not. Read those two sentences from that 50-year-old editorial again, only this time insert the word Google for concrete, and libraries for rose gardens.