As Violent Crime Rises in Charlotte, Explanations Stay In the Shadows
Court system is too lenient on bail for repeat offenders, chief suggests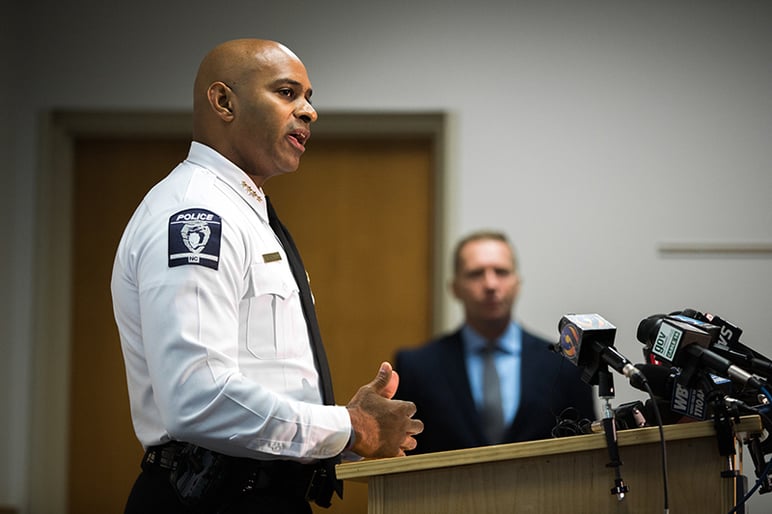 For people who track such gruesome matters, the homicide rate in Charlotte over the last five years has been a confounding puzzle, prone to swing wildly from unusually good news one year to horrific the next, with no clear explanation for either. In 2014, Charlotte-Mecklenburg Police registered 44 murders, the lowest total in at least two decades. In 2017, the number nearly doubled, to 87. Last year, it dropped to 58.
As of Thursday, before the year's midway point, the 2019 total stood at 57—which would put the city on track for its deadliest year since 1993, the apex of the crack cocaine epidemic, when a record 129 people were murdered. It's not just the number of homicides that's risen, either: Through June 16, overall violent crime had risen 20 percent, including a 31 percent spike in cases of assault with a deadly weapon and a nine percent rise in sex offenses, according to statistics the department released Thursday.
This year, as they did two years ago, police struggle to explain the sharp rise, especially given the pronounced decrease in the year between. Chief Kerr Putney, who met individually with several local reporters Thursday afternoon, repeated a familiar refrain. "What we're seeing is what we've been seeing over the last few years," he said, "young people grabbing guns to settle minor disputes instead of talking it out. It's not because of a lack of effort on our part." CMPD has made five percent more arrests and seized 11 percent more guns in 2019 than in 2018, department statistics show.
Right, but why the statistical roller coaster, unless young people feel more compelled to settle disputes with gunfire in odd-numbered years? The chief pointedly suggested Thursday that some of the county's recent criminal justice reform initiatives may have backfired—including a reconfiguring early this year of its cash bail system, one of a handful of reform efforts funded by a $2 million McArthur Foundation grant.
In March, the county's court system abolished a set of judges' bond guidelines that attached particular pre-trial bail amounts to specific crimes. The guidelines, some judges believed, disproportionately punished the poor, who were more likely to languish in jail for days or weeks before trial for relatively minor offenses. Instead, judges were encouraged to take into account flight risk and the likelihood of a defendant committing another crime, and use electronic monitoring devices to keep track of defendants' whereabouts.
One of the consequences, Putney argued Thursday, is a high number of violators and a rise in the number of repeat offenders who have cut the device loose. "The lack of accountability on repeat violent crime offenders is how we're here and why we are going to take a while to get out of it," Putney told me. "If I'm telling you we're arresting more of them, and then they're getting out, it's not us. That means your magistrates, your judges, and others have to be held equally accountable for making sure we're consistent in how we protect our community."
Bail reform has been shown to work in other jurisdictions, and it's unclear to what extent it's responsible for Charlotte's 2019 violent crime spike; in recent years, other cities have encountered sharp, seemingly inexplicable swings in murder totals. Nonetheless, CMPD is stepping up its patrols in high-crime neighborhoods on the east and west sides and looking to expand its community engagement programs this summer to try to get to the root of the problem among young people, Putney said.
The most vulnerable demographic and the most likely to commit a homicide, he said, consists of black men ages 18 to 24. "Disproportionately, it's impacting those who are most vulnerable," he said. "Therein lies our frustration."