Basket Aces: NoDa, Triple C debut cans with disc golf theme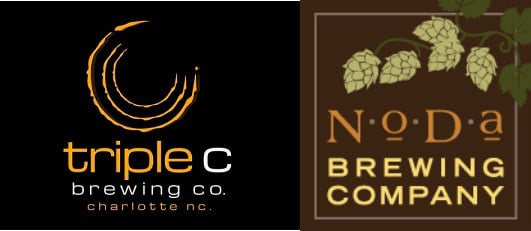 Sometimes it's hard to admit when you're bad at something. No matter how hard you try, you just can't get the hang of certain things.
One of my trip-ups in life is the sport of disc golf. It's pretty awful, highlighted by the time I reared back and took a few steps to launch my drive – and it 100 percent went backward about four feet. That physics-defying throw lives in infamy among my friends whenever they want to have a laugh, and was a deciding determination that disc golf would simply be pure fun for me – no competitiveness.
Despite my constant struggles, I can truly appreciate the sport, and Charlotte has a strong footprint in disc golf. The Queen City boasts 17 courses – Renaissance Park and Nevin Park rank high among noted disc golf web sites – while the go-to local shop is Another Round Disc Golf in NoDa, also the home of the Final Round Radio podcast.
Considering that strong support, it's no surprise that two new craft beer cans from local breweries are debuting with a disc golf theme: NoDa Brewing's Par 4 Session IPA and Triple C Brewing's Hyzer Hefeweizen.
"Hyzer" is the term for when a disc fades left off a throw ("anhyzer" – not the evil beer company, mind you – is when a disc fades right). Triple C head brewer Scott Kimball is an avid disc golfer, and also appeared on a Final Round Radio podcast last year. Hyzer Hefeweizen has been in the Triple C seasonal rotation for a few years now, but this is the first time the brewery has canned the beer.
The can features a disc golf basket (Triple C has also played host to numerous Charlotte Putting League events) and a disc curving in (perhaps via a hyzer throw?). Triple C's Hefeweizen, a German-style wheat beer, comes in at 5.2 percent ABV. Cans are now available at the taproom ($10 for a four-pack) and should be making their way into Charlotte bottle shops and stores later this week.
As has been the case with several of NoDa's seasonals, Par 4 actually started out as a small batch NoDable. It debuted in June 2015 and when NoDa expanded to its second taproom, Par 4 was one of the featured beers on tap, having then been brewed on a bigger scale. The response was overwhelming – it was one of the top sellers for the first couple of weeks – so canning the 4 percent ABV session IPA was a no-brainer.
Like Hyzer Hefeweizen, the Par 4 cans also feature a disc golf basket – complete with a sloth – as well as a nod to the classic golf movie "Caddyshack" and its famed gopher on the other side of the can. You can pick up a four-pack of Par 4 cans at both NoDa taprooms beginning this Wednesday ($9.99 each), and look for these cans to hit local bottle shops and stores later this week as well. As part of the release, NoDa's North End location on N. Tryon St. will also have a limited amount of special Par 4 discs for sale.