Before + After: New Home, Old Charm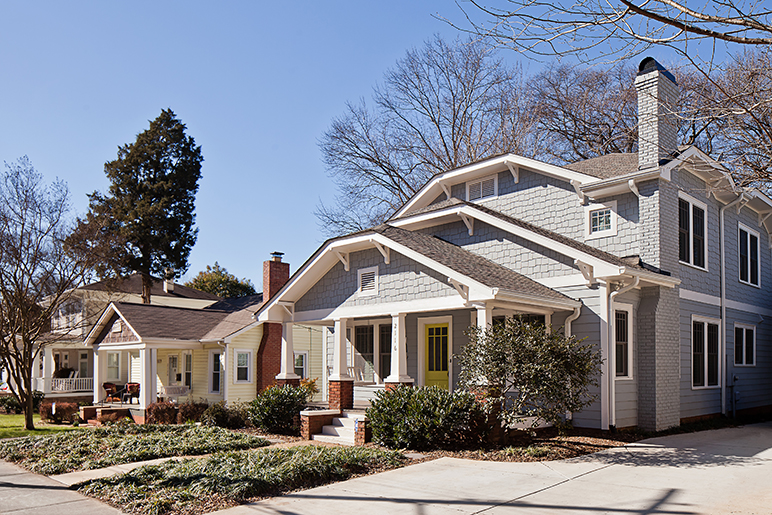 WHEN EMILY and Paul Zodtner bought an old craftsman home in historic Dilworth, they didn't have to move in to know the home was too small. They brought in Mike Doyne and John Fryday of Fryday & Doyne Architecture and Interior Design to help renovate the home without losing the charm they loved.
SAVING HISTORY
The Zodtners gave Doyne several priorities for their home's renovation: a large master suite, an open floor plan, additional bedrooms, and a lot of natural light, all while keeping the home's character. To add a second floor without making the home stick out on this classic Dilworth street, Doyne added a shadow roof between the second level's roofline and the old one, helping create a visual setback, and clipped gables to make the home appear smaller.
STORAGE
One of the biggest complaints about craftsman-style homes is their lack of closets. Doyne fixed this problem with ceiling-height kitchen cabinets and storage space under the steps. Upstairs, the master closet has pull-down clothing racks to utilize harder-to-reach areas. Doyne also created more space with the shadow roof, adding an attic space accessible from the upstairs hallway.
DESIGN
Several walls were taken out of the downstairs to help create the open floor plan the homeowners wanted. To keep the original craftsman feel, the trim and baseboards were continued throughout the home, and the original skinny hardwoods stayed on the floors with an updated stain. Every downstairs window was replaced, but the new windows were visually the same, with efficient framing and panes. In the daytime, a skylight above the stairwell brings light into the otherwise dark space.