Behind Charlotte-Bred, Tanzania-Focused Nonprofit The Lunch Project
In her work, attorney Rebecca Wofford cares about the whole flock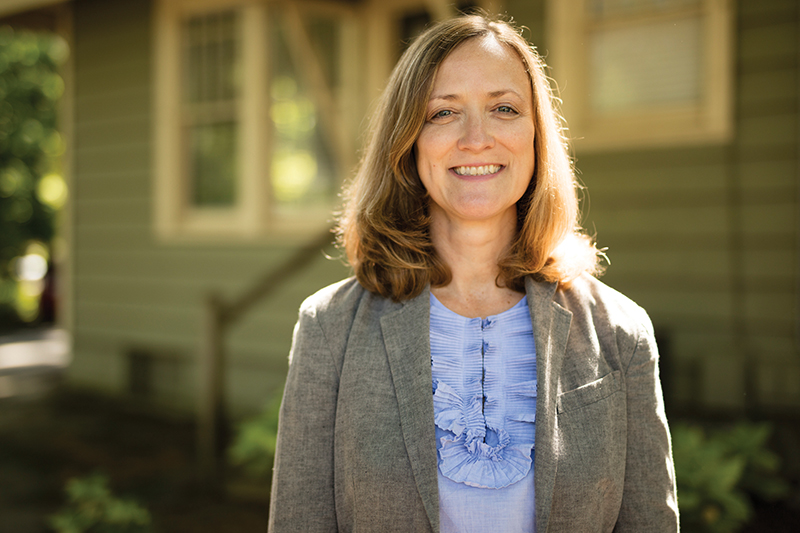 REBECCA WOFFORD DROVE through the city of Arusha, Tanzania, headed toward a school. During the hour-long drive, she admired the foliage and the splendor of Mount Kilimanjaro in the background. The dirt road took her to a remote area, home to Lemanyata Primary School. As she walked up to the school, a flood of students ran to greet her. Their school was a modest building with a dirt floor and no electricity or running water, but the children were always excited to welcome visitors.
During that 2011 visit—part of a trip with Wofford's Charlotte School of Law students to study public education in developing countries—the Tanzanian school's headmaster asked if Wofford could help provide lunches for his students. His request set Wofford, a Selwyn neighborhood resident, on a new mission—albeit cautiously at first.
"It was a big commitment," she says, "and if I didn't have support at home, I didn't think I could even take step one." Her family encouraged her. She began to structure a nonprofit, The Lunch Project (TLP), to meet the headmaster's request. She asked friends to punch holes in her idea: "I'm a logical thinker, and I thought if A plus B doesn't equal C, then I can't move forward."
Wofford's vision was not to ship food to Tanzania, but to use locally sourced, culturally common food, to involve the parents in the village, and to make the project a conduit for education and economic development. "The thought process was always that we would be a behind-the-scenes funder," she says.
In September of 2011, The Lunch Project began funding once-a-week lunches at Lemanyata. It has since grown, and now facilitates lunch five days a week at three schools. But Wofford's vision goes beyond a meal, and beyond the doors of those schools. Mothers are hired and paid a living wage to prepare a traditional lunch—corn porridge enriched with nuts and milk—in an outdoor kitchen furnished with supplies funded by TLP. Children participate by bringing firewood from their homes, and water from the community well. The mothers' earnings are sometimes reinvested back into the community. Parents from one school, for example, purchased goats with their collective earnings.
Along with a dedicated board and group of volunteers, The Lunch Project is also focused on creating change here in Charlotte through an "empathy education" curriculum, which has been presented in local public, private, and charter schools.
"We are experiencing an empathy gap in our society, with no sustained method of putting it back into our schools," says Tricia Sistrunk, TLP's executive director. "We use a 'zoomed out' approach," she explains, referring to the global perspective embedded in the program. "When kids are taken far out of their bubble, research shows it really motivates and resonates."
The impact in Tanzania is profound, and Wofford has returned twice (with plans to bring her family on a future visit). Thanks to TLP, students at Lemanyata and the other schools are able to focus on their education, resulting in improved attendance and standardized tests scores. On one of her visits, Wofford met some of the students who have gone on to further their education. "They kept calling me a chicken mama," she says. When she asked what that meant, they told her, "A chicken mama cares about the whole flock, not just her
own chicks."