Billy Graham Comes Home
The Charlotte-born preacher brings the faithful together one last time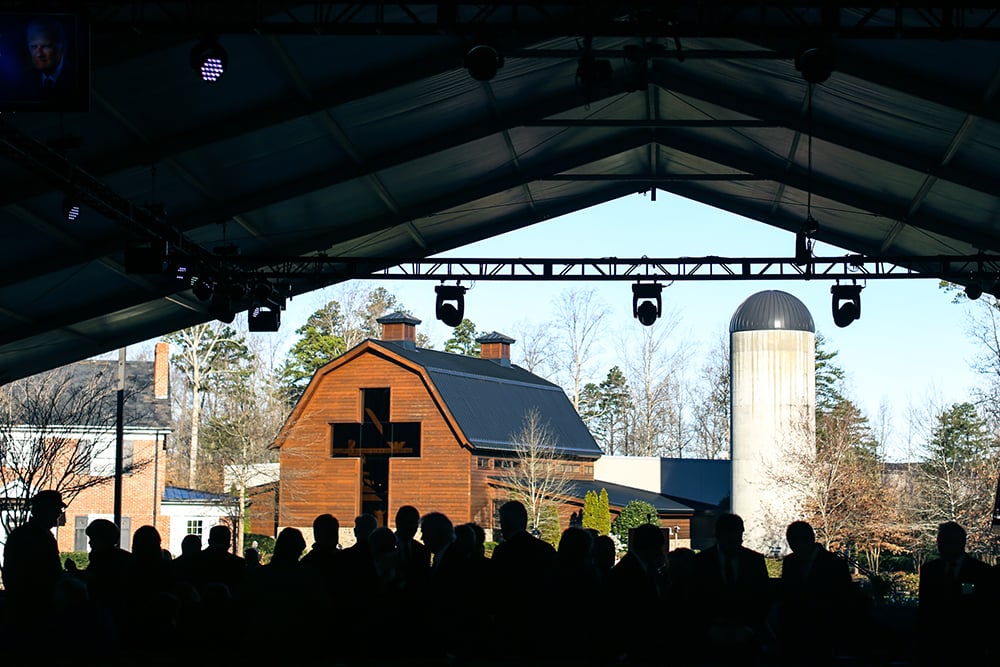 HERE WE ARE, a tent full of sinners, come to see Billy Graham.
This is a familiar scene, the faithful packing underneath a canopy for the preacher from North Carolina, for the message of salvation from the Gospel. Music plays in the background, instrumental versions of songs of promise, of life. An overwhelming sense of joy fills the space. Before the service begins, there are far more laughs than tears. A gospel singer begins a spiritual about coming home.
Here we are, a tent full of sinners. The disgraced owner of a professional football team. A president accused of infidelity. A divorced magazine writer who doesn't go to church as often as he should. A revered preacher quick to admit that he, too, was flawed. Billy Graham would've wanted us all here. He was used to preaching to a tent full of sinners.
Today, of course, is not an ordinary revival, like the ones that made Graham this country's most famous evangelist. The library built in his honor sits just over there, its 40-foot-tall glass cross impossible to miss. A motorcade is parked just outside the tent; police snipers have set their gear in the grass beyond that.
Two thousand sinners are here, in a space designed to mimic the "Canvas Cathedral" from Graham's 1949 campaign in Los Angeles, for Billy Graham's final crusade.
"Everybody has a Billy Graham story," his daughter Ruth tells the crowd.
When Donald Trump was a boy, his father took the future president to Yankee Stadium to hear Graham preach. Native North Carolinians, especially, recall listening to Graham on the radio, his deep voice and thick, old Charlotte accent booming as he began, "The Bible says…" When I was 10, my parents brought my sister and me to the new football stadium in uptown for Graham's final hometown crusade. I wish I could recount a profound experience, but I was far more excited to stand on a real pro football field and yank a few blades of grass out of the turf than I was to hear a sermon from anyone.
Ruth Graham tells us her Billy Graham story, about how her first marriage ended in divorce and her second was a mistake. She recalls driving home to see her parents, humiliated and ashamed, scared of what she would face when she got there. As she rounded the last bend up the mountain in Montreat and pulled into her parents' drive, there was her famous father. "I got out of the car, he wrapped his arms around me and he said, 'Welcome home.'"
Her voice breaks. People in the audience sniffle. A couple of reporters blink away tears.
"My father was not God," she continues, "but he showed me what God is like."
Perhaps that's why all those people—millions of them, all around the world—were drawn to and moved by the man who grew up on a dairy farm in Charlotte, North Carolina. He walked into a tent of sinners and showed them what God is like.
ADAM RHEW is a native Charlottean and this magazine's senior editor.