Birdsong celebrating Earth Day with festival, new beer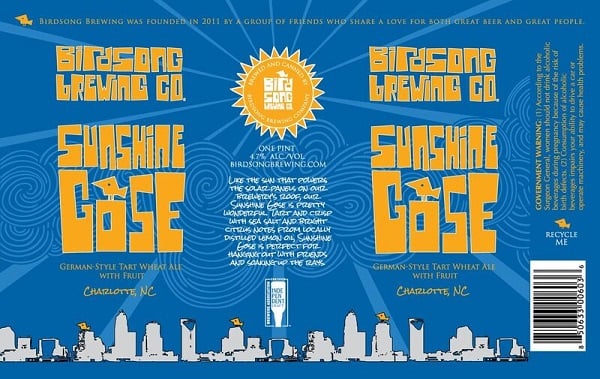 Birdsong Brewing has long been associated with being environmentally conscious. From multiple cleanups of Sugar Creek Greenway throughout the year to its water and solar sustainability (including installing 220 solar panels on the roof this past fall), going "green" isn't just a saying at the brewery – it's an action lived out every day.
And with Earth Day this weekend, Birdsong fittingly is throwing a big party, complete with a new beer release. As part of its Earth Day festival, beginning Saturday at 1 p.m., Birdsong will release Sunshine Gose in cans and on draft. If you've never had this style, the origin of gose is a German sour that has become popular in the U.S. in recent years due to its refreshing and drinkable quality. Goses are a wheat beer that possess a bit of both sweetness and saltiness to them.
For Birdsong's Sunshine Gose, brewer Jeff Bowman used local lemon oil, lemon zest and a hint of salt. He actually first brewed this beer last September for his wedding, and at just 4.7 percent ABV, you can expect an easy-drinking beer perfect for summertime. While the festival begins at 1, cans will be released in the taproom an hour early when the brewery opens at noon. (If you can't make it, Sunshine Gose cans are expected to hit local and regional distribution.)
As part of the festival, everyone is encouraged to do their part to help the carbon footprint in their own way – and you'll also be rewarded. For instance, those who ride share, bike or walk to the festival will get a special pair of Birdsong sunglasses. Also, everyone is asked to bring in recyclable materials (used coffee single cup pods, disposable cups and lids and chip bags/snack wrappers) that will be upcycled by TerraCycle into community items such as a park bench, picnic item or playground. Those who donate the recyclable items will also get a free beer courtesy of Williams Subaru of Charlotte.