Birdsong partners with Charlotte Knights for "All Knight Long"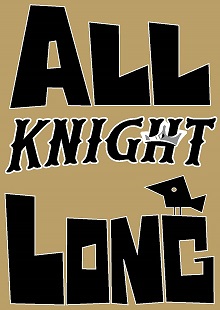 Well my friends, the time has come … to tell you about a new partnership between Birdsong Brewing and the Charlotte Knights as the premier minor-league team in the country opens the 2017 season this week.
Beginning Thursday (Opening Day for the Knights, who take on the Norfolk Mets Thursday at 7:05 p.m), you'll be able to enjoy All Knight Long, which Birdsong brewed exclusively for Knights games.
All Knight Long (keeping in theme with Birdsong's naming of beers after songs) is described as having "a nice, golden color, dry finish and a slight sweetness." And at just 4.2 percent ABV, this beer looks to be a refreshing go-to choice at the ballpark when the summer heat arrives.
If you can't get out to BB&T Ballpark, don't worry – you'll also be able to try All Knight Long at Birdsong's taproom through September. At Knights games, the beer will be available in Section 109 and the Diamonds Direct Luxury Lounge.
This is the second partnership between the Knights and a local brewery in the last few years, as in 2014 NoDa Brewing's A Knight's Ale was featured at the ballpark. Since opening, BB&T Ballpark has carried a number of Charlotte brewery options, along with other regional craft beers (still hoping one day Thirsty Thursday will include craft beers, however).
I'd love to see the partnership like an exclusive beer even span out to the Panthers and Hornets (though I'm not holding my breath, as there would be a lot of red tape to cut through if the Big Beer distributors continue to have their say). But at the same time it's great to see other Charlotte minor-league teams with strong local craft ties: the Charlotte Independence (whose sponsors include NoDa, Olde Mecklenburg and Sycamore) and the Charlotte Hounds (Legion and NoDa).
Finally, in other Birdsong news, their spectacular collaboration with Free Range Brewing is finally making its way into cans, and you can get your hands on them this Friday. First brewed in 2012, Rice Rice Baby is a milk stout brewed with oats and rice flakes and aged on vanilla beans. While this past year, the barrel-aged version was put into bottles, this is the first time it will be in cans. You can pick up a 4-pack ($15 each) at either Birdsong or Free Range beginning Saturday at noon.