BOB Awards Party, Festa Italiana, Charlotte Beer Festival and More, May 19 to May 22
With two Italian festivals, a beer festival and, not to mention, our annual BOB Awards party, you're going to have to make some tough calls on how to spend your weekend.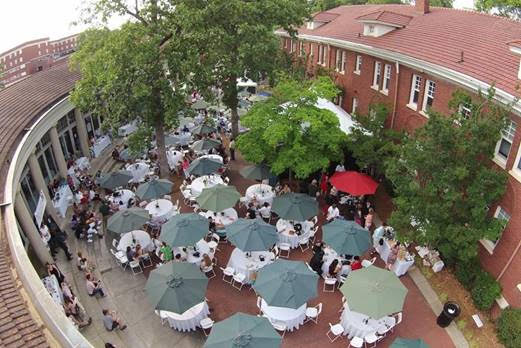 We're going to be honest with you. This weekend is going to be tough. There's so much to do, especially on Saturday, that you're going to have to make some tough choices. It's a good problem to have, Charlotte. See y'all out there!
Thursday, May 19
Queen City Brews
The Levine Museum of the New South takes you down memory lane tonight as it explores the history behind some of Charlotte's most popular breweries. Learn a little tonight about your favorite watering holes and, of course, have a few pints. Samples from Birdsong Brewing, NoDa Brewing and Sugar Creek Brewery will be on hand. The evening is from 5:30 until 7:30 at 200 E. Seventh St. Tickets for museum members cost $5 and $12 for nonmembers. Buy tickets here.
Friday, May 20
Meck Dec Day at Olde Mecklenburg Brewery
Celebrate the 241st anniversary of the Mecklenburg Declaration of Independence today with the Olde Mecklenburg Brewery. The brewery is featuring Captain James Jack Pilsner today along with other Meck Dec celebrations. The all-day celebration event is free at 4150 Yancey Road.
St. Philip Neri Italian Festival
Here's the first of two Italian festivals this weekend. This fest celebrating all things Italia features homemade Italian specialties, music, entertainment, an Italian Idol contest, a cannoli run 5K, both a silent and live auction, and wine and beer tasting. There is no admission cost at the event that runs from Thursday until Saturday at 292 Munn Road in Fort Mill.
American Craft Beer Week at the Flying Saucer
The Flying Sauer Draft Emporium celebrates American Craft Beer Week all throughout the week, and you're invited to the party. The week features everything from trivia to $3 pints to tonight's feature: a tapping of several sour beers. The celebration does not have an admission charge. The Flying Saucer is at 9605 N. Tryon St.
Saturday, May 21
BOB Awards Party
We're a bit biased, obviously, but this is the party we look forward to the most all year. Each May Charlotte magazine awards the Best of the Best Awards (BOB Awards) to outstanding restaurants, bars, boutiques and just about everything else. And each May, we bring together a handful of the winners for a big bash. This year's party features free food from Luisa's Brick Oven Pizzeria, The Mandrake, Tapas 51, Vivace, Duckworth's Grill & Taphouse, Reid's Fine Foods, Bad Daddy's Burgers and more. Along with the food from BOB Award winners as well as a silent auction from even more winners, Matt and Ramona from 107.9 The Link host the evening. Tickets cost $20 in advance, $30 at the door or $75 for VIP tickets, which also include an open bar and a swag bag. The party gets underway at The Fillmore, 820 Hamilton St., at 7 p.m. Buy tickets here.
Food Fight
In the fourth annual Food Fight, local food trucks come together to battle it out to see who gets crowned the afternoon's best. In addition to the food, the event features live music and local beer from D9 Brewing. The proceeds from the event support Relay For Life. The free event begins at 3 p.m. at Stumptown Park, 200 S. Trade St., in Matthews.
VegFest
Charlotte vegetarians and vegans, this is your day. Rejoice! The free festival celebrating all things vegan features vegan foods from local restaurants and food trucks, vegan-friendly vendors, live music, speakers, nutritional experts, vegan cooking demonstrations, prizes, gift bags and more. The festival starts at 11 a.m. at the Grady Cole Center, 310 N. Kings Drive, and lasts until 4 pm.
Charlotte Beer Festival
It's pretty simple. There will be more than 75 craft, import and specialty beers on hand along with live music. What's not to love? The festival runs from 2 p.m. until 7 p.m. at Rooftop 210, 210 E. Trade St. Tickets cost about $23 for general admission or, to get in an hour early, about $45. Buy them here.
No Pants Bike Ride
Take off your pants and hop on a bike as Unknown Brewing hosts the first No Pants Bike Ride down the light rail trail. Riders sans pants should meet at Good Bottle Co., 125 Remount Road, from noon until 12:45 to get ready to ride. Don't want to ride? It'll be a great photo opportunity. Oh, and please wear underwear. The event is free (because where would you keep your money?).
Sunday, May 22
Festa Italiana
The feasts of all feasts in Charlotte is back. Starting at 1 p.m. today and lasting until 7 p.m., the 11th annual Festa Italiana invites you to gorge yourself on unlimited Italian food, wine and beer. The event also features a kid zone, art gallery and Italian specialty vendors. An adult ticket to the festival costs about $77, a child's ticket (ages 13 to 20) costs about $26 and children 12 and younger get in for free. The festa is at Queens University, 1900 Selwyn Avenue. Buy tickets here.
Verify dates, times, prices, and other info at the web addresses listed for each event.
Be sure to bookmark www.charlottemagazine.com/Blogs/Dusk-Till-Dawn to stay plugged into Charlotte's nightlife and social scene. Click here to sign up to receive the weekly Dusk Till Dawn e-newsletter.
Want your event featured in Dusk Till Dawn? Follow me on Twitter @Jared_misner and let me know about your event, or send me an email at dusktilldawnblog@gmail.com.
Send Jared an email at DuskTillDawnblog@gmail.com, or send him a tweet @Jared_Misner.

Also by Jared Misner:

→This Weekend's Social Events
→Bowling For Books, First Friday Fort Mill, Electric Luau Party, Soulmatic Carolina Music Fest and More, Aug. 6 to Aug. 9
→The Moon Walk, Candy Fest, Silly String Party, Booze Cruise and More, July 30 to Aug. 2
→Christmas in July, More Christmas in July, National Dance Day, National Tequila Day and More, July 23 to July 26