Borum Conviction Ties Knot On Scott Protests' Legal End
The larger issues of race and equity? No end in sight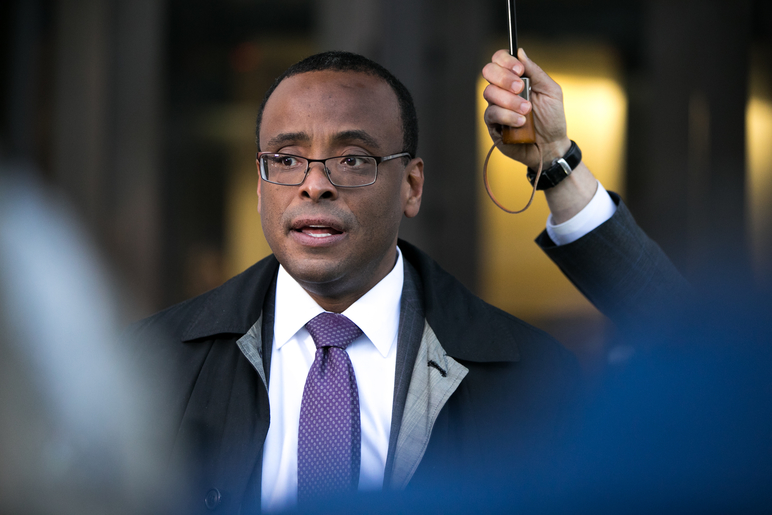 In light of Rayquan Borum's second-degree murder conviction Friday for shooting and killing Justin Carr, it's useful to go back to the summer of 2016 and remember a few things.
Early on July 5, police in Baton Rouge, Louisiana, shot and killed Alton Sterling, a black man, as they restrained him outside a convenience store, supposedly after Sterling reached toward his pocket for a gun. The next evening, July 6, an officer in Minnesota pulled over Philando Castile, a black man, then shot and killed Castile as he apparently reached for his gun in the glove compartment, which Castile had told the officer about. The shootings followed the 2014 police shooting death of Michael Brown in Ferguson, Missouri, the case that touched off the #BlackLivesMatter movement and, rightly or wrongly, induced a sense in many African-American communities that law enforcement officers were practically hunting their citizens down.
On September 16, an officer shot and killed Terence Crutcher, a black man, as he stood outside his car on a street in Tulsa, Oklahoma. Crutcher was not armed. Tulsa police made public dashcam and helicopter video and dispatch audio three days after the shooting, on September 19. The footage was widely viewed on television and online. Throughout all of this, the venomous presidential race ground toward its conclusion.
That was the cultural and emotional framework within which people in and outside of Charlotte viewed a Charlotte-Mecklenburg Police Department officer's shooting and killing of Keith Lamont Scott in the parking lot of a University City apartment complex the next afternoon. One of them was Scott's daughter, Lyric, who took to Facebook Live for more than an hour at the scene. The video, still on her page, has more than three-quarters of a million views. The first words out of her mouth: "My gosh, y'all, look. The police just shot my daddy four times for being black."
A half-hour or so in, she makes the claim, spread widely in the hours after the shooting and later proven false, that Scott was unarmed, sitting in his car, and reading a book. No one knew that the next night, September 21, as a massive demonstration choked the streets of uptown and eventually turned violent. But Keith Scott did have a gun. As trial testimony showed over the course of his trial in Superior Court, so did Borum, and a bullet he fired from that gun killed Carr outside the Omni Hotel.
A few months later, a colleague of mine observed that the Scott shooting and aftermath reminded him of U.S. Supreme Court cases, like Brown v. Board of Education or Gideon v. Wainwright, known more for their broad ramifications than their underlying facts. I knew what he meant. The unrest of September 2016 forced Charlotteans into long-overdue reckonings with police attitudes and actions toward racial minorities, the length and depth of the economic wall that divides rich from poor, and the city's well-honed tendency to harness optimism in the service of denial.
But the Scott shooting itself, and the Carr shooting that followed? Those were tougher to crack. Especially after a November 2016 District Attorney's report established that Scott was armed, and that witnesses who said otherwise were either uninformed or lying, an honest assessment of either case forced a series of what you might call "yes-buts": Yes, law enforcement in general and CMPD in particular needed to serve racial minorities more equitably and respectfully—but that doesn't mean the department murdered Scott or Carr, as anti-police activists were quick to claim. Yes, Scott should still be alive—but officers were well within their legal authority to use lethal force against him after he refused commands to drop his gun. Yes, #BlackLivesMatter has unquestionable merit, and the eventual absence of legal consequences for the officers in the Sterling, Castile, and Crutcher cases is an outrage—but the injustices of those cases don't justify the amplification of falsehoods about the deaths of Scott and Carr.
The activist group Charlotte Uprising has clung to its creed, "CMPD killed Justin Carr," for the past two-plus years. Since testimony began last week in the Borum trial, and jurors saw and heard evidence of a dreadlocked black man running from the scene, and heard testimony about clothes that matched Borum's found in his home with an empty 9mm handgun case and ammunition, and heard jailhouse recordings of Borum telling a friend that he did it, the group has been quiet. Contradictions are anathema to brand messages. They're essential to a candid assessment of reality.
So after a truly strange episode—the revelation late last week that Borum, during jury selection, had attempted from jail to contact a voodoo practitioner to conduct spiritual maneuvers against the trial judge—the Borum trial wound down to what felt like anticlimax. Borum's attorneys did what they could to kick up something that approached reasonable doubt but were left reminding jurors, during closing arguments Wednesday, of the option to convict him of second-degree rather than first-degree murder—which they did.
The prosecutor who delivered the state's closing, Assistant District Attorney Desmond McCallum, a black man, chose a novel path: He framed Borum's shooting of Carr as a kind of theft from the public, a desecration of people's right to peaceful protest.
McCallum reviewed the chant of "Grip a Glock! Shoot back!"—which a witness had attributed to Borum—and added, "That's not protest. That's destruction. (Borum) and Justin are as different as night and day." Borum seized "an opportunity in chaos" to inflict violence on the city of Charlotte, he said, in an effort "to steal the very message that mattered to Justin." Within this frame, it doesn't matter if the protests of September 21, 2016, were based on a misunderstanding or falsehood. Carr was there to exercise his First Amendment right to protest, McCallum argued; Borum was there for violence.
The verdict tied a knot on the legal issues left over from the Scott shooting, although the larger, cultural work—the city's continuing struggle for racial harmony and economic opportunities—continues, as it probably will for decades. But something else McCallum said during his closing argument resonated as an apt summation of the Scott and Carr shootings and the disruption and violence—and viral disinformation—that sprang from them. The prosecutor was referring to Borum's jailhouse phone calls, in which he seemed at times to be amused by his predicament and Carr's fate.
"This is part of the destruction and chaos, like it's a game," McCallum told the jury. "But it's not a game."