Brewers at 4001 Yancey in final stretch before opening to public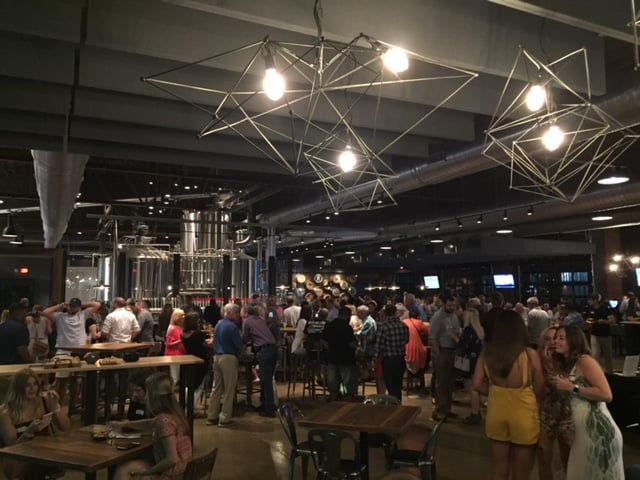 Let's get this out of the way first. No matter the name or where you're located, if you make good beer nothing else matters in the long run.
For Brewers at 4001 Yancey, the location isn't an issue by far. Settled right at the corner of Old Pineville and Yancey roads at the old Bowers Fibers facility, it will be the first place people see when coming into the burgeoning Lower South End district.
And while the name has caught a bit of flak, I suspect once people walk in to the impressive 28,000 square-foot brewery, look around and see the taplist, they won't care what it's called.
Brewers at 4001 Yancey comes from Artisanal Brewing Ventures and partners up two of the more well-known breweries in the Northeast, Victory and Southern Tier. All of the beers from these two breweries people have come to love will be available, along with numerous exclusive-to-Charlotte beers once the brewhouse gets running.
There have been a few soft openings already, including a charity function this past Friday. Provided a couple more test runs with mock service go smooth this week, the facility is targeting a grand opening for next Monday (June 25) – though that is not written in stone.
"The biggest thing here to know is we have two different brands, Southern Tier and Victory, which have two totally different brewing styles," says Chris "CA" DeCamp, general manager of Brewers at 4001 Yancey. "But we're not brewing any of the styles that everybody's already had. So none of the core brands – all of those are still coming out of Pennsylvania and New York. And we'll be brewing Charlotte beers that won't be distributed anywhere besides the market here."
David Harries will lead the brewing operations, heading up a 25-barrel system. That system is the centerpiece of the facility, as it towers over a wraparound bar that features 40 taps on every side. The brew staff is currently working on recipe development and will soon begin testing the system, with hopes of having the Charlotte exclusive beers ready in a couple months. Once everything gets up and running, Brewers at 4001 Yancey expects to do around 10,000 barrels annually.
Blending the core Southern Tier and Victory beers with ones you'll only be able to get in the Queen City is a smart move. There's no doubt Brewers at 4001 Yancey will attract huge numbers, with its expansive space (a rough total seating of 550, not including a private event space) that includes three outdoor patios, a beer-focused food menu and retail shop. That's more than enough to draw in your everyday crowd or weekend adventurers.
Brewers at 4001 Yancey features a retail shop with exclusive apparel and cans/bottles for purchase to go
But with Charlotte's affection for its breweries and local beer, brewing new beers will be key to bringing in craft drinkers seeking new beers or something they've never had. Essentially, Brewers at 4001 Yancey will be providing the best of both worlds.
This is also the first "outside" brewery coming in to the city (not counting Rock Bottom restaurant, which was here long before Charlotte's craft beer ascension). As an introduction, Brewers at 4001 Yancey held a lunch last week where Charlotte (and area) brewers got together at the new facility. And there are already discussions about local collaborations.
"A lot of them helped get us to this point," says DeCamp about Charlotte's brewers. "Not directly, what I mean by that is they built this community; they've made this a destination in itself. And we just want to add to that community and bring in some great Charlotte beers. So while we're not specifically local, we are local in what we'll be doing if that makes sense."
It's also unfair and frankly, a bit shortsighted to make any comparisons with this brewery to any other in Charlotte. For one, current laws prevent local breweries from going above 25,000 barrels annually and, as stated earlier, none of the regular Southern Tier or Victory beers will be brewed in the Queen City.
Further, and perhaps most importantly, DeCamp says for Brewers at 4001 Yancey, it's about inclusion rather than competition.
"A rising tide floats all ships," he says. "We're here to be a part of the community and build the brand and help what we've built, but also help what everybody else has built. Of course, you can't drink at the same place every night or eat at the same place every night, but we want people to come to Charlotte in general to drink beer to make this the craft beer destination of North and South Carolina.
"We have a great infrastructure with the light rail now where you can hit a ton of breweries. I can see a lot of community building here in Lower South End where we all do events where you can jump from one place to another between Great Wagon Road, Olde Mecklenburg and everyone else here. What we've seen is that people are willing to help no matter your size. It's tight-knit, and we're all better for it."
Once open, Brewers at 4001 Yancey will add to an already craft-heavy area that includes OMB, Sugar Creek Brewing, Good Road Ciderworks, Great Wagon Road Distillery (and its bar, The Broken Spoke), Doc Porter's Distillery and Queen Park Social. And back to names – whether you want to call it LoSo, Lower South End, Queen Park or anything else – it's a district where the newest facility will provide another top craft destination for residents and visitors alike.
"Beer is what we do – everything else is icing," DeCamp says. "It's all about hospitality and how we extend the beer experience into the dining experience and whatever may be. Every area here is so unique but we want the feel to be the same all the time. So whether you sit in the beer garden or somewhere inside, obviously you're getting awesome beer and a wide variety to choose from, and then your food is going to be top level. And finally we want to provide the best hospitality where everything feels the way it should."