Brewers at 4001 Yancey Pushes Brewery Food to New Heights
'"Brewery food" can really mean anything,' Executive Chef Drew Ward says.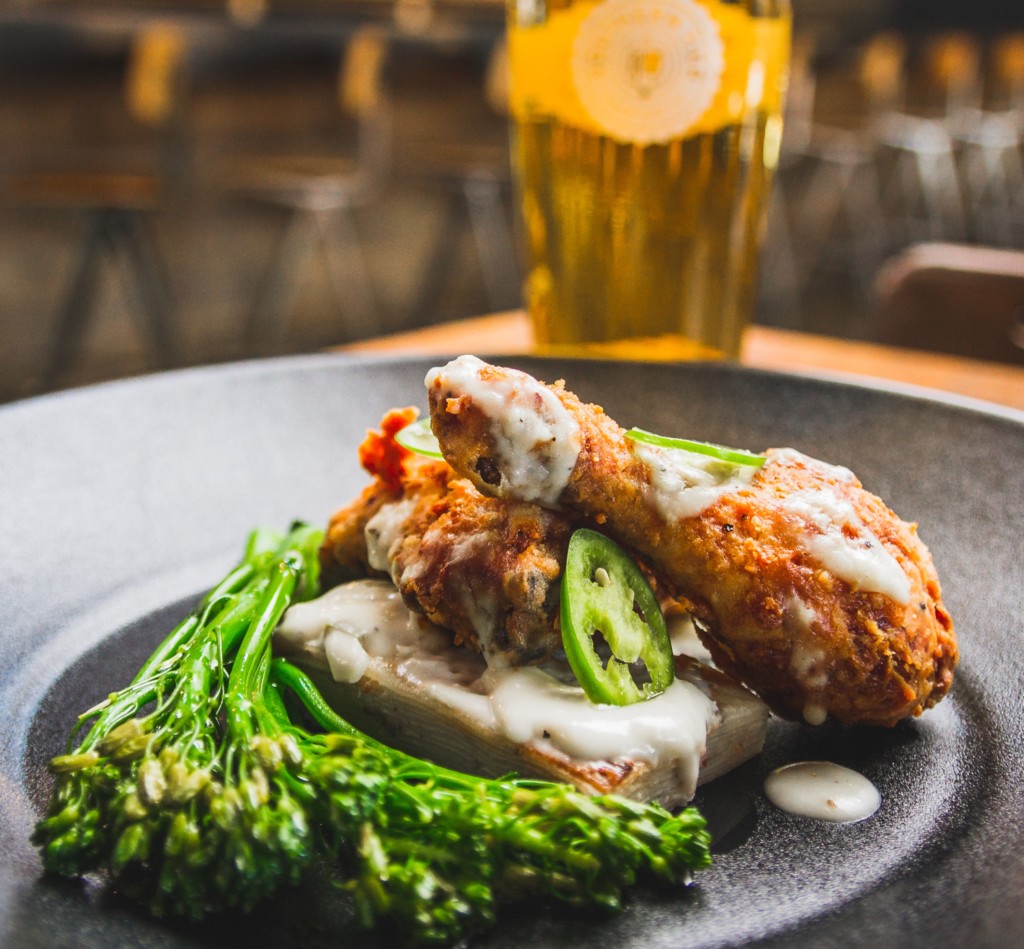 Brewers at 4001 Yancey's name is becoming popular lately, and this time, it's not because it's a mouthful to say. Instead, the brewery's hubbub is about what's in diners' mouths—the food. The recently opened Brewers at 4001 Yancey, if you recall, combines two breweries—Southern Tier and Victory Brewing Companies. The third addition to the massive space, the full-service kitchen, makes the offerings something of a trifecta. Creativity is at the forefront of 4001 Yancey's menu, with Executive Chef Drew Ward at the helm. Everything is house-made at this unexpected culinary destination, from the ranch to the pretzel dough.
We spoke with Chef Drew via email. (He's pretty busy running a kitchen that's made to feed up to 550 seated guests on any given day.)
Executive Chef Drew Ward on 4001 Yancey's Creative Brewery Menu
Charlotte magazine: How did you get on board with Brewers at 4001 Yancey? Whose vision was it to have a chef-driven menu at a brewery?
Chef Drew Ward: I was approached about the position and the chance to work for this great company. Our Executive VP, Gary Bryant, had the idea for having a creative, approachable menu, and he handed me the reigns to create and execute our menu.
CM: You've previously served as the executive chef for Charlotte favorites such as Mama Ricotta's and Cantina 1511. What excites you about the type of cuisine you're creating at Brewers at 4001 Yancey compared to your past kitchens?
DW: Before moving to Charlotte, I worked in NYC, where I was the Chef De Cuisine at Quality Meats, a boutique steakhouse that is in the Top 100 independent restaurants. I was also the Executive Sous Chef at Oceana, a Michelin-starred seafood restaurant, and then came the stints at Cantina and Mama's.
What excited me about this menu is, for one, I had creative control over the menu. Secondly, being surrounded by beer and incorporating it into most of our dishes was fun and exciting for me. I also pull from all of my past experiences and try to showcase what I have learned from each place along the way. This menu was designed to showcase our beers and spirits by using classic cooking techniques, yet staying extremely approachable. To me, whether it's wings or foie gras, the approach to quality and technique should be the same. It is also fun to not be tied to any one type of cuisine or style. "Brewery food" can really mean anything.
CM: Someone's visiting 4001 Yancey for the first time. Which dish do you suggest?
DW: That is a tough one, how does someone pick their favorite kid?! For me, the dishes that really showcase who we are are the Victory Pretzel, Crispy Potato Stack, Gin Cured Salmon, Pickled & Fried (okra and green beans), 8 Days a Week Fried Chicken, and our Shaved Ribeye Cheesesteak.
CM: What are your favorite two pint-and-dish pairings on the current menu?
DW: I am drawn to IPAs and citrus beers. In some of our dishes, I use a certain beer to cook with, but I will pair it with a different beer when actually sitting down to enjoy it.
8 Days a Week Fried Chicken with the Southern Tier 3 Citrus Peel Out: Eight Days a Week works great for a marinade to infuse the beer flavor, without overpowering the chicken. I love the way the spice from the jalapeno gravy and the chicken plays with the citrus in the beer.
Brewhouse Burger with the Victory Hop Devil IPA: We use Hop Devil to make our mustard that is on the burger, so this is one that the same beer pairs really well with the dish it's used in.
CM: What or who inspires your cooking?
DW: In the chef world, I have always been inspired by Thomas Keller, Eric Ripert, Frank Stitt, Edward Lee, Patrick O'Connell, the late Anthony Bourdain, and my mentor Craig Koketsu. I also try to bring in a little of the flavors of Appalachia where I can.
CM: Which dishes use 4001 Yancey's brews?
DW: The easiest answer is what dishes do not contain our brews or spirits. There are only six items on the menu that alcohol-free. We even use beer in our desserts.
CM: Do you have any plans to add, change, or expand the current menu? Are you experimenting with anything new?
DW: The menu will definitely see seasonal changes. I don't imagine we will expand the menu—I believe we have plenty of options, and I am a big believer of doing 20-30 items really well instead of 50 mediocre. I am currently playing around with recipes to showcase Southern Tier's Pumking upon its release.
I am also testing out some recipes with Victory's newest release, the Limey Gose, for some late summer dishes.