Bright Lights, Big Cause on Hillside Avenue
Holiday display is a tradition with a purpose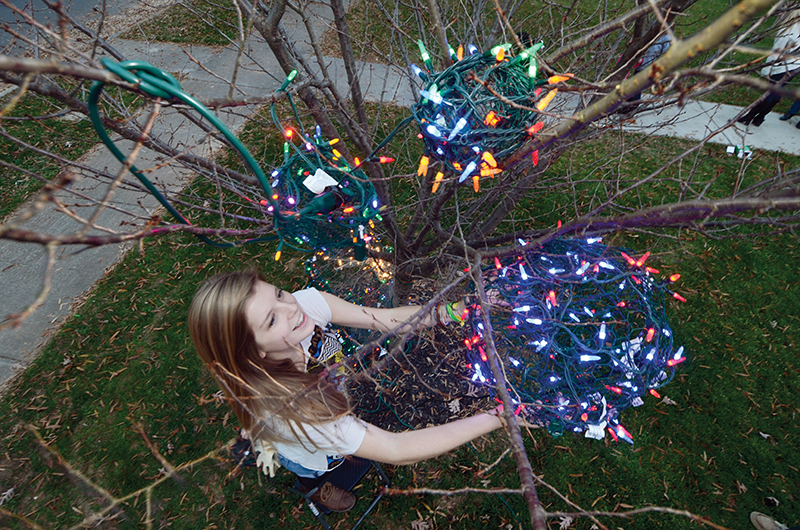 ONE CHRISTMAS not so long, long ago, a family on Hillside Avenue, a cut-through street of affluent homes on the edge of Myers Park, hung spheres of chicken wire draped with Christmas lights from its trees. The family had seen a similar display in Greensboro and decided to recreate it.
The balls of light mesmerized kids and grown-ups.
Before long, other neighbors joined in. And Christmas after Christmas, as the light displays stretched from one yard to many, Mason Schmitt got an idea. In 2012, she was a junior at Myers Park High School working on her Gold Award, the highest rank in Girl Scouts, which requires a service project. Mason thought the Christmas lights on her street—already attracting bumper-to-bumper traffic at night—would be an easy place to collect canned food for Loaves & Fishes.
"It was already there and waiting for someone to put out a bin," she says. We're sitting on the Schmitts' front porch on a sunny October afternoon. Mason, now a junior at Belmont College in Nashville, is home for a long weekend. Her mom, Anne, sits just to the left. Other neighbors pop on and off the porch as we talk. "I almost feel like I don't want to take credit for it anymore," Mason says, downplaying her role in spearheading the whole project. "It was just an idea. I was the idea man, and then everyone else sprang into action."
The first year of the food drive, Mason set a goal to collect 10,000 pounds of canned and dry goods or the cash equivalent—but wound up with much more, about 18,000 pounds. Last year, the drive brought in three or four tons of food, and thousands of dollars in cash and checks that pushed the total donation to Loaves & Fishes above the equivalent of 22,000 pounds. "It's amazing," Anne Schmitt says. "People will roll down their windows and hand you $100 bills."
Mason wanted the tradition to continue and part of the Gold Award requires that the service project be sustainable; the Hillside neighbors had to agree to keep it going. Jodi Hummer, who lives up the block, came up with the idea for neighbors to host a ball-making party every November; most of the street's residents participate. "It's part of our culture for December," she says. "It's incredible how much community it has created, not just for Hillside, but it's (a) tradition for others.
"I feel like it is going to continue for decades."