Buzz Fest, Celebrity DJs and Parties, Dogtoberfest, Grave Diggers Ball, Seahawks vs. Panthers Viewing Parties, and More – Oct. 23-26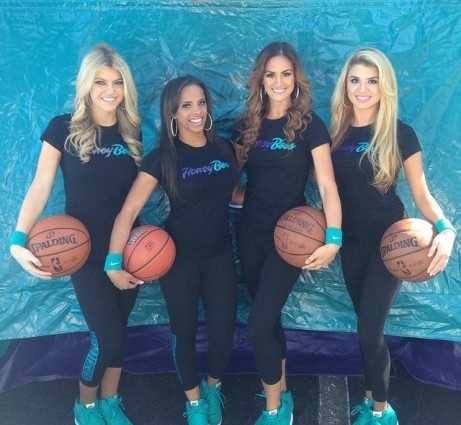 You know the drill… so hop to it!
Thursday, October 23
Charlotte's Favorite Happy Hour
Herb and Felicia Gray present their monthly after-work event, offering drink specials, hors d' oeuvres, and live music by The Harvey Cummings Project. 5:30-9:30 p.m. Free admission. Ruth's Chris Steak House, 222 S. Tryon St., eepurl.com/6qySr.
Almost Ablaze
It's the screening of ski film Almost Ablaze (8 p.m.), and leading up to it, band Nomadic will play on the patio. 6 p.m. General admission, $10; VIP, $40, includes open bar and heavy appetizers. Heist Brewery, 2909 N. Davidson St., heistbrewery.com, facebook.com/events/1634594116767352.
Hair Walk: The Movement
The highlight of the evening is the hair and fashion runway show, with proceeds benefiting Carolina Breast Friends and breast cancer awareness. 7-9 p.m. $45. Charlotte Convention Center, 501 S. College St., hairwalkcharlotte.org.
RAW Charlotte: Axis
RAW: Natural Born Artists is an international independent arts organization that hand selects and spotlights creative people, and the Charlotte group presents a showcase every other month. This night, themed "Axis," will feature more than 30 artists and creatives in visual art, music, film, fashion, hair and makeup, and photography. There'll be a cash bar, and the dress code is fashionable attire. Music by DJ Super and hosted by EB. 7-11 p.m. $15 in advance; $20 at the door. Neighborhood Theatre, 511 E. 36th St., neighborhoodtheatre.com, rawartists.org/charlotte.
We.Are.CLT's The Social Hour
It's the second event in this new series, offering food, drink specials, and networking. Music by DJ Hot Rod and DJ DR. Presented by The Prestige Group, NV Events, Eat.Work.Play704, DJ Skillz, and The Sol Kitchen. 7 p.m.-midnight. Free admission before 9:30 p.m. with RSVP. Suite, at EpiCentre, 210 E. Trade St., suitecharlotte.com, thesocialhouratsuite2.eventbrite.com.
Friday, October 24
Buzz Fest (Friday and Saturday)
The Charlotte Hornets are back! And the team is celebrating this weekend, before the 2014-15 NBA season officially begins next week. This inaugural Buzz Fest is hosted by hip-hop star Nelly, and will feature live performances by Voltage Brothers, Elle Varner, Big & Rich, Diggy Simmons, Sol Fusion, and more. Plus, there'll be food, games, kids activities, and appearances by the Hornets team, Hornets legends, Hugo, and the Honey Bees. Friday, doors open 3 p.m.; Saturday, 9 a.m. $10 per day. Charlotte Convention Center, 501 S. College St., nba.com/hornets/buzzfest.
GUTS
This annual pumpkin-carving competition gets bigger every year, featuring local and regional creative professionals who want to test their skills, while raising money for the Make-A-Wish Foundation. For those not participating in the competition, there's plenty of fun, including food and drinks, a silent auction, photo booth, merchandise vendors, and more. And the after-party follows at Texicali (6-8 p.m.), with a live band. 4 p.m. NC Music Factory, 1000 NC Music Factory Blvd., gutscharlotte.com.
Four-Year Anniversary Party

Sitting at one of the most vibrant corners in Uptown, this Mexican-themed restaurant and bar celebrates four years of business. Margaritas will be on special for $4 all day. 7 p.m.-close. Vida Mexican Kitchen y Cantina, at EpiCentre, 210 E. Trade St., charlotte.vidacantina.com.
[photo credit: facebook.com/vidacantina]
Bachtoberfest II: Bach & Beer
The upcoming event in the Charlotte Symphony's KnightSounds Series combines great classical music with great beer, in an ode to Oktoberfest. 7:30 p.m. $29. Knight Theater, 430 S. Tryon St., charlottesymphony.org/concerts-tickets/knight-sounds.
Chris Brown Takeover
Chart-topping superstar Chris Brown hosts this party, along with Power 98 FM's No Limit Larry, with music by DJ Crush Groovey and DJ Puff. Presented by So Fresh Entertainment and Hollywood Promotions. 9 p.m.-2 a.m. General admission, $50. Phoenix, 300 N. College St., phoenixcharlotte.com, chrisbrown.eventbee.com.
Nelly's The Fest After-Party
After hosting day one of Buzz Fest, Nelly hosts this after-party along with Charlotte Hornets' players Al Jefferson, Kemba Walker, and Lance Stephenson. Music by DJ Complete, DJ Incognito, DJ Shawn Nyce, and DJ Danny Diaz. 9:30 p.m.-2:30 a.m. General admission, $20 in advance; VIP, $30-$60 in advance; VIP tables also available. Re:Public, 314 N. College St., eventbrite.com/e/bem-group-presents-nelly-the-fest-party-tickets-13802526729.
#FaceTimeFriday
Moxie Society's monthly house party, with music by DJ 360. 10 p.m.-2 a.m. Free admission. Kanvas, 525 E. Sixth St., kanvasgallery.com, moxiesociety.com.
DJ Snake
The French-born DJ and Grammy-nominated producer, whom many know from the "Turn Down for What" song with Lil Jon, will bring his mix of EDM and hip-hop. 10 p.m.-2 a.m. General admission, $25; VIP admission, $45. Label, 900 NC Music Factory Blvd., labelcharlotte.com.
Saturday, October 25
Xplore Charlotte – Urban Adventure Race
Xplore is a team-based adventure race that comes to cities around the country, and now it's Charlotte's turn. Teams can travel on foot or use public transit as they race to various locations around the city, solve clues, and interact with people on the street to complete wild challenges along the way. Noon. $50. xperienceadventures.com.
Fifth Annual Dogtoberfest
It's a dog- and family-friendly event, offering an afternoon of fun, including live music, a cornhole tournament, dog costume contest, photo booth, food and drink specials, vendors, and more. Proceeds will go towards dog-rescue organizations. Noon-5 p.m. Jackalope Jack's, 1936 E. Seventh St., jackalopejacks.com, facebook.com/events/288560991342342.
Torch It Up
Camacho Cigars brings its road tour to Charlotte, providing an afternoon of cigars, beer, bourbon, barbecue, babes, and motorcycles. Hosted by Tinder Box. 1-5 p.m. Free admission. Icehouse South End Bar & Grill, 2100 South Blvd., icehousecharlotte.com, tinderboxcigars.com/events/camacho-light-it-up-tour-2014.
Rock United
Mooresville/Lake Norman Young Leaders of the United Way of Central Carolinas are hosting this inaugural fundraising event, showcasing local food vendors, craft beer and wine, artists, and musicians, including live music by The Hawthornes, KnowneGhost, Cool River, and Autumn to May. 2-6 p.m. $5. Oak Street Mills Complex, 19725 Oak St., Cornelius, uwyl.org/2014/10/01/rock-united-2.
Grave Diggers Ball
It's one of the largest parties of the year, and is an early-Halloween showcase. Thousands will attend, hundreds will compete in the costume contest, and Capital Cities will headline the concert. Opening acts include Eden xo, Night Terrors of 1927, with DJs Dirty, Supa Skip, Boy Beats World, and Kyle Biddy. 6-11 p.m. General admission, $15 and up; VIP, $60 and up. Parking lot at 514 N. College St., kiss951.com/halloween, facebook.com/gravediggersball.
Signature Saturdays
Taking place the second and last Saturday of every month, this edition features live jazz by Shableek, followed by music from DJ Freedom. Drink specials include $6 martinis and $99 Moët bottles, and the food menu is available until midnight. Presented by Eddietainment. 9 p.m.-2 a.m. Free admission before midnight; for VIP tables, eddiet456@gmail.com. Vapiano, 201 S. Tryon St., facebook.com/vapianoclt, eddietainment.com.
Seahawks Fans Pre-Party
The Seattle Seahawks are coming to town this weekend, and this party welcomes their fans. Complimentary food and drink specials will be served. 2 p.m. Free admission. Tilt, 127 W. Trade St., tiltontrade.com.
Su CASA: We Love Fela 2014
This is a monthly party, but this is the crew's annual tribute to Fela Kuti, with music from DJ Justice and DJ Jopedo, along with art, photography, face-painting, and more. 9 p.m.-2 a.m. $5 before 11 p.m.; $10 after. Petra's Piano Bar, 1919 Commonwealth Ave., petraspianobar.com, facebook.com/events/1491108261139733.
Sunday, October 26
Seattle Seahawks vs. Carolina Panthers
Game time is 1 p.m. at Bank of America Stadium.
Where to Watch the Game
@ All American Pub, 200 E. Bland St., facebook.com/allamericanpub.
@ Angry Ale's, 1518 Montford Dr., facebook.com/angryalesmofo.
@ Dilworth Grille, 911 E. Morehead St., dilworthgrille.com.
@ Draught, 601 S. Cedar St., draughtcharlotte.com, facebook.com/thecansrecycled.
@ Fox and Hound: Ballantyne, 15235 John J. Delaney Dr., facebook.com/fox.hound.ballantyne; Northlake, 9325 Center Lake Dr., facebook.com/foxandhoundnorthlake.
@ Hickory Tavern, at Metropolitan, 1100 Metropolitan Ave., facebook.com/ht.metropolitan.
@ Sports One Bar & Lounge, 521 N. College St., sportsoneclt.com.
FYI, check back on Dusk Till Dawn soon for a complete list of Halloween parties.
Verify dates, times, prices, and other info at the web addresses listed for each event.
Be sure to bookmark www.charlottemagazine.com/Blogs/Dusk-Till-Dawn to stay plugged into Charlotte's nightlife and social scene. Click here to sign up to receive the weekly Dusk Till Dawn e-newsletter. Follow me on Twitter @HollidayInk; email me at jarvish@grownpeopletalking.com.