Cam Newton's Dive Into the Sexism Zone
His demeaning remark to Jourdan Rodrigue merits an apology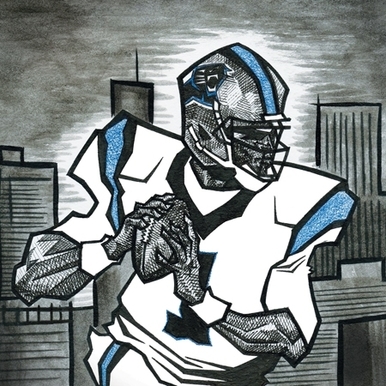 We expect a lot out of professional athletes, which isn't reasonable, realistic, or advisable. But we do anyway. Sometimes they meet or exceed those expectations. Other times, they reveal themselves to be flawed, impulsive human beings, as fallible and prone to fall on their faces as the rest of us.
Or, in the case of Carolina Panthers quarterback Cam Newton on Wednesday, a sexist jackass. During his weekly post-practice interview session with Panthers beat reporters Wednesday, he fielded a question from Charlotte Observer beat reporter Jourdan Rodrigue, a 25-year-old woman who's been on the beat for a year.
"I know you take a lot of pride in seeing your receivers playing well," Rodrigue began. Newton looked at her with his head cocked, a bored expression on his face. "(Panthers receiver) Devin Funchess has seemed to really embrace the physicality of his routes and getting those extra yards." Newton chuckled to himself and smirked. "Does that give you a little bit of enjoyment, to see him kind of truck-sticking people out there?"
Newton flashed that smile. You know the smile. When people talk about what makes Newton appealing beyond his athletic prowess, they invariably mention the smile. This one wasn't appealing at all. It was ugly, used not to express joy but contempt. "It's funny to hear a female talk about routes, like …" He straightened up behind the lectern and grinned even more broadly. "It's funny." Only then did he answer the question.
No sugar-coating that, is there? That's the face of the franchise, the most recognizable and important athlete in Charlotte's history, going all Mad Men in front of the cameras. Newton's been criticized for a number of things since his arrival in Charlotte in 2011, fresh off a Heisman Trophy at Auburn: his dress, his Superman routine, his petulant news conference performance after the Super Bowl loss last year. Those can be excused as the excesses of a rich, immature young man, and we shouldn't ignore the racial undercurrents of some of the criticism. This is another thing entirely.
For sure, some kind of public apology is coming, from Newton or the Panthers organization or both; but Newton owes Rodrigue a one-on-one, personal apology as well. He'd be well-advised to do something, quickly. Dannon's Oikos yogurt brand has already dropped the endorsement deal he's held since 2015. He still endorses Gatorade and Under Armour, for now. Other companies will likely follow Dannon's lead.
There's an unsavory history of professional athletes treating female journalists as an inferior species. Newton's comments Wednesday echoed the mistreatment of Lisa Olson, a Boston Herald reporter harassed in the New England Patriots' locker room in 1990; and, the same year, Detroit Tigers pitcher Jack Morris' comment to Jennifer Frey of the Detroit Free Press when the summer intern approached him for a locker room interview: "I don't talk to people when I'm naked, especially women, unless they're on top of me or I'm on top of them." When the paper complained, then-Tigers team president Bo Schembechler—the fabled University of Michigan football coach—blamed "your sports editor's lack of common sense in sending a female college intern in a man's clubhouse."
Newton's behavior wasn't quite as egregious as those episodes. But nearly 30 years later, the "man's clubhouse" mentality persists. This is an excellent opportunity for the Panthers organization to make clear—to its star quarterback, team, employees, fans, and everyone else—that it needs to go, now.