Catawba Brewing partners with Dunkin' Donuts for special beer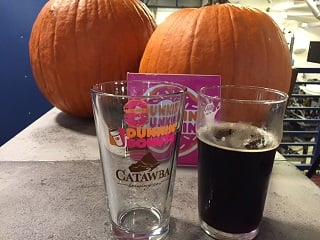 Pumpkin, coffee and donuts.
What sounds like the beginning to a great day also marks Catawba Brewing's latest beer, thanks to a national partnership with one of the biggest donut companies.
Dunkin' Punkin' will be released Friday in Catawba's tasting rooms as part of National Coffee Day. It's a beer that combines two things each company does best, says Catawba co-owner and CEO Billy Pyatt.
"We've been making King Don's Pumpkin Ale for almost 20 years so we understand how to make a nice fall-themed craft beer," Pyatt says. "So as we started talking to Dunkin' Donuts who are known for their coffee, it was great. We decided, 'Why don't we marry the two?' The pumpkin spice latte that they do has been a wonderful seller for them. So with that expertise and ours in pumpkin beer, it really was a natural choice – something good for the season that is also a little bit different."
Catawba and Dunkin' joined forces about six weeks ago to plan out the beer, with a seasonal in mind just in time for the fall weather.
"We are known for being a craft beverage company; that's all we've ever done," Pyatt says. "And Dunkin Donuts was looking for a special way to celebrate both fall and National Coffee Day and also give back to the community. The craft aspect and the charitable aspect of that along with the opportunity to work with a world class beverage company made it really easy for us to say yes to this.
That charitable aspect comes in the form of Second Harvest Food Bank of Metrolina, which serves 19 counties in North and South Carolina with the mission to provide food and grocery items to the needy as well as offer hunger education to various agencies. For every pint of Dunkin' Punkin' sold, $1 of the proceeds will go to Second Harvest.
"The Dunkin' local franchisees love what Second Harvest does and once we were exposed to it, we thought it was a perfect match," Pyatt says. "Where we own and operate facilities, we want to be able to affect that community, and you're not going to be able to find a more pointed group that's able to give back to the hungry people in the Metrolina area."
Roughly 30 barrels of Dunkin' Punkin' were brewed and as Pyatt mentioned, the beer will be available in all four of Catawba's tasting rooms – meaning not only the Charlotte location on Louise Avenue but also the two Asheville facilities as well as the one in Morganton. There's a possibility the partnership will continue in the future; right now Pyatt says he's excited for everyone to come try the first-ever beer in the nation to include Dunkin' Donuts flavoring ingredients.
"It's all about our values; the craft side of our business – making something good with high quality ingredients that people can enjoy," he adds. "We want people to come out and enjoy a few beers with us, and also do something together to give back to a great cause, one that affects us all here in the Metrolina area."