Catching up with Liz Saintsing
This Charlotte artist has a thriving business, a new home, and projects aplenty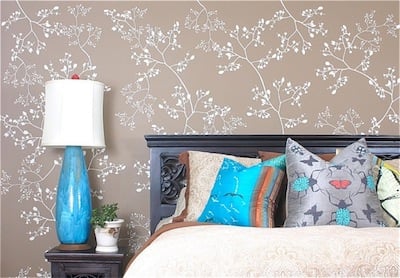 When we met Liz Saintsing in Charlotte Home + Garden about a year ago, she was at work in her home studio at her rental house in NoDa. Check out the story here about how she made the place hers by adding bold colors and a silk-screened feature wall.
This past October, Saintsing purchased a 1961 brick ranch in the Starmount neighborhood, just south of Madison Park. Saintsing—known for her nature-inspired silk-screen work that she prints on panels, handbags, and pillows—is now learning how to balance her time between her business and her home-renovation projects. She bought the house from the original owner, who took good care of it, but didn't update a thing.
"The walls are a huge canvas for me," Saintsing says. "I can't wait to do something with the kitchen."
Her first project was to rip up the carpet in the den and hire someone to put down hardwood floors. She also painted the original knotty pine to brighten the room. But she soon realized she would have to be patient with the renovation progress in order to devote enough time to her silk-screening.
"I've tried to be good about only doing house stuff on Saturday and Sunday," Saintsing says.
And her customers are thankful. Last week she was in Asheville to do silk-screen work on the bathroom walls of someone's penthouse. Most of her custom work comes from the pillows she designs. She's working on a four-piece project right now for someone in Myers Park. And throughout March, she's the featured artist at Post & Gray in South End.
"My stuff has done really well there," Saintsing says. She attributes much of that success to the enthusiasm and knowledge of the Post & Gray staff. "I feel like my products are in really good hands."
Until last year, Saintsing focused on promoting her work at large shows in places like New York, Atlanta, and Chicago. But last year she put more effort into establishing her brand locally. She participated in at least one show a month in places like NoDa and Matthews. And she found that many of the people who approached her table were interested in supporting local artists and hearing the story behind her work.
"I'm constantly scouring things and being curious," she says. "That's where the heartbeat is in my story. Curiosity has never left me."
With a thriving local business and a house full of potential, Saintsing has plenty of outlets for that creative curiosity.