Charlotte breweries collaboration with New Belgium set for release this Saturday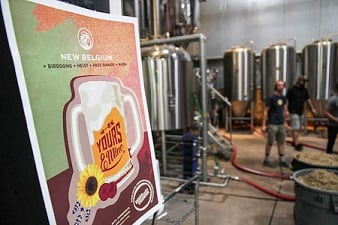 You may remember back in May when I first wrote about a "supergroup of local breweries" joining together with New Belgium for two collaboration beers to be released later in the year. Well, after a cross-country trip this summer, one of those beers is now ready for the public while the other will be getting started as well.
This Saturday at NoDa Brewing Company will mark the official release party of "Yours and Mine," a golden ale featuring ingredients from both Colorado and North Carolina. This beer was brewed last month, as Birdsong's Conor Robinson, Free Range's Jason and Jeff Alexander, Heist's Eric Johnson and Alexa Long and NoDa's Chad Henderson, Bart Roberts and Matt Virgil all went out to New Belgium's brewery in Fort Collins, Colorado to create the beer with New Belgium's brewers.
Brewers from Birdsong, Free Range, Heist and NoDa went to New Belgium's brewery in Fort Collins, Colo. last month to brew "Yours and Mine," a golden ale. (Pic courtesy of New Belgium Brewery)
The collaboration is part of New Belgium's "Beers with Vrienden," with the latter word meaning "friends" in Finnish. So far this year New Belgium has teamed up with J. Wakefield Brewing in Miami and Hopworks Urban Brewery in Portland. As the brewery describes it, the partnerships are a space where "mutual admiration becomes liquid inspiration."
Taking the Colorado/North Carolina partnership a step further, the brewers decided to create this beer with a nod to the Beers Made by Walking program, which uses ingredients inspired by nature walks. For Yours and Mine, the brewers chose beet sugar (New Belgium's brewery sits where a sugar beet factory once did), lavender and local malted sunflower seeds, along with the Scuppernong grape, the official state fruit of North Carolina.
If you want to learn more about the beer, how it came together and the ingredients used, all four local breweries will be participating in a Google Hangout this Wednesday at 4 p.m. They'll be taking questions and also providing information about the making of "Yours and Mine."
As for the official release, it will take place this Saturday in the parking lot of NoDa Brewing Company as part of a farmer's market. You'll be able to try the collaboration and speak with all the brewers who participated in the collaboration. As part of giving back to the community, all proceeds from pint sales of "Yours and Mine" will go to benefit local nonprofits NoDa Farmer's Market and Charlotte Arts for Life. And if you can't make it out Saturday, each participating brewery is also getting a keg of "Yours and Mine" to be tapped at their choosing in the next few weeks.
Following the release party, Salud Beer Shop is hosting an afterparty beginning at 7 p.m., where "Yours and Mine" will also be on tap, along with beers from Birdsong, Free Range, Heist, New Belgium and NoDa. You'll also get a chance to try Salud's collaboration with Free Range, "Salutations," a Gruit brewed with blackberries, pine, juniper and lavender.
And even better news: Before any of this occurs, all the brewers will get together once again on Friday for the second collaboration beer, aptly titled "Mine and Yours." Also inspired by Beers Made by Walking, this will be a Belgian dark ale brewed with Palisade peaches from Colorado and honey, ginger and sweet potatoes from North Carolina. Look for "Mine and Yours" to have a local release date sometime in October.