Charlotte Magazine Celebrates 50 Years with Special NoDa Beer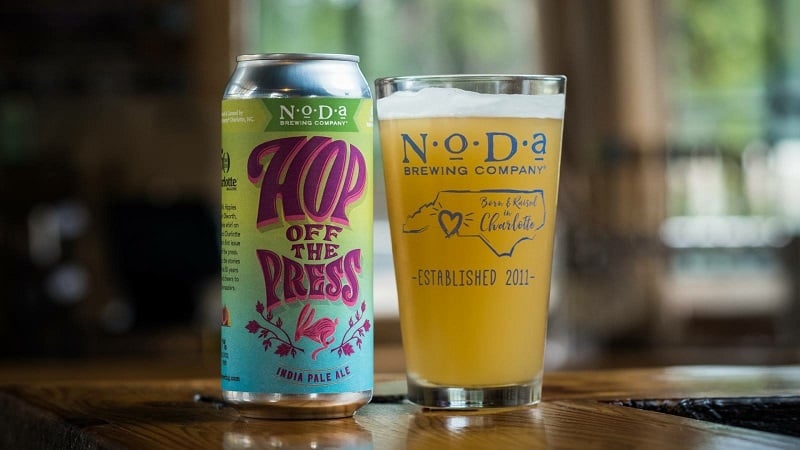 Charlotte magazine has spent the last 50 years bringing residents the best city coverage throughout the Queen City's constant transformation. And to celebrate its semicentennial, the magazine staff is throwing a huge party Saturday, September 8 at NoDa Brewing beginning at noon.
As part of the special occasion, the fine folks at NoDa have created a beer for the anniversary, the incredibly-named Hop Off The Press. This hazy IPA will actually be released four days earlier as part of NoDa's NoDable Series and will be available in cans as well.
"The staff at Charlotte Magazine reached out to us earlier in the year explaining that they wanted to partner with a Charlotte brewery that does a lot with the community," says Suzie Ford, who co-owns NoDa with her husband, Todd and head brewer Chad Henderson. "Our answer was a huge 'yes,' of course."
Ford went on to explain Charlotte Magazine has a special place in NoDa's owners' hearts. It was actually this magazine that first put NoDa in print, as then-associate editor Sarah Crosland reached out to the Fords to do a story shortly before the brewery officially opened six years ago.
"I can still vividly remember that day," Suzie says. "Todd brought a growler of what was then homemade Coco Loco to the Pizza Peel. And then when the issue came out, it was amazing to pick one up and go, 'Wow, our name is right here in print.'"
When it came to the beer itself, the thought was to brew something everyone would like and as NoDa is known for its IPAs and juicy IPAs are a bit of a beer du jour at the moment, it was an easy selection. And although there were a number of creative names thrown out by the magazine staff for this beer, Hop Off The Press has multiple meanings and fits perfectly for this event.
"When I think back on Charlotte magazine's 50 years, I think about the hundreds of writers, photographers, artists and designers we've included in these pages," associate editor Emma Way says. "I think about the hours spent finding the right word to describe Price's fried chicken, the red ink pens that have gone dry changing 'downtown' to 'uptown,' and the beers we've shared after stressful days spent writing.
"It's only fitting that on this momentous occasion, we celebrate with beer. Our partnership with NoDa Brewing and having them create us a juicy IPA just sweetens the anniversary even more."
Hop Off The Press was brewed with Bavarian, Huell Melon and Mandarina hops. Four-packs of cans will be available in the taproom only upon its release Tuesday, and NoDa will be sending out a limited amount of kegs to local accounts beginning next week.
The 50th anniversary party Sept. 8 will run from noon to 5 p.m. at NoDa. There will be live music, food available from the TIN Kitchen and a chance to mingle with current and former Charlotte magazine writers and staff.
"Through all of the changes, Charlotte magazine has been there for the growth, and in our world, certainly has been there for the growth in the brewing industry," Suzie Ford says. "And not just us – Charlotte magazine has been supportive of all the other breweries as well which is great to see, along with everything that goes on in the community.
"We're honored to host the party here. For 50 years, this is a magazine that has been a huge part in the city. Charlotte Magazine is Charlotte."