Charlotte Oktoberfest is back for 2017 – here's what to expect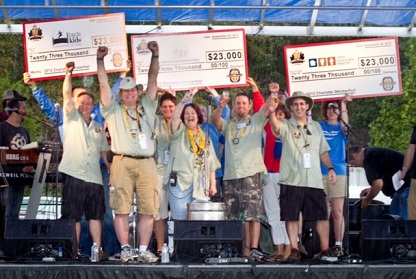 After a year hiatus, Charlotte Oktoberfest returns this Saturday. And while you'll find a lot has changed, one thing remains the same – this is the Queen City's largest craft beer festival, with more than 75 breweries pouring unlimited samples at the event.
This is the 18th annual Charlotte Oktoberfest, by far making it the longest running craft beer festival in Charlotte as well. Due to contractual issues with trying to get a venue signed, the organizers didn't feel they had the time and ability to put together a quality festival in 2016 – hence the year layoff.
However, they worked quickly to nab this year's location – Symphony Park. This is the first time Charlotte Oktoberfest will be held at the SouthPark venue (previous sites included Memorial Stadium, Metrolina Fairgrounds and most recently the N.C. Music Factory grounds), and festival director Bethany Burr says she's excited for everyone to see the new spot.
"It's a two-level layout, with some similarities and some changes," she says, noting there's now a water refill station and all food trucks will be located together.
Of course, the main attraction is the beer. At Charlotte Oktoberfest, you'll get to try unlimited samples (more than 300 beers total) from nearly every local brewery, along with others from the region, state and even some of the bigger national breweries. ( You can see the complete list of breweries scheduled to attend here.)
One of the big things the festival, and organizers Carolina BrewMasters, pride themselves on is the charity work that goes along with Charlotte Oktoberfest. And for good reason, as through its history the festival has raised more than $600,000 for local charities. This year's beneficiaries are Charlotte Family Housing, On Eagles Wings and RescuedMe.
"Every year, (Carolina BrewMasters) members submit their favorite charities and a small committee of members go through the 50-60 submissions to choose the best for that year," Burr says. "It's tough because there are so many great charities that work locally. One ask is always that the money stay local."
Burr encourages everyone going to download the Charlotte Oktoberfest app prior to the festival to see the layout and where breweries will be located. There will also be a guide handed out upon entrance. Parking is also free, but given that this is a craft beer festival, other transportation methods should be considered. And for first-timers, Burr has a few suggestions as well.
"Sample stuff you normally wouldn't order – brewery, style, whatever – and don't be afraid to ask for a smaller pour of it," she says. "If you're not sure about a beer – ask the person pouring about it, or tell them what you like to get a recommendation. Or ask the people in line with you."
Tickets for the festival are still on sale and can be purchased here. Premium tickets, which get you into Charlotte Oktoberfest 90 minutes early (12:30 p.m.) along with a chance to try an exclusive beer from many of the breweries plus a special lanyard holder for your sampling glass, are $65. Regular admission tickets are $45. The event ends at 6 p.m.