Charlotte's Concierge Practices Point to Past to Create Medicine's Future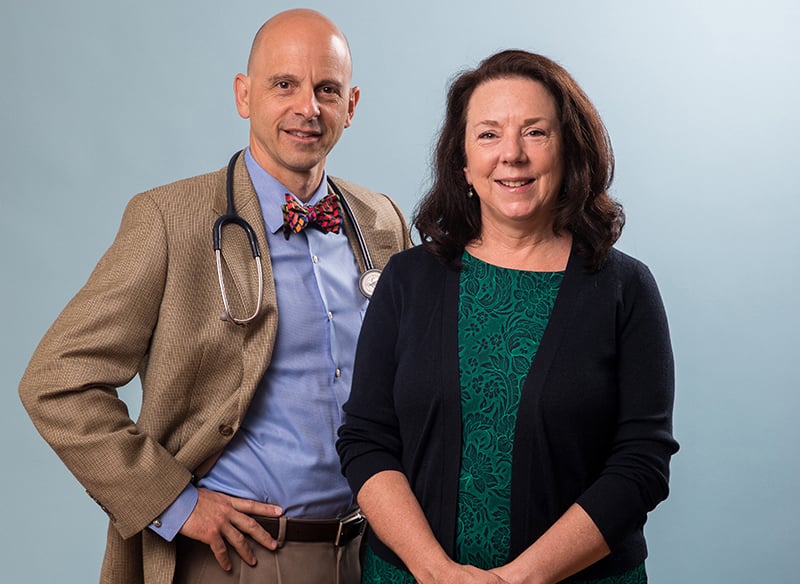 LET'S START with good news. Americans are living longer.
Now, a challenge: Our population is growing and skewing older, which means more people and more health conditions to manage.
And now, another challenge: Our population growth is outpacing the growth of primary care physicians. More doctors choose to enter lucrative specialized fields—reflecting an industry that pays more for procedures than for prevention—and the number of specialists is increasing six times faster than that of primary care doctors, who comprise just 37 percent of physicians.
"You do the math," says Dr. Marshall Silverman of Signature Healthcare in SouthPark. "That means that if you're a patient and you want to spend more than five to ten minutes with your doctor, you don't have that option because there are more of you and less of them, and you can't add hours to the day for doctors to see more and more patients. The numbers don't work."
Yet a growing, aging population needs these numbers to work. Concepts like express care clinics and online appointments make care more efficient, even if they connect patients with nurses or doctors they've never seen before and never will again. Another concept in this increasingly complex field is one based in simplicity: concierge medicine.
***
CONCIERGE MEDICINE ARRIVED in Charlotte fifteen years ago with the opening of Signature Healthcare. It created an option for patients willing to pay a membership fee for an improved primary care experience.
"When Signature first started, other doctors—and banks, even—said, 'You're crazy,'" Silverman says. "What it represented at the time was a level of awareness that patients weren't satisfied with the level of care they were getting."
The idea wasn't so crazy. Since then, the market has gotten more crowded. Other concierge practices have emerged, including two launched by the big medical names in town—Atrium Health and Novant Health.
The concierge model seeks to recapture the old days of medicine when doctors knew their patients, knew their medical histories, and a rapport developed between them over the years—free from the pressures and dictates of big business.
"When I go to my doctor as a patient, the visit is so dictated by rules from the insurance companies and the practice management," says Dr. Holly Smith, a pediatrician with Signature. "So you go in, and it's like this checklist. 'Have you had your mammogram? Are you taking your calcium? How much exercise do you get?' No one ever stops to say, 'Are you really doing OK? Are you OK as a person?' They don't have time to ask. I don't think that's how medicine should be."
In concierge practices, annual physicals last one to two hours, covering as many topics as the patient needs to discuss, and follow-up visits last 30 minutes to an hour. Patients can schedule same-day appointments, and sometimes they don't come in at all: They can text or call their doctors, even after hours. Some practices offer house calls.
Karen Marchese is a patient of Silverman's. Usually, her concierge care is about convenience: She's texted him a picture of her throat with, "Do I need to come in?" and he's saved her an unnecessary trip. But she credits the quick access to her doctor with saving her life as well as her time. Once she called Dr. Silverman with a question about a possible spider bite. They discussed her symptoms, and he had her come in immediately. It wasn't a spider bite but necrotizing fasciitis—a flesh-eating bacteria—that kills soft tissue and can quickly lead to death. He had her in surgery within hours of making the diagnosis, and she has just a small scar to show for it.
It's not just patients whose dissatisfaction leads them to concierge medicine. The pressures on primary care physicians to see more patients have increased dramatically. Most see about 25 to 30 patients daily and have about 3,000 total patients under their care. Their counterparts in concierge practices see six to twelve patients each day and have 300 to 600 total patients.
While this seems likely to worsen the already bleak ratio of patients to primary care providers, Dr. Lillian McKay Teigland of Novant Health Hallmark Care concierge practice believes it may improve it. Burnout is rampant among primary care providers, she says, and concierge practices offer a way to keep doctors from leaving the profession entirely or to attract more physicians to it. She, Silverman, and Smith all accepted pay cuts to work at concierge practices; all prefer the job satisfaction and patient relationships to the money.
"By the time I left [a traditional practice], I was ready to quit," says Teigland. "I was burned out. And I love practicing medicine. This allows me to continue to do it, but in a way that I go home feeling like I've done everything necessary to be the best doctor I can."
***
THIS LEVEL OF CARE comes with a cost. Concierge practices require an annual fee, which is about $2,000 to $3,000 per person and not covered by insurance. The fee gives practices the luxury to afford fewer patients.
Perhaps "luxury" is a key word. In an increasingly tiered industry like medicine in an increasingly tiered economy like Charlotte's, the fact remains: Those who don't have an extra couple thousand dollars to add to healthcare bills get the five to ten-minute visit; those who do get the 45-minute conversation and the, "Are you really doing OK?"
Healthcare expenses are no longer a matter of insured versus uninsured, or even high-deductible versus premium insurance, but also traditional versus concierge practices. It's another rung between the bottom and the top.
The demographics in these offices are evolving, however. Signature Healthcare has experienced a shift in its patient pool, from predominantly upper-class to more socioeconomically diverse. They see teachers. UPS drivers. Painters. Retirees. They're people who are so fed up with traditional practices that they're pinching pennies elsewhere to get a better healthcare experience.
Dr. Rosemarie Tong, the director emeritus of the Center for Professional and Applied Ethics at UNC Charlotte, used to teach graduate courses in healthcare ethics. She has pondered the moral quandary of concierge medicine. By joining a concierge practice, is one supporting an increasingly tiered healthcare system in which proper care is reserved for those with money? Her conclusion is evident in her choice: She's a patient at a concierge practice.
"At some theoretical level, it gave me pause at first to join concierge care," Tong says. "Am I enabling our government? Stopping them from doing something good? But I no longer feel that way. In an ideal world, I wish everyone could have concierge care or something approximating it. But that's not going to happen tomorrow. I think there would still be room for concierge care even if we did have a generous healthcare system. You might still want the intensity and intimacy that concierge care affords you."
"We already live in a multi-tiered healthcare system," Silverman says. "This is another level of care. If we did not exist, the other tiers still would."
***
HEALTHCARE HAS CHANGED rapidly over the past ten years. We have more drugs saving more lives, more research turning fatal diseases into chronic conditions. Yet with more players involved—drug companies, insurers, big hospitals, advertisers—the system has also increased complexity, creating greater pressures on fewer primary care doctors and luring more into specialty fields. Silverman bemoans that medicine has gone from being a calling to being a job.
Dr. Martin Cutrone of Hallmark Care believes that the economics of medicine will force a massive change to the system over the next ten years. He thinks our current model is not sustainable. It's his hope that those who design a new system for treating the wider population will incorporate a precious tool from the concierge model: a doctor's time.
"This [concierge] model is growing across the country and in Charlotte, and the reason is that patients are satisfied," Cutrone says. Hallmark Care's patient retention rate is between 96 and 97 percent, and it had a 40 percent increase in patients last year. "I hope that our experience and what we're doing will fill a niche, and as a new medical system is developed over the next ten years, that some of what we're doing will be incorporated."