Charlotte's RNC Gamble
Convention carries unavoidable, perhaps unprecedented, risk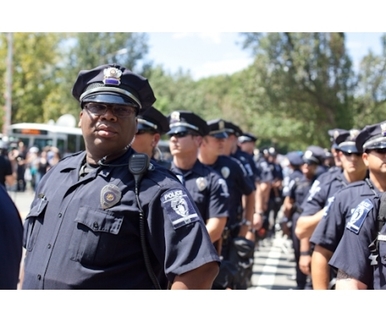 It's impossible to predict all the potential dangers and prospects for violence that accompany party nominating conventions, which is why the cities that host them every four years tend to assume, and prepare for, the worst. Before the 2016 Republican National Convention in Cleveland, the city erected concrete barricades and metal and mesh fencing along the streets that surround Quicken Loans Arena. Cleveland deployed 3,000 police from all over the country. (That matched the number of officers Charlotte fielded for the Democratic convention in 2012.) To Clevelanders' great relief, nothing much happened. Still, beforehand, one of them observed the transformation of his city's downtown into an armed encampment and described the mood. "The best word," he said, "is nervousness."
Some of the same anxiety permeates Charlotte—considered a favorite to succeed Cleveland as the RNC's host city—a full two years before the 2020 convention. The Republicans are meeting in Austin next week and expect to announce their choice, reportedly between Charlotte and Las Vegas. Two Charlotte city council members, LaWana Mayfield and Justin Harlow, have said they oppose the RNC coming to Charlotte—Mayfield because of President Trump's "hostility towards minorities and people of color," Harlow because of the potential for violence. "I value differences in thought," Harlow wrote on Facebook, "but I'm not going to ignore the fact that this would not be a 'convention as usual.'"
Another council member, Braxton Winston, has stopped short of saying he opposes the convention but understands that, he wrote on Facebook, "We would be asking the people of Charlotte to host a celebration for a brand of politics that has been highly divisive and some would say dangerous to our community." No other council members have publicly opposed Charlotte's bid, which has the support of Democratic Mayor Vi Lyles, the Chamber, and the Charlotte Regional Visitors Authority. But former council member John Autry, now a state representative, posted his own lengthy note to Facebook on Friday that cited Trump's support among neo-Nazis and recent separation of immigrants seeking asylum from their children. "When considering what my home might be like after four days of this house guest," wrote Autry, who like Mayfield, Harlow, and Winston is a Democrat, "I'm not sure my home would ever feel the same."
Plenty of the chatter on social media has centered on this symbolic point—that hosting the 2020 RNC would give tacit sanction to a cruel and authoritarian administration and represent a slap in the face to a growing minority community in Charlotte that's only now finding its place in the city's life. There's a practical part of the equation, too, as Harlow mentioned. Cleveland was mainly peaceful in 2016. But Trump hadn't been elected then. That was before Charlottesville, and the James Comey firing, and the Mueller investigation, and the zero-tolerance policy at the Mexican border, and the pardons of the Hammonds in Oregon. What else might happen between now and 2020, and who might be inclined to show up, and for what reason, and what might they be compelled to do while they're here?
The chief modern-day example of a convention that went to hell was the 1968 Democratic convention in Chicago, when the Democrats split over the Vietnam War and Chicago police bludgeoned anti-war protesters in the streets. ("The whole world is watching!") Gary Freeze, now a professor of history and American cultural studies at Catawba College in Salisbury, watched it on television at home in Troutman. Now 65, Freeze was a student at South Iredell High School, and he remembers staying up into the night, transfixed, as the news networks broadcast footage of the violence.
"That night affected me profoundly," he told me. "I sat up all night and watched that—when the police were beating guys, and everybody was running around, and Dan Rather was getting in trouble. It influenced what I think and what I do. I think it was watching the police beat the people. I never got over that … My attitude about how authority should behave, my skepticism about it, goes back to that night."
Freeze said he doesn't expect the RNC in 2020, assuming Charlotte gets it, will resemble the DNC in 1968. Then, he said, the cores of large manufacturing cities like Chicago were beginning to crumble economically. The war was an enormous wedge between old-guard, labor-affiliated Democrats and young anti-war demonstrators. Dr. Martin Luther King Jr. and Robert Kennedy had been assassinated. The cataclysm in Chicago tore the Democratic Party in two; there doesn't seem to be any such division among the Republicans.
"Charlotte, for all its faults, is an emerging world-class city with new ideas," he said. "And the folks who now are the cream of Charlotte, so to speak, are ready for the newness that's coming: multi-ethnic, multi-occupational … What you have in Charlotte is a viable immigrant community that is making a difference in terms of the future of the city."
Which, I suggested, might make for a different kind of friction. Trump's most fervent supporters base their passion for him in part on his expressed desire to combat the kind of progressive, urban, multi-ethnic enclave that Charlotte increasingly represents.
"That is an interesting thought," he replied. "Does Charlotte, because of its, dare I say, Bible Belt past bring people who still belong to that America there as a kind of rally? And the simple fact is, the majority of people within 60 miles in all directions are those people.
"The periphery of Charlotte doesn't think highly of Charlotte. And it's far more than just racial. It is a dynamic that is extremely apprehensive. I didn't feel this at all in the '80s. At all! We clearly have a part of this area that feels left out of this whole change. So what do you do about that?"
Freeze threw out an idea: A planned series of conversations in Charlotte during convention week in which delegates and other Trump supporters and the diverse population of urban Charlotte could interact. "What if," he asked, "Charlotte had a peripheral convention around the convention?" Boy, I responded, I don't know. For one thing, holding directed conversations among blue-leaning Charlotteans and the MAGA crowd would be almost too Charlotte for words. Second, the sessions would presuppose levels of trust, good faith, and self-control that I'm not sure exist anymore in the United States. But maybe. "It could fail, just like a lot of things in Charlotte fail," Freeze said. "But it could also work."
And the RNC itself might, too. The elected officials who support the idea focus on Charlotte's opportunity to rise above partisan vitriol. "While our country is at a tipping point of incivility, Charlotte is a place where we value diverse experiences and inclusive dialogue," Lyles wrote in an Observer op-ed published Tuesday. "(I)f Charlotte is the site for the RNC, we can show that our city is about inclusion and leverage it as an opportunity to demonstrate our values of respect while honoring our differences." It's a sunny vision of comity that skates around darker possibilities. I'm far less worried about the potential for unrest and violence in and around Spectrum Center than the potential for friction between representatives of those two Americas—one urban and progressive, one non-urban and bent on making America great again—grinding against each other at the EpiCentre, in the breweries of South End and the bars of NoDa and Plaza Midwood. Those are the kinds of brush fires that are harder to prepare for, or to control when they start.
If Charlotte ends up hosting the RNC, in other words, it has to assume an unavoidable, maybe unprecedented, level of risk. Wherever it lands, this RNC won't be a normal political convention; if that wasn't the case, more cities than Charlotte and Las Vegas would be bidding for it. If it comes, I hope all goes well. I cannot be certain of anything. "I can't tell you there won't be violence. You don't know," Freeze told me, adding a silver lining of sorts: "For you, come on, how much better of a party can you have, assuming you live through it?"