Charlottesville: A Parable
A cautionary tale of preparation and the collapse of trust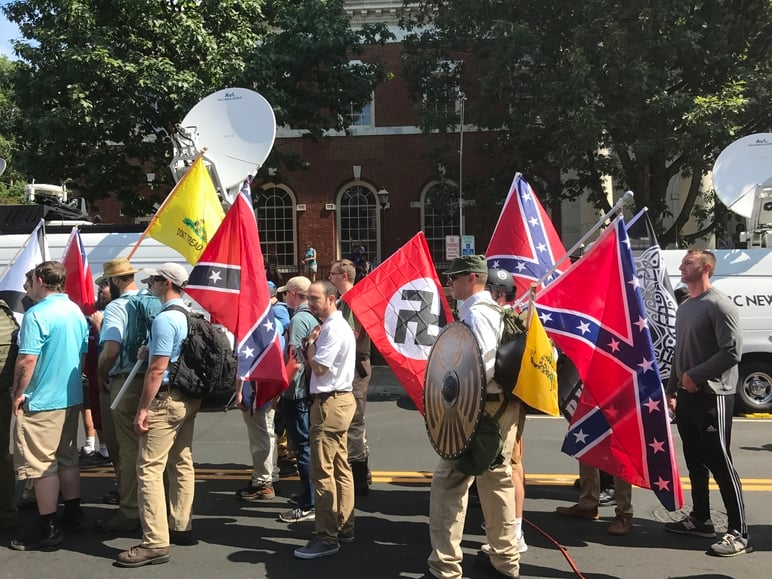 The people in Charlottesville knew ahead of time about the potential for violence. The city attorney said as much in court.
A white supremacist group wanted to hold a rally in the lovely city of 48,000, the home of the university established by Thomas Jefferson, ardent defender of free speech rights and owner of slaves. A judge eventually ruled that denying the rally leader and his organization's right to demonstrate was unconstitutional. Public safety concerns gave way to First Amendment principles, two tectonic plates of democracy grinding against each other until one gave way. You know what happened during the rally.
The New York Times published a story about Charlottesville over the weekend. The article's central conflict is not between Nazis and antifa, or law enforcement and an unhinged public, but between a city and its conception of itself, and what happens when the two clash: "The most nettlesome divide, it turns out, is not between the far-left and the alt-right, whose members battled in the streets on Aug. 12," writes the story's author, Farah Stockman. "It's between those who want Charlottesville to go back to the way it was before the rally, when a Google search brought up 'happiest city in America' or 'best food in small town America,' and those like Ms. Walker who say that the city must make sweeping changes to address deep-seated racial and economic disparities."
The white mayor is gone. The new mayor, Nikuyah Walker, the first black woman to hold the position, was elected to fill his seat. Most of the city administration's leaders have moved on, too, including the city attorney.
Walker has made affordable and mixed-income housing a major priority for city government.
Business leaders, trying to revive Charlottesville's tourism industry, have objected to her accentuation of the city's negatives. This creates some discomfort. "We're sitting here with all these people who are screaming and focused on turmoil," said the president of a downtown business association, "and our mayor was one of them."
Charlottesville is still widely thought of as a liberal, Democratic town, a classic blue island in a sea of red. But there's an unofficial segregation there. Downtown is populated mainly by white people with money. You don't see many black people, especially the poor. The new mayor ran on the slogan "Unmasking the Illusion," arguing that her hometown's carefully orchestrated facade concealed a system of racism and economic disparity.
And the city is still at war with itself. Protesters crowd and disrupt City Council meetings. Even now, Charlottesville is having trouble selecting an interim—interim!—city manager. The city's business is grinding along with difficulty. Any decision seems a launching pad for conflict.
Maybe these changes, this carnival of disruption and dread, are temporary, even healthy in the long run. Democracy can be messy, as a former president liked to say. The citizens will eventually work it out because the citizens have no choice.
Or maybe what we're seeing in Charlottesville is a irreversible breakdown in confidence and trust by a community that saw a group of terrorists invade their city and kill someone, and their public officials prove helpless to stop it. An independent investigation led by a former U.S. attorney later determined that the city had botched and minimized its preparation for the rally. Charlottesville Police were on a different radio channel from Virginia State Police, making communication difficult. Police did a lousy job of separating conflicting groups and intervening in only the worst physical fights. Officers mainly stayed behind barricades. They weren't stationed at critical points along the route. The intersection where Heather Heyer died was guarded by a single school resource officer who was relieved of her post when she called for backup, fearing for her own safety.
Charlottesville is a warning, a cautionary tale. I'll leave open the question of whether other places, including those with very similar names, might be willing or able to heed it.