Chasing Queen Charlotte
I wanted to believe our groundhog was different, that she meant something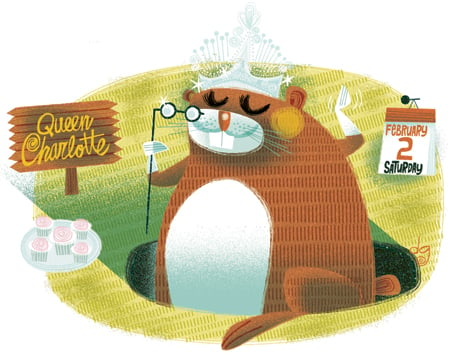 The folks at the Charlotte Nature Museum release the groundhog out of her little den and let her run free inside the butterfly pavilion, a heated greenhouse attached to the back of the building. She gets to do that on Mondays, when the place is closed to visitors. It's supposed to be a treat.
She does not want to be here.
Queen Charlotte tries to escape. She claws at doors. She scampers back and forth on a brick walkway, looking for a way out.
On February 2, we look to this particular groundhog, our local Punxsutawney Phil, to help us determine whether we'll have to slog through six more weeks of seasonal affective disorder. She either sees her shadow or she doesn't. Think about that. We have computer models. We have Doppler radar. But we choose to take climatology advice from a rodent who may or may not be bathed in sunlight.
Most groundhogs just run around and eat and burrow, but some, like Queen Charlotte, are chosen. I thought that, perhaps, this animal could teach me something. Because that is the nature of Groundhog Day. We put some sort of faith, however trivial, in an ordinary animal. I wanted to believe Queen Charlotte was different. Maybe, groundhog, you are more than just a groundhog.
Maybe you are a metaphor. For something.
Queen Charlotte continues to run around nervously. And then it happens. She escapes.
I asked the folks at the Charlotte Nature Museum if I could stop by and meet Queen Charlotte, and I think they thought I wanted to actually, you know, interview the groundhog. They try to make her more interesting. They suggest I ask her about her weight. I play along. "A lady never discloses that information," she answers, through the museum's marketing director, who later clarifies those comments by telling me Queen Charlotte is a little overweight.
Adriana Manchen, a naturalist at the museum, rattles off some facts while the groundhog paces. Cold weather makes most groundhogs hibernate. Queen Charlotte doesn't. She's almost always indoors and warm. She wouldn't make it on her own. She was rescued, and she's too used to people. Also, she'll live longer at the museum. Maybe eight years. In the wild, she'd make it for only two or three. She's prey. Raptors eat groundhogs. "They're delicious," Manchen says.
Queen Charlotte is also an exhibitionist. Sometimes in her enclosure, she'll sleep on her back with her legs open. She usually does this in front of visitors. She can be cranky. "At least once a week," Manchen says, "you get a feisty groundhog."
As we chat, the groundhog continues to run around nervously.
And then it happens.
She escapes.
She scratches and claws at the metal and glass door until it opens just enough for her to shimmy through. She waddle-runs down the hall. Manchen starts running after her as she disappears around a corner. When we all catch up with Queen Charlotte, the groundhog is pressing her nose up against the door that leads back to her enclosure.
She wasn't escaping. She didn't want freedom. She just wants to go home.
It's our nature to look at something, however ordinary, and hope that there's something more. Something deeper. But you know what? Sometimes a groundhog is just a damn groundhog.
On the way out, I ask about the least popular animals at the museum. Those would be the beetles, Manchen says. They're at the bottom of the insect display. Nobody really stops to look at them. They end up becoming food for other animals here.
Those are the guys that need to escape.
Jeremy Markovich also blogs for www.charlottemagazine.com, here.