Check out these well-named local beers set for release this weekend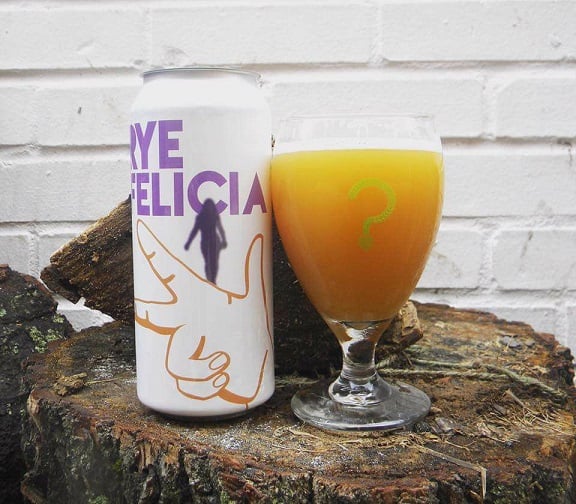 Aside from doing what you love, one of the coolest jobs in craft beer has to be going through the naming process. And while this can be a tough task (given the exploding number of beers that are produced every day, you now have to worry about trademarks, copyright infringement and the such), it also allows you to be creative and pair a good beer with a fun name.
Charlotte's breweries are no stranger to great beer names. Some of my most recent favorites in the last couple years include Legion's Juan Direction, Heist's Blurred Up and any one of Birdsong's small batch series that are named after songs (if you can tell, I dig the song name beers the most).
This weekend marks three fantastically named beers that are coming out. Here's a rundown:
–Unknown Brewing has taken the early lead of "Best Beer Name of 2017" with "Rye Felicia," which will release on Friday, as if there was any doubt. I wanted to come up with a clever intro to this paragraph but the fact is that there are too many "Friday" quotes ("He think he a mack." "Macaroni"; "My grandmama gave me this chain!"; "What you trying to build? A clubhouse? – and those are the cleaner ones) to pick a favorite. You'll get a chance to quote along with the entire movie as Unknown will be playing it on a loop the whole evening at the brewery and neighbor Craft Tasting Room and Growler Shop will be showing the movie outside once the sun goes down as part of Friday Night Festival.
Of course, we need to talk about the beer itself. Rye Felicia is a Brett IPA, fermented with a blend of ale yeast and Brett and then dry hopped with a slew of aromatic hops, according to the brewery. This will be available in cans and on tap at Unknown beginning Friday at 4 p.m. And if you needed one more reason to go, the brewery will also have an ice cream truck (no word on whether Big Perm will be driving) and DJ Yeti playing (you can believe "Keep Their Heads Ringing" will be playing) at the event.
–Wooden Robot is set for its second bottle release this Saturday, as you'll be able to now take home Thicket as Thieves, the brewery's blackberry sour ale. The base of TAT is a sour golden ale that then aged in Wooden Robot's foeder before being refermented on a copious amount of blackberry puree.
Bottle sales will begin when the brewery opens Saturday at 11 a.m., with a limit of four per person. Each 500mL bottle will cost $16 plus tax. The brewery had steady traffic for its first bottle release (Galactic Nexus), so don't wait too long for this one. Also, Wooden Robot's in-house kitchen, Twisted Eats, will also have a special breakfast menu it created for this release.
–It's not yet Cinco de Mayo, but NoDa Brewing Co is ready to celebrate a little early with the release of its newest can. Bandito is a Mexican-style lager brewed with maize that comes in at just under 5 percent ABV, perfect for sipping during these warmer months. This beer will be available on draft and in cans ($8.99 for a 4-pack) at NoDa's taproom beginning at noon Sunday. The brewery's onsite food truck, TIN Kitchen, will also have tacos for sale as part of this fiesta.