Checking out this weekend's local craft beer releases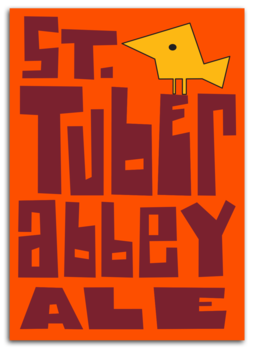 There's a full slate of local releases this weekend in Charlotte, from sweet potato to homegrown hopped ales. Here's the rundown:
–It's time for Birdsong's annual fall seasonal, St. Tuber Belgian Abbey Ale. Six years ago the brewery decided to divert from usual ingredients (read: pumpkin) and instead tingle palates with local sweet potatoes (fun fact: also the official state vegetable) and cloves. The result is a sweet yet smooth sipping beer perfect for firepits, tailgates or even the Thanksgiving table.
St. Tuber was released Thursday and is now available. Despite the hopes of many (or maybe just me?), this beer remains draft-only, meaning no cans. However, look for bottles of barrel-aged St. Tuber Abbey Ale (an outstanding beer in its own right) in late October.
–True to form of always mixing it up, Unknown is having a back-to-back release party over two days. First up is the return of Brown Ryed Girl, the brewery's India brown ale. This was released Thursday and is now available on draft and in cans, and the packaged beer should hit local stores as well. Friday then brings V-Hop, formerly known as Vehopciraptor in years past. The name may have changed but the beer remains the same, a strong and hoppy imperial IPA brewed through seven hop varieties and nine hop additions. Unknown opens at 3 p.m. Friday.
–Triple C Brewing didn't have to look far for ingredients for its latest release. The Urban Hop Project Ale sourced hops from … about 10 steps away from the brewhouse. Triple C's unique own hop garden produced the 15 pounds of Cascade hops that were used in this beer, along with grains from Riverbend Malt House in Asheville.
The Urban Hop Project Ale will be tapped at 3 p.m. Friday, and Triple C has organized a full day of events to help celebrate. For starters, the brewery is hosting a farmer's market, featuring everything from local butchers to produce growers ($1 from each Urban Hop Project sold will be donated and split between three of the vendors). The Bill Noonan Band will provide live music, while Blue Bistro is the food truck scheduled to be onsite.
–This Saturday marks two Oktoberfest beer releases, from Blue Blaze Brewing and NoDa Brewing. At noon, get your hands on Blue Blaze's newest can, Alpine Wiesen Oktoberfest Ale. The brewery used German Noble hops for this Marzen, and it will be available on tap, in cans to go and in pitchers (Blue Blaze is discounting Alpine Wiesen pitchers by $2 each). As a special treat, the brewery has teamed with JJ's Red Hots for a limited-time-only bratwurst created with Alpine Wiesen. You can purchase a brat Saturday at Blue Blaze's Oktoberfest celebration as well as JJ's locations from Saturday through October 3. The brewery will have live traditional German music as well as classic Oktoberfest games.
NoDa's foray into the style was created with Oktoberfest and Munich malts from Epiphany Malting in Durham. The Oktoberfest beer is on tap only at NoDa, but you will have the opportunity to purchase a customized stein to take home. NoDa's Oktoberfest releases Saturday at noon, with The Tin Kitchen on hand serving up bratwurst to celebrate in style.
–For its latest release, Bold Missy is honoring who knows no adventure bounds. Conquer the Route, a chocolate stout, is named for Allison Levine, who is one of just 42 people (and third-ever woman) to complete the Adventure Grand Slam – climbing the highest peak on all seven continents and then skiing to the North and South Pole.
Levine will be on hand Saturday for the release of her special beer, and Bold Missy is offering a VIP meet-and-greet private event for $50. Your fee gets you a special glass, drink ticket, T-shirt, poster, patch and sticker of the Conquer the Route label. Levine will speak to the group about her adventures as well. Tickets for the event, which starts at 4 p.m., can be purchased here. Bold Missy will then open to the general public for the release at 5 p.m.
Also of note: Earlier this week, Heist released the latest batch of Citraquench'l, which was rated No. 1 in Charlotte Magazine's Top 50 Local Craft Beers. Something tells me this beer won't be on for long, so get your crowlers and drafts while you can … Speaking of NE IPAs, Legal Remedy just canned its Justice Juice for the first time and it will be available at the Rock Hill brewery Friday beginning at 11:30 a.m. Cost is $15 plus tax for a six-pack, limit four per person. Previous Legal Remedy cans have found their way to Charlotte bottle shops, but if you've never been, the brewery is worth the trip down south.